6 min read / 3 February 2022 / Laura Garvin Gomez
Benefits and Uses of Dill Seed Oil
Derived from the Norse word meaning 'to lull', dill seed is calming and stress-relieving.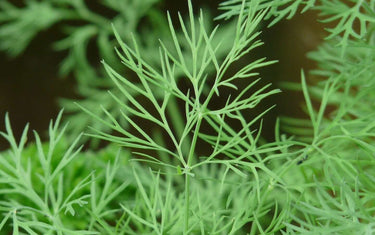 Although not a commonly used oil in the world of modern aromatherapy, dill seed has a medical history stretching back thousands of years.
As a result of its rich history, dill seed oil is perhaps most commonly known for its soothing properties, as well as its effectiveness as a digestive aid.
However, dill seed has multiple other properties that make this herbaceous oil worth learning about.
What is Dill Seed Essential Oil?
Sometimes referred to simply as "dill essential oil" - also known by the botanical name Anethum Sowa, or Indian dill - dill seed is a pale yellow oil extracted via steam distillation from the seeds of the dill plant.
Native to southern Europe and parts of Asia, the dill plant is commonly used as a herbal garnish for food, and can be categorised by its refreshing, slightly sweet scent that lends itself to the oil.
Because of its rich, herbaceous scent, dill seed oil tends to blend best with citrus essential oils like lemon, bergamot, and lime, and can also be used on its own to create a light and fresh aroma around the home.
What are the health benefits of Dill Seed Essential Oil?
Despite its current status of little influence in the world of modern aromatherapy, dill seed essential oil contains a number of rich, welcoming properties that benefit the mind and body.
Some dill essential oil benefits include:
Anxiety relief
Wound healing
Digestion
Healthy skin
Can dill seed essential oil help relieve anxiety?
Dill seed oil has been associated with calming effects for centuries.
In fact, the name 'dill' comes from the Norse word 'dilla', meaning 'to lull', referencing the herb's stress-reducing benefits.
One of the major components of dill seed oil is the component carvone, which helps to regulate the hormones that control stress and anxiety.
This means that the oil can have a powerful effect on stress and can also help to prevent issues surrounding sleep, by calming the mind and preparing it for rest.
Does dill seed oil help to heal small wounds?
Antioxidant-rich foods and natural products are often touted for their ability to fight free radicals in the body and prevent cell damage.
However, antioxidants are also useful in the healing of cuts and scrapes. Antioxidants can encourage the production of collagen at the site of wounds, which helps the injuries to heal faster.
Dill seed oil contains several components that have antioxidant properties – kaempferol is the largest, but the components eugenol and limonene also contribute to these antioxidant effects.
Kaempferol and limonene also have strong antibacterial effects, which allow them to inhibit the growth of harmful bacteria around the site of the wound, as well as prevent infection.
Ensure that when using dill seed oil to treat a wound, you are only applying the diluted oil to the skin around the wound and not to the open wound itself.
Always perform a patch test before using dill seed essential oil on the skin.
Is dill seed oil good for digestion?
The dill herb is often used to soothe digestive troubles in children and, when applied topically, the oil can be a useful home remedy for problems such as constipation, loss of appetite, and indigestion.
It is speculated that this is due to the carminative properties of the oil, which allow it to stop gas formation in the intestines and so prevent associated issues.
Using dill seed essential oil for the skin
Dill oil is a popular ingredient in anti-aging products due to its skin-boosting effects.
A study in 2010 showed that dill essential oil benefits skin health and may help to reinforce skin elasticity and firmness by promoting the production of collagen.
This, in turn, can reduce the appearance of wrinkles and leave skin looking brighter and more youthful.
The antibacterial properties of dill seed essential oil also allow it to clear harmful microbes from pores, whilst its anti-inflammatory properties can reduce redness on the surface of the skin.
How to use Dill Seed Essential Oil
Aromatherapy
Many of the essential oil benefits contained within dill seed can be unlocked through the common practice of aromatherapy.
Diffusing this light and refreshing scent throughout your home can help relieve symptoms of anxiety and low mood as well as provide a restorative atmosphere full of useful antioxidants.
Combine 5-7 drops of the oil with water and add to an oil burner or diffuser for a fresh and slightly sweet aroma.
Alternatively, you can simply hold a bottle of dill seed essential oil to your nose and gently inhale
Add a few drops of oil to a tissue or cotton ball for on-the-go aromatherapy.
Massage
Due to its anti-inflammatory properties, dill seed essential oil makes for a great at-home remedy for digestive issues and can be massaged gently into the abdomen for gentle relief.
Dilute 5 drops to 10ml of carrier oil (such as sweet almond or Jojoba Golden Carrier Oil oil) and massage evenly into the skin.
We always advise performing a patch test before applying dill seed essential oil to the skin.
Bath
Add 6-8 drops of dill seed essential oil to warm bathwater for a refreshing, restorative experience for the body.
Adding dill seed oil to your bath can carry many of the same therapeutic benefits as aromatherapy, as the scent will carry through and fill the air with a light, relieving aroma.
Skincare
Add a couple of drops of dill seed essential oil to a carrier oil (such as sweet almond or jojoba oil) or your chosen lotion and spread evenly, or onto affected areas.
Dill seed's anti-bacterial properties make it a great choice for speeding up the healing of minor wounds, however it is never advised to apply the oil directly to an open cut.
We always advise performing a patch test before using dill seed essential oil on the skin.
Soap & Candles
Suitable for soap making and candle making. We recommend following a tested recipe.
Looking for creative ways to use your dill seed essential oil? Discover a number of fun candle and soap recipes in our Make at Home blog section.
History of Dill Seed Essential Oil
First mentioned in Egyptian medical texts around 3000 BCE, dill seed oil has been popular since ancient times among the Egyptians, Romans, and Greeks, and it is reported that Hippocrates used the oil to treat children's wounds in times of war.
Dill was also used in the Middle Ages as a charm against witchcraft and was officially cultivated as a culinary herb in 1812 by Charlemagne, Emperor of France.
It's surprising that dill seed oil has not been full discovered yet by modern aromatherapy, since its long list of useful properties give it benefits for both physical and mental health, and also allow it to be a useful cosmetic product.
As research into natural products increases we may see dill beginning to make a name for itself – for now, you might want to think about getting ahead of the trend.
Shop our dill seed essential oil here.
| | |
| --- | --- |
| Product Name | 100% Pure Dill Seed Essential Oil |
| Botanical Name | Anethum Sowa |
| Scent Type | Herbs |
| Benefits & Uses | Calming, Soothing, Aids Digestion |
| Suitable for Diffusers? | Yes, this dill seed essential oil is perfect for diffusers. |
| Suitable for Candles and Soaps? | Yes, this dill seed essential oil is perfect for candle and soap making. |
| Extraction Method | Steam Distillation |
| Bottle Type | Tamper proof and UV resistant |
{ let idx = null; product.variants.forEach((v, i) => { if (v.featured_image && v.featured_image.id == $event.detail) { idx = i; } }); if (idx !== null) swiper.slideTo(idx, 0); }" x-init="() => { if (variants.length > 1) { const images = product.variants.map(v => { if (v.featured_image) { return `
`; } }) appendSlides(images); } else { if (product.featured_image) { appendSlides(`
`); } } }" >
{ if (visible && product == e.detail.data) return; ready = false; const articleTop = document.querySelector('[data-article]').getBoundingClientRect().top + window.scrollY; $nextTick(() => { product = e.detail.data; selected = product.variants[0].id; ready = true; setTimeout(() => { top = e.detail.target.getBoundingClientRect().top + window.scrollY - articleTop; show(); }, 10) }) }" @scroll.window="close()" >