6 May 2022 / Caitlin Devlin
The best essential oils for coughs
These essential oils can help to inhibit coughing fits and ease symptoms.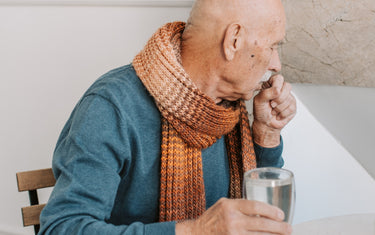 Lots of things can contribute to a bad cough.
Congestion in the respiratory system, spasms in the chest and seasonal allergies can all lead to uncomfortable coughing fits that can disrupt sleep and make everyday life more difficult.
If you're looking for an easy way to manage cough symptoms at home, then essential oils can help. The right essential oils can tackle all of the above causes of a bad cough, as well as tackling the responsible bacteria. Here are some of our top picks.
The anti-inflammatory abilities of amyris oil can help to soothe a throat irritated by excess coughing, but its main power is its ability to attack the underlying cause.
Amyris has pronounced antibacterial properties that allow it to attack responsible pathogens and get to the root of the problem.
A study in 2021 found that amyris oil was particularly effective against nine pathogens responsible for respiratory tract infections.
Learn more about the benefits of amyris essential oil.
Bay laurel is an expectorant, allowing it to shift excess mucus from the respiratory tract. It also has antispasmodic properties.
This means that it can relax chest muscles, reducing spasms and inhibiting coughing fits.
In fact, a study in 2020 of the effectiveness of Mediterranean herbs against COVID-19 found that bay laurel was able to treat symptoms of the illness, including coughing.
Learn more about the benefits of bay laurel essential oil.
Another expectorant, cajeput is great for opening up our airways and is a popular ingredient in many respiratory treatments.
A suitable alternative for oils such as tea tree and eucalyptus, it can be highly effective at tackling cough and cold symptoms.
Cassia essential oil has the useful ability to shrink mucous membranes, relieving congestion in the chest.
This is thought to be due to its powerful astringent properties that allow it to contract skin cells and other tissues.
Some essential oils have been known to relieve the symptoms of COVID-19.
Eucalyptus can be a very effective treatment for respiratory conditions, particularly bronchitis.
A study in 2004 found that eucalyptus helps to reduce the inflammatory effect that is often associated with chronic bronchitis. It can also prevent the hypersecretion of airway mucins and allow easier breathing.
A study in 2013 found that cineole, a main component in eucalyptus oil, could improve cough symptoms in bronchitis sufferers.
Fennel seed oil can reduce coughing fits by relaxing spasming muscles in the gut. A study in 2003 noted this when found that fennel seed was able to reduce intestinal spasms to improve colic symptoms.
A study in 2009 found that fir needle oil was an effective treatment for respiratory conditions like coughs and sore throats. This may be due to its ability to loosen mucus and clear airways.
The oil also has an anti-inflammatory effect on the throat and bronchial tubes and can ease the discomfort that can come with repeated coughing.
Learn more about the benefits of fir needle essential oil.
Gurjun can stimulate the immune system to move against pathogens responsible for chest and throat problems.
Its expectorant abilities also allow it to shift mucus blocking airways, allowing easier breathing and reducing excess coughing.
Learn more about the benefits of gurjun essential oil.
The antispasmodic abilities of hyssop can reduce coughing fits by relaxing muscles in the chest. It can also open up our airways by loosening phlegm in the respiratory tract, thanks to its expectorant properties.
Learn more about the benefits of hyssop essential oil.
The expectorant abilities of peppermint oil allow it to treat coughs, colds and even conditions such as bronchitis. It's able to shift mucus and clear the respiratory tract, reducing coughing fits.
Learn more about the benefits of peppermint essential oil.
Tea tree essential oil has been used to treat coughs in its native Australia for centuries. The antimicrobial abilities of the oil allow it to fight the bacteria that lead to respiratory tract infections, preventing a worsening of our condition.
Learn more about the benefits of tea tree essential oil.
These oils are generally agreed to be effective cough remedies, however the effects of each may vary from person to person.
That's why it's important to experiment with your favourite scents on this list and find the oil – or combination of oils – that works best for you and your health.
Shop our complete essential oil range here.