5 min read / 26 January 2022 / Laura Garvin Gomez
Benefits and Uses of Hyssop Oil
Hyssop's protective properties have led it to become a symbol for warding off evil.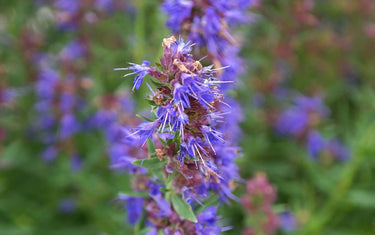 Hyssop essential oil has been used for its cleansing, purifying properties for thousands of years.
Its protective qualities are so pronounced that Ancient Romans believed that the oil's antibacterial properties also allowed it to ward off evil, and some people still hang dried hyssop in their homes to ward against negativity.
These days it is mostly used for its fresh, purifying scent, as well as to treat respiratory conditions and fight infections. We're detailing all the benefits of hyssop essential oil, how to use it, and its rich history.
What is hyssop essential oil?
Hyssop essential oil is a sweet, floral oil extracted via steam distillation from the leaves and flowers of the Hyssopus Officinalis L. plant, native to Southern Europe and the Middle East.
Hyssop oil is usually pale yellow to green in colour, and combines classic floral notes with herbaceous undertones and subtle hints of mint and spices.
It is used extensively in perfumery, as well as in certain alcoholic beverages to provide an interesting, well-rounded bouquet. While it's technically a part of the mint family, the hyssop plant carries many similarities to lavender.
What are the health benefits of hyssop essential oil?
As well as its traditional uses for warding off evil, hyssop oil contains many impactful benefits for the body, and can be blended extensively with other essential oils to help treat numerous ailments and conditions.
Some of the most popular hyssop oil benefits include:
Aiding respiratory conditions
Fighting infections
Relieving muscular pain
Benefitting skin
Can hyssop essential oil aid respiratory conditions?
Hyssop oil has a number of useful properties, one of which is its antispasmodic ability.
Inhaling hyssop oil can help relieve spasms caused by respiratory conditions like the common cold or flu, inhibiting coughing fits and preventing possible pain.
Hyssop's antispasmodic abilities also allow it to loosen phlegm in the respiratory tract and facilitate easier breathing.
In fact, a study in 2018 even suggested that these effects could make hyssop oil a useful remedy for reducing symptoms of asthma, although more research is needed in this area.
Is hyssop oil good for fighting infections?
Hyssop oil has very strong antiseptic and antimicrobial properties that make it highly effective for fighting infections - especially when the immune system is more vulnerable.
A study in 2011 demonstrated the significant antimicrobial benefits of hyssop oil when testing it alongside several common strains of bacteria and fungi.
Further research conducted in 2008 even found that hyssop oil could have an inhibitory effect against the herpes virus, as well as infections within its family, like the cold sore.
The oil was found to lower plaque formulation by more than 90%, significantly reducing the impact of the herpes virus.
Does hyssop essential oil relieve muscle pain?
Hyssop oil's long list of beneficial properties doesn't stop there; it's also very powerful muscle relaxant.
This means that using hyssop oil on sore spots could help to relieve tension and tightness in these areas as well as prevent painful spasms in the muscles, thanks to the oil's antispasmodic qualities.
A 2014 animal study also showed that hyssop oil can have significant anti-inflammatory effects, which can help it to soothe swelling in the muscles and joints as well as reduce consequent pain.
Combing a few drops of hyssop oil with a vegetable carrier oil can create a soothing, muscle-benefitting massage oil.
Is hyssop oil good for the skin?
The antimicrobial and anti-inflammatory properties that hyssop oil possesses also make it an effective treatment for skin irritations, allowing it to soothe the site of irritation and simultaneously attack the underlying cause.
Some have claimed that symptoms of eczema and psoriasis can also be reduced by the oil, although significant research is lacking in this area.
A study in 2001 also demonstrated that hyssop oil can have bacteriostatic activity, which means that it can stop bacteria from reproducing and leave skin cleaner and free from the effects of harmful organisms.
How to use hyssop essential oil
1. Aromatherapy
Hyssop oil carries a flowery and refreshing aroma that can work beautifully as a unique scent around your home.
Adding a few drops of hyssop oil to your electric diffuser or oil burner can help facilitate an air of wellness and relaxation, while sprinkling some into a hot bath can significantly improve respiratory conditions like stubborn coughs.
2. Skincare
Hyssop oil is incredibly gentle by nature, and carries several impactful benefits that can help keep the skin clear and free from irritation.
Try mixing some hyssop oil with your favourite carrier oil - such as coconut oil or grapeseed oil - and using it as an all-natural cleansing alternative.
You can also use diluted hyssop oil to help spot treat acne breakouts.
If you've never worked with mixing essential oils and carrier oils, you can refer to our dilution guide for some helpful tips.
3. Massage
One of hyssop's strongest benefits is its antispasmodic properties, which can help relieve pain and spasms in the muscles of the body.
Combine a few drops of hyssop oil with a carrier oil and gently massage the mixture into sore areas.
4. Soaps & Candles
Because hyssop oil has such a naturally varied bouquet, it makes a great scent addition to many homemade candles, soaps, wax melts, and more.
We recommend following a trusted recipe before getting started, and referring to our candle and soap making supplies to find the best tools for you.
What is the history of hyssop essential oil?
The hyssop plant was one of the bitter herbs to be mentioned in the Old Testament, and has been used since antiquity for its cleanliness and therapeutic properties.
In fact, Hippocrates would prescribe the herb as a remedy for pleurisy and bronchitis, while societies in the Middle Ages used it to clear inflammation, heal bruises, and reduce swelling in the throat among other things.
Frequently Asked Questions
What does hyssop essential oil blend well with?
Hyssop oil blends well with other herbaceous oils such as sage, rosemary, and myrtle, as well as citrus oils like lemon and floral oils like lavender.
Is hyssop oil the same as sage or rosemary?
The hyssop plant is related to both sage and rosemary, but there are very noticeable differences between the three herbs.
Who should not use hyssop oil?
People taking anti-seizure medications should avoid hyssop oil, as well as small children and people who are pregnant.
Although hyssop oil tends to stay slightly out of the aromatherapy spotlight, it isn't an remedy to be overlooked.
Its range of useful properties – along with its purifying floral scent – make it a valuable addition to any collection.
| | |
| --- | --- |
| Product Name | 100% Pure Hyssop Essential Oil |
| Botanical Name | Hyssopus Officinalis L. |
| Scent Type | Floral |
| Benefits & Uses | Decongestant, Cleaning Agent, Soothing |
| Suitable for Diffusers? | Yes, this hyssop essential oil is perfect for diffusers. |
| Suitable for Candles and Soaps? | Yes, this hyssop essential oil is perfect for candle and soap making. |
| Extraction Method | Steam Distillation |
| Bottle Type | Tamper proof and UV resistant |
{ let idx = null; product.variants.forEach((v, i) => { if (v.featured_image && v.featured_image.id == $event.detail) { idx = i; } }); if (idx !== null) swiper.slideTo(idx, 0); }" x-init="() => { if (variants.length > 1) { const images = product.variants.map(v => { if (v.featured_image) { return `
`; } }) appendSlides(images); } else { if (product.featured_image) { appendSlides(`
`); } } }" >