3 min read / 13 June 2022 / Caitlin Devlin
The best essential oils to use for headaches
Manage headaches and migraines at home with these natural remedies.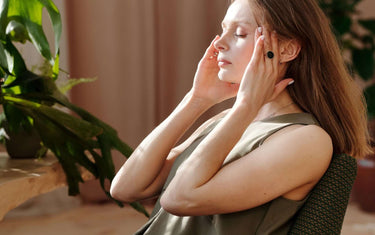 Headaches can occur for any number of reasons.
They can be a sign of stress, exhaustion, sinus congestion, and even strained facial muscles. Whilst headaches are unpleasant, the good news is that certain essential oils can help with all of these things. Here are some of the essential oils we recommend for dealing with headaches and migraines.
Cassia essential oil has analgesic properties that allow it to reduce sensations of pain, making headaches more manageable. A warming oil, it is also used as a stress-reliever. Stress is often a common cause of headaches, so cassia oil can be a great preventative measure.
Learn more about the benefits of cassia essential oil.
Stimulating clove bud is often used to relieve tension headaches. This is due to its circulation-boosting properties, which prevent insufficient blood flow and help to ensure that our muscles are all properly oxygenated, reducing the risk of strained facial muscles.
Learn more about the benefits of clove bud essential oil.
An anti-inflammatory, coriander is often used to soothe swelling and pain. Its circulation-boosting abilities allow it to speed up the healing process, relieving head pain faster where inflammation plays a part.
Learn more about the benefits of coriander seed essential oil.
Eucalyptus oil has expectorant properties, expelling mucus from the respiratory tract. This can reduce pressure on sinuses which in turn can relieve sinus headaches. It can also prevent tension headaches by helping us to relax tense facial muscles.
Learn more about the benefits of eucalyptus essential oil.
The anti-inflammatory properties of frankincense oil can help to relieve cluster headaches. Cluster headaches often occur because of tension in neck and back muscles – frankincense soothes and relaxes these muscles, preventing pain.
Learn more about the benefits of frankincense essential oil.
Grapefruit essential oil is often used by those suffering from a hangover after a big night out. One of the reasons for this is that grapefruit can help to prevent headaches, lessening pain around the head and face. It can also increase alertness.
Essential oils are a great way to provide on-the-go treatment for headaches.
The sedative qualities of lavender oil allow it to relieve stress, preventing stress-induced headaches. Lavender oil is also an anticonvulsant, which means that it can relax constricted muscles to relieve headaches and migraines.
Learn more about the benefits of lavender essential oil.
The anti-inflammatory effects of myrrh can be very useful in relieving pain. In fact, a study in 2017 found that the myrrh was able to reduce the pain of tension headaches as experienced by participants by two thirds.
Learn more about the benefits of myrrh essential oil.
Menthol, a key ingredient of peppermint oil, has been shown to be effective at treating tension headaches, with researchers noting that it had a muscle-relaxing effect. Peppermint also has natural anti-inflammatory and anticonvulsant properties, allowing to soothe swollen facial muscles and prevent spasming.
Learn more about the benefits of peppermint essential oil.
The circulation-boosting properties of rosemary help to ensure that facial muscles are properly oxygenated, preventing pain. Rosemary also has analgesic properties, lessening sensations of pain, and can soothe strained muscles with its anti-inflammatory abilities.
Learn more about the benefits of rosemary essential oil.
Headaches can impact our ability to work, socialise, and be creative, but the correct essential oils can help us to manage the pain and go about our day. Since essential oils are natural products, the effects from person to person may look a little different, and it may be worth experimenting with different oils to discover which work best for the type of headache you are trying to treat.
Shop our essential oils here.