7 min read / 28 April 2023 / Laura Garvin Gomez
How to Make Incense with Essential Oils: A Detailed Guide
Incense has been used for centuries to connect with spirituality and evoke relaxation. Here's how to make your own at home.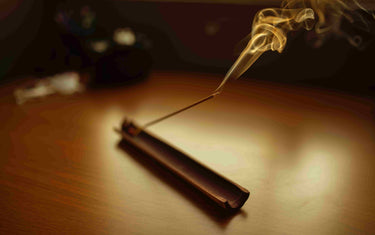 Incense is one of many ancient traditions making a comeback in the modern world.
While certain regions have always regarded incense as an integral part of their day-to-day, others are only just beginning to discover exactly what it has to offer.
Incense cones and incense sticks are relatively easy to locate, and can come in a variety of scents - both artificial and natural.
But for those of us who like to know exactly what we're burning in our homes, learning how to make incense with essential oils is a handy trick for keeping your home smelling its best.
We'll be exploring the rich history of incense sticks, how to make incense oil at home, and how burning incense can affect your daily wellness.
What is the history of incense?
The history of incense burning dates back more than 6000 years, with many historians linking its appearance to early Egyptian and Mesopotamian civilisations.
Incense was initially used in balms as a crucial ingredient during the mummification process. From there, it would move to India and parts of Southern Asia, and be burned in temples to achieve communication with higher powers.
This led to a similar developing history of incense in the catholic church, where it was used during religious ceremonies across Roman and Greek societies.
To this day, incense burning is utilised by many world religions as a bridge between natural and spiritual planes.
Is incense aromatherapy?
Incense is primarily composed of aromatic plant materials that burn to release a gentle smoke and distinct fragrance.
In many cases, essential oils are used to increase the scent as well as provide the incense with additional physical and mental benefits.
The use of incense can therefore be described as a form of aromatherapy, since the properties of the oil are being inhaled to positively impact our health and wellness.
What are the best essential oils for incense?
Any oil can be used to scent incense, regardless of its benefits or note profile.
That being said, many people opt for incense sticks with calming, gentle aromas to help evoke relaxation and serenity. This is largely due to the association of incense with spirituality and higher connections.
We've listed some of our favourite essential oils for promoting peace in your homemade incense.
1. Lavender oil
The classic aromas of lavender oil are key for unlocking total relaxation.
Sweet and floral with fresh, herbaceous undertones, the powers of lavender can be heavily linked to one of its main constituents - linalool.
According to a 2018 study from Japan, linalool can stimulate our olfactory system and produce a calming effect across our bodies. This, in turn, affects our mood, heart rate, and blood pressure to keep us feeling relaxed.
Learn more about the benefits of lavender essential oil.
2. Amyris oil
Sometimes called "West Indian sandalwood", amyris essential oil has earned a lot of popularity as a substitute for the aromas of traditional sandalwood.
Amyris is a gentle, calming oil with the ability to reduce symptoms of stress, anxiety, or restlessness. Many people also like to use it as a sleep aid due to its positive effects against insomnia.
Using amyris oil on incense is a great way to naturally compliment the earthy, woody notes of the raw product.
Learn more about the benefits of amyris essential oil.
3. Neroli oil
Fresh and delicate, neroli oil is a fantastic addition to any spiritual practice.
Viewed as an aphrodisiac in many cultures, neroli has a unique ability to calm nerves and evoke confidence after being inhaled. This is said to be a result of its effects on our salivary cortisol levels - otherwise known as stress hormones.
Neroli oil can trigger lower levels of cortisol as well as higher levels of serotonin, providing the perfect balance between peace and happiness.
Learn more about the benefits of neroli essential oil.
4. Patchouli oil
Patchouli oil is perhaps most famously associated with the "Hippie culture" of the 1970s - a time period where the use of incense in the West also rose significantly.
Because of this modern connection, many people enjoy combining the scents of patchouli with incense to this day.
Additionally, patchouli oil is known for having a powerful effect on hormone levels, encouraging a greater release of serotonin and dopamine that can dispel negative emotions.
Learn more about the benefits of patchouli essential oil.
5. Geranium oil
Floral geranium oil is a good alternative to popular essential oils like lavender, with a greater likeness to rose and similar delicate scents.
Geranium is also a highly effective oil against symptoms of anxiety or stress, with a 2015 study successfully noting its benefits against the worries of women in labour.
Adding geranium oil to your incense is a great outside-the-box pick that will still maintain the calming, restorative tones of its traditional use.
Learn more about the benefits of geranium essential oil.
6. Cinnamon oil
If spicy essential oils are your preferred calling, there is no scent greater than cinnamon essential oil to warm your body and ease your mind.
Tied with notes of sweetness and nostalgia, cinnamon oil is a popular choice for scenting incense sticks and complimenting their earthy aromas.
Cinnamon has also been scientifically linked to stress relief and sounder, deeper sleep, making it a great choice for burning toward the end of the day.
Learn more about the benefits of cinnamon essential oil.
How to make incense sticks with essential oils
Incense sticks are the most common form of incense you'll find on the market. That's because they're relatively simple to use and can burn swiftly in one sitting - without the need to blow them out or use them several times over.
Making your own incense sticks is a practice that allows for endless customisation, and they can even be gifted to friends or family members with similar therapeutic interests. Here's how to make them.
You will need:
20 drops of your chosen essential oil(s)
Raw incense sticks
A thin dish or tray
Aluminium foil
Method:
Line your tray or dish with an even layer of aluminium foil.
Place your incense sticks in even spaces on your tray.
Using the provided dropper, add 20 drops of essential oil to each incense stick. Make sure this is evenly distributed across the whole stick.
Once applied, keep your sticks in a glass jar and let them rest for 24 hours.
Use as desired.
If you're wondering how to make incense sticks with fragrance oils instead, this same recipe can be adopted by swapping out the essential oils for your chosen scents.
How to make incense cones with essential oils
Making incense cones with essential oils can be just as easy as making the sticks, but do require just a few extra steps for total scent perfection.
Cones are a good choice if you have a standing burner or a burner that produces backflow smoke effects. Here's how to make them.
You will need:
Blank incense cones
Your chosen essential oil(s)
Denatured alcohol
A deep pan or dish
Gloves
A large spatula or strainer
A drying rack
Method:
Measure out 1/3 essential oils to 2/3 of alcohol. Denatured alcohol is fairly inexpensive and easy to find, but you can also use any other type of unscented alcohol above 40%.
Pour your mixture into a deep pan or dish and place your blank incense cones into the liquid. Leave these to soak for 24 hours.
Line your drying rack with paper towels. Remove the incense cones from the mixture using a spatula or strainer and place them carefully on the rack.
Leave to dry for a further 24 hours. Note: Keep your cones away from heat sources and open flames during this period.
Once your cones are completely dry, they're ready to be enjoyed.
Frequently Asked Questions
Can you add essential oil to incense cones?
Yes! Essential oils are a great way to naturally add scent to your incense cones. You can use just one essential oil or a blend of different essential oils to help create your aromas.
How often should I burn incense?
Burning 1-2 incense sticks a day is considered ideal for one room, but more can be burned in different spaces as long as they're well-ventilated.
Are there any risks to using incense?
Never leave burning incense unattended and be sure to place it out of reach of children or pets. Do not touch any remnants of your incense immediately after burning.
Making your own incense with essential oils can not only uniquely target your spiritual practices, but also offer up a viable alternative against other scented products like candles or diffusers.
When making your sticks and cones at home, feel free to incorporate a blend of essential oils to make the most out of each individual benefit.
Our Meditation and Chakra blends are great places to start, but you can also try blending your own using our handy essential oil blending guide. Most of all, enjoy the many calming opportunities that burning incense can provide you with!