16 March 2023 / Laura Garvin Gomez
Most Popular Essential Oils and Their Benefits
These essential oils are the best in show when it comes to benefits, scent, and overall wellness. Find your favourites here.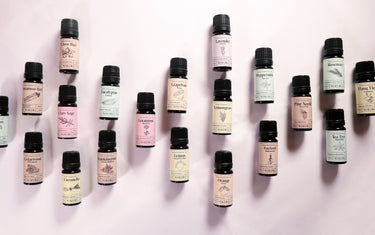 There are tons - and we mean tons - of different essential oils out there.
From cult classics like lavender to weird and wacky choices like garlic, there's a scent for every preference, mood, and benefit out there.
For those new to aromatherapy, however, this rich catalogue of essential oils can feel understandably daunting, and it can be hard to sift through your favourites without first getting a feel for what's good.
Thankfully, that's what we're here for. We'll be detailing some popular essential oils and their uses, so you can feel prepped and ready to start your wellness journey.
What are essential oils?
Essential oils are natural substances, commonly derived from plants, fruits, and trees. They are incredibly concentrated, and can sometimes be described as the "essences" of the botanicals they come from.
In these botanicals, essential oils can be sourced from the seeds, peels, flowers, roots, and even resins of the original plant or fruit.
Generally, an essential oil is separated from its plant material through the process of steam distillation. This involves using hot steam and cold water to pull the oil from its source.
Some oils can also be extracted via cold pressing (this tends to be the case for citrus oils) and solvent extraction.
What are the benefits of essential oils?
For centuries, essential oils have been revered for their incredible properties. With their uses dating as far back as 18,000 BC, the secret that essential oils can work wonders is certainly not new.
In the modern age, you may see essential oils used to help with sleep, energy, pain, stress, and even thinning hair. They also make for great additions to a diffuser as a way to help spread pleasant aromas around your home.
Similarly, many people have started using essential oils in soaps and candles for an all-natural way to add scent.
What are the most popular essential oils?
To help set you on the right track, we've listed some of the most popular essential oils to add to your collection below.
Known for targeting several different benefits, these top ten essential oils can be used at varying points throughout your day to help keep you feeling your absolute best.
1. Lavender essential oil
There's no essential oil more famous than lavender oil - and for good reason. Sporting a classic floral aroma, this oil is considered the "mother of aromatherapy" for its wealth of exception benefits.
It's also ideal for all sorts of applications - from making pillow sprays to massage oils - so keep this oil handy if you're wanting to up your wellness game.
Benefits include:
Learn more about the benefits of lavender essential oil.
2. Tea tree essential oil
Tea tree oil has been coined by aromatherapy experts as "the medicine cabinet in a bottle" due to its incredibly long list of impactful uses.
Distinctly herbaceous with refreshing notes, it's sure to become a staple in your all-natural first aid kit.
Benefits include:
Learn more about the benefits of tea tree essential oil.
3. Peppermint essential oil
When you think of the refreshing notes of peppermint oil, it's likely that minty sweets and cool summer breezes come to mind.
Turns out, peppermint can do much more than leave your home with a brightening, nostalgic aroma.
Benefits include:
Boosting energy and helping airflow.
Helping with hair growth and health.
Learn more about the benefits of peppermint essential oil.
4. Lemon essential oil
A perfect depiction of the well-loved citrus fruit, lemon oil is zesty and uplifting with a familiar sharpness.
Like many other citrus oils, lemon oil is renowned for its cleaning properties, and can leave your spaces feeling joyful by adding a couple of drops to your chosen diffuser.
Benefits include:
Eliminating bacteria and other microbes.
Soothing stress and promoting concentration.
Treating acne and symptoms of morning sickness.
Learn more about the benefits of lemon essential oil.
5. Eucalyptus essential oil
Nothing clears your sinuses quite like the powerful aromas of eucalyptus oil.
Grown all over the world and adored by aromatherapists for centuries, the distinctive notes of eucalyptus are ideal for combatting stubborn cold and flu symptoms.
Benefits include:
Clearing the airways and relieving congestion.
Fighting infections and managing pain.
Repelling rats and other pests.
Learn more about the benefits of eucalyptus essential oil.
6. Rosemary essential oil
Rosemary oil has been dominating the beauty industry lately, largely thanks to its incredible benefits for hair growth.
Both fresh and herbal, this superstar oil is certainly worth including in your next wellness regime.
Benefits include:
Bosting hair growth and hair health.
Improving memory.
Reducing stress levels.
Learn more about the benefits of rosemary essential oil.
7. Cinnamon essential oil
Warm, inviting, and nostalgically sweet, nothing marks the festive season better than the comforting scent of cinnamon oil.
While it's one of the more potent oils on this list, cinnamon can still be used in a number of impactful ways so long as the proper safety measures are in place.
Benefits include:
Improving mood.
Helping with heart health.
Preventing bacteria and other microbes.
Learn more about the benefits of cinnamon essential oil.
8. Clary sage essential oil
Known as "the women's oil", floral clary sage packs a punch when it comes to dealing with feminine issues.
Adding clary sage oil to your bath or massaging it in with a carrier oil could help combat moments of discomfort and stress, while dropping some in your diffuser can fill your home with a calming aroma.
Benefits include:
Balancing emotions and reducing stress.
Soothing skin inflammation.
Combatting pain and infection.
Learn more about the benefits of clary sage essential oil.
9. Geranium essential oil
Both geranium oil and its slightly more floral sister, rose geranium, contain exceptional benefits for the body and mind.
With light, floral aromas and a gentle approach on the skin, geranium oil is ideal for self-care days indoors.
Benefits include:
Soothing pain and inflammation.
Reducing stress and restlessness.
Clearing acne and other skin ailments.
Learn more about the benefits of geranium essential oil.
10. Ylang ylang essential oil
A famous scent note in the iconic Chanel No. 5 perfume, ylang ylang oil is considered one of the most beautiful scents that aromatherapy has to offer.
Like many floral oils, its gentle notes are perfect for creating a relaxing atmosphere, and can even help lull you into a night of peaceful dreams.
Benefits include:
Helping with sleep
Combatting anxiety
Boosting skin health
Learn more about the benefits of ylang ylang essential oil.
How to use essential oils
There are multiple ways to fit essential oils into your routine - from simply smelling them to utilising them across all corners of your health and wellness.
We've listed some of the most popular uses for essential oils below.
1. Diffusion
This method needs little introduction, as it's possibly one of the most common among users of essential oils.
Adding a few drops of essential oil to your electric diffuser, oil burner, or reed diffuser can leave your entire home smelling incredible, and is a great choice for those who wish to use them before bed or as a stress reliever.
2. Skincare and haircare
If you're seeking all-natural replacements for your collection of beauty products, essential oils may be just the way to go.
As essential oils are naturally potent, it's important to always combine them with a carrier oil before applying them to the skin or hair.
If you've never used a carrier oil before, don't worry! There are tons of choices out there, and you can find the best ones for you by checking out our guide.
3. Massage
Just as with skin and hair, essential oils can be combined with a carrier oil to make an effective massage base.
Simply rub into any painful or problematic areas on the body to relieve discomfort and promote relaxation.
4. Sprays
From pillow sprays to bug sprays to cleaning sprays, there's no use more versatile for keeping your home in good shape.
We recommend following a trusted recipe to help you mix your ingredients just right.
5. Candles, soaps, and more
Essential oils make fabulous scent bases for candles, soaps, wax melts, and beyond.
If you're new to the crafting game, our handy beginner's guides can set you on the right track for getting started.
Are there any risks to using essential oils?
No matter how you choose to use them, it's of the upmost importance to always be safe around essential oils.
When applying topically to the skin or hair, always dilute your essential oils with a carrier oil to ensure no damage or irritation is caused. It's also good practice to perform a patch test before use.
You should take caution when using essential oils around pets, children, or more vulnerable people too, as their effects can vary in these particular groups.
These popular essential oils are bound to work wonders as a part of your wellness collection, so feel free to enjoy them!
If you're still feeling stuck, or are after more than one oil to fill your cabinets, check out our curated selection of gift sets and starter kits.
{ let idx = null; product.variants.forEach((v, i) => { if (v.featured_image && v.featured_image.id == $event.detail) { idx = i; } }); if (idx !== null) swiper.slideTo(idx, 0); }" x-init="() => { if (variants.length > 1) { const images = product.variants.map(v => { if (v.featured_image) { return `
`; } }) appendSlides(images); } else { if (product.featured_image) { appendSlides(`
`); } } }" >