4 min read / 31 October 2022 / Laura Garvin Gomez
How to Use Carrier Oils
Wanting to use a carrier oil but not sure where to start? We're here to help.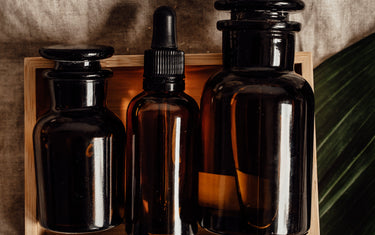 Carrier oils are perhaps one the most versatile assets in the world of aromatherapy.
Known for their effectiveness in diluting essential oils, carrier oils go hand-in-hand with various prospects of wellness - and can even produce pretty powerful benefits all on their own.
From replenishing skin and doubling as a massage oil to being used as a DIY facial cleanser or hair mask, the possibilities for how to use carrier oils are truly endless.
With those endless possibilities, however, also comes an endless list of oil types for different purposes - and knowing which one is best suited to you can be a confusing process.
What are carrier oils?
Also known as "base oils", carrier oils are commonly derived from the nuts, seeds, and kernels of several plants - as well as some vegetables.
Carrier oils are usually extracted via cold pressing, which involves squashing the part of the plant containing the fatty acids - without using heat - until the oil is released.
These fatty acids are what give each carrier oil its unique set of properties.
Some carrier oils, such as grapeseed and avocado oil, can also be used in cooking.
What are the different types of carrier oils?
If you're wondering what to use as a carrier oil, these are some of the best and most common oil types for skincare, haircare, and dilution.
Argan Oil
Avocado Oil
Castor Oil
Coconut Oil
Grapeseed Oil
Jojoba Oil
Rosehip Oil
Sea Buckthorn Oil
Sweet Almond Oil
Vitamin E Oil
Finding out the best carrier oil for you and your needs is crucial, particularly if you suffer from allergies, or from dry, oily, or sensitive skin.
Different carrier oils can accommodate to different sets of requirements, so its important to have a look through the properties of each to see which one is best for you and your needs.
How do I use carrier oils?
So, we now know that carrier oils can be great for your skin and hair, but how do you actually use them? We've broken down some of the most popular uses for carrier oils in your day-to-day wellness routine.
Face - Carrier oils contain a number of fantastic properties for your face, including the ability to hydrate, tighten, and remove makeup. Add a few drops to a cotton pad - either alone or with your chosen essential oil - and use as a daily cleanser.
Body - Not only do they make for great massage bases, but carrier oils can also be highly effective for helping to treat dry skin on the body, as well as helping to relieve certain pains or inflamed areas with the help of an essential oil.
Hair - Certain carrier oils, like argan, are considered cult favourites for their hair-boosting abilities. Adding a few drops of carrier oil to damp or even dry hair can help reduce frizz, repair damage, and increase shine. Carrier oil can also be used as a hair mask to be left in overnight.
If you're wanting to find out how much carrier oil to use for each of these purposes - as well as how to use them alongside essential oils - check out our complete guide on how to dilute essential oils here.
What essential oils can I use with carrier oils?
While any essential oil can be used with a carrier oil to bolster your routine, certain scents are considered to be more popular than others due to their infamous topical benefits.
As with all of our oils, we always advise performing a patch test before use on the skin or hair.
Rosemary Essential Oil
Rosemary essential oil has risen greatly in popularity due to its prominent benefits for hair growth, thickness, and overall health.
Combining a few drops of rosemary with a good carrier oil for hair can promote these functions as well as encourage more hydrated-looking locks.
Why not learn more about how to use rosemary oil for hair.
A rosemary and carrier oil mix can also be used to help spot-treat acne due to the oil's anti-inflammatory properties.
Frankincense Essential Oil
Frankincense is an astringent oil, meaning that when it is combined with a carrier oil, it can help to improve the elasticity of the skin as well as reduce the appearance of wrinkles.
It has also been proven to fight against joint pain and inflammation as well as aid digestive issues, so applying a few drops of frankincense with a carrier oil to these problem areas can help to soothe and heal them.
Lavender Essential Oil
Combining lavender and a carrier oil together can be a hugely beneficial way of providing topical relief from anxiety, lack of sleep, and stress.
Adding the mixture to your temples just before bed or while on the go can create a calming atmosphere for your mind.
Lavender oil is also beneficial for skin regeneration and can help to relieve muscular aches.
Carrier oils can be great for exploring the basics of aromatherapy beyond the realm of scent alone - giving you the chance to utilise essential oils for their wonderful health benefits too.
Be sure to test out and research as many carrier oils as you can to find the best for you, and always take care when using any kind of oil on the skin.
{ if (visible && product == e.detail.data) return; ready = false; const articleTop = document.querySelector('[data-article]').getBoundingClientRect().top + window.scrollY; $nextTick(() => { product = e.detail.data; selected = product.variants[0].id; ready = true; setTimeout(() => { top = e.detail.target.getBoundingClientRect().top + window.scrollY - articleTop; show(); }, 10) }) }" @scroll.window="close()" >