30 November 2021 / Caitlin Devlin
How to safely oil cleanse with essential oils
Learn how to deeply cleanse and nourish skin safely and effectively.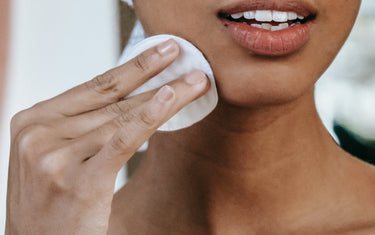 Give your skin the gentle deep cleanse it craves with this homemade blend of carrier and essential oils.
Our skin can take a lot of maintenance. Sometimes it feels as if every skincare company out there is feeding us a different line about what is or isn't good for us - and they're all contradicting each other.
If you feel safer turning to natural solutions, you're not alone. Essential oils can have a whole host of benefits for our skin and oil cleansing is an increasingly popular addition to people's daily skincare routines.
However, as always with essential oils, it's important to know how to safely use these potent natural products, and to make sure you're making informed choices about which oils to cleanse with.
We've put together a very basic oil cleansing mixture for you to use as a guideline.
As all skin types are different, you may find yourself adjusting the quantities, or swapping your own favourite oils in and out.
Just remember to test cautiously, and listen to your skin. It will tell you what it does and doesn't like.
Ingredients:
Almond oil: 32 drops
Castor oil: 8 drops
Lavender Essential Oil: 1 drop
Frankincense Essential Oil: 1 drop
You may want to adjust these quantities to make a larger amount of serum, but the ratios should be roughly as follows:
79% Almond Oil - Almond oil is a gentle carrier oil that reduces the appearance of scars, reduces puffiness, and moisturises.
It's a great base oil to layer ingredients over as it sets a strong baseline of benefits whilst remaining gentle and kind to sensitive skin.
20% Castor Oil - Castor oil is our main cleansing agent. Although it is still a gentle oil, it has strong antibacterial properties that help it to get rid of harmful microorganisms and clean pores thoroughly.
Like almond oil, it also has moisturising properties, and is full of fatty acids that leave skin healthy and glowing.
0.5% Lavender Essential Oil (or an essential oil of your choice) - Soothing lavender is always a wonderful choice for skincare.
Its healing properties help to clear up skin conditions and reduce symptoms of acne and eczema, whilst its soft floral scent leaves skin smelling beautiful.
0.5% Frankincense Essential Oil (or an essential oil of your choice) - Frankincense has astringent properties which means that it is able to increase the elasticity of skin and reduce the appearance of wrinkles.
It has also been found to reduce redness and irritation, working with lavender to calm skin.
These percentages can be adjusted depending on your skin type. Here are some adjustments we suggest.
For oily skin:
69% Almond Oil
30% Castor Oil
1% Essential Oils (combined total)
For dry skin:
89% Almond Oil
10% Castor Oil
1% Essential Oils (combined total)
These are just rough guidelines, and you may find that it takes some time to find the perfect ratios for your skin.
Don't rush this process - change quantities slightly and gradually until you find your ideal mix.
How to use:
Place a few drops of the mixture into clean, dry hands.
Massage onto the face in circular motions for over a minute.
Take a warm, damp face cloth and gently massage onto skin until the excess oil is removed.
Pat the face dry with a clean towel.
Please note that this method is not meant for removing make-up.
Please keep away from eyes.
Possible substitutions:
For oily skin
Tea Tree Essential Oil - Tea tree has strong antimicrobial properties, and is also anti-inflammatory, helping to reduce puffiness.
Palmarosa Essential Oil - Palmarosa is rich in nutrients and able to balance sebum production in the skin, reducing oiliness.
Lemongrass Essential Oil - An astringent oil, lemongrass is often used to give skin a more youthful appearance, as well as to treat irritations.
Neroli Essential Oil - Delicate, fragrant neroli has the ability to regenerate skin cells and to increase skin's elasticity.
For normal/dry skin
Shop our entire essential oil range here.