3 February 2022 / Caitlin Devlin
The best aphrodisiac essential oils for date night
Explore our list of the most romantic essential oils to diffuse on date night.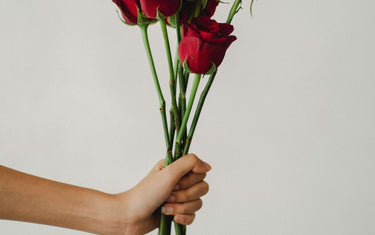 If you're looking forward to a special night in with a partner, essential oils can set the right mood.
Many essential oils have traditionally been used as aphrodisiacs for a variety of reasons. Some warm us and stimulate circulation, preparing our bodies for intimacy. Some boost our confidence, opening us up to romance. Some essential oils even have the ability to influence our hormone levels.
As is always the case in matters of the heart, these effects can be subjective, and you may need to experiment to discover which of these aphrodisiac essential oils is your date night favourite. Whatever your preferred scent is, diffusing it can help to set a romantic atmosphere and set any night in on the right path.
A warming, stimulating oil, black pepper is known to help get blood flowing throughout the body. In other words, this peppery oil wakes us up to our surroundings and gets our hearts beating. Black pepper is also a stress-relieving oil, calming any nerves to help you better enjoy your night.
Learn more about the benefits of black pepper essential oil.
Floral clary sage is known for its beneficial effects on the mind and is a very effective stress-reliever, helping to keep us in the right headspace. Long considered an aphrodisiac, clary sage's effects were once considered so powerful they were almost dangerous. Herbalists in the sixteenth century warned the public against the potential aphrodisiac effects of mixing clary sage with alcohol.
Learn more about the benefits of clary sage essential oil.
Ancient Egyptians used coriander seed as a symbol for eternal love, and it was a frequent ingredient in their love potions. The aphrodisiac effect that they observed in coriander seed is often put down to the component phytoestrogen, which has been linked to stimulating hormone production, improving symptoms of erectile dysfunction, and increasing sex drive.
Learn more about the benefits of coriander seed essential oil.
Warm and spicy ginger has been used as an aphrodisiac for centuries. It has stimulating properties that excite our senses and a warming effect that encourages a comfortable feeling. The oil is also often used to relieve stress.
Making candles with aphrodisiac essential oils is a great way to set the mood.
Delicate neroli is considered an aphrodisiac in many cultures thanks to its calming, confidence-boosting effects. It came to symbolise romance to such an extent that it was used frequently in Ancient Chinese wedding bouquets. This gave rise to a popular expression in China – men who were known to be seeking a wife were said to be "gathering orange blossoms".
Learn more about the benefits of neroli essential oil.
Nutmeg's warm, comforting scent can be calming to the nerves. It is also said that the scent helps to inspire connections, promoting a feeling of intimacy.
Patchouli oil can help to balance hormones and harmonise mood. The oil is said to have a particularly positive effect on testosterone production in men, boosting the production of this important hormone. This allows the oil to improve symptoms of sexual dysfunction and increase confidence.
Learn more about the benefits of patchouli essential oil.
Vetiver oil is said to balance both oestrogen and testosterone, preventing them from being displaced by stress. The oil is often used to reduce sexual dysfunction and has been found to have a pronounced aphrodisiac effect.
Learn more about the benefits of vetiver essential oil.
The fragrant blooms of ylang ylang are used in many cultures to decorate the beds of newlyweds on their wedding night. This is due to the fact that the oil is thought to have a libido-boosting effect. It is also thought to increase confidence in the bedroom.
Some of these aphrodisiac oils may work best in combination, and you may want to try different diffuser blends to find your perfect date-night scent. If you're not sure where to start, why not try our Aphrodisiac Essential Oil Blend. This all-natural blend combines black pepper, ginger, neroli and nutmeg for a romantic and stimulating scent.
Shop it here.
Shop our complete essential oil range here.