18 October 2021 / Caitlin Devlin
Antioxidant essential oils - why are they good for you?
Learn about how antioxidant essential oils can help you to protect your health.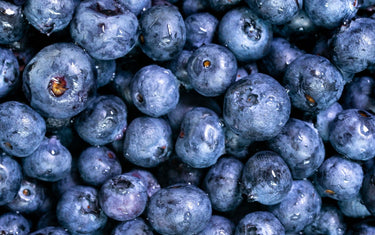 'Antioxidant' is a term often used in wellness circles. But what exactly are antioxidants, and how much do we currently know about them?
Over the last few years, antioxidants have become something of a craze in health and wellness. Terms like 'free radicals' and 'ORAC value' are frequently tossed around, and some pretty big claims have been made about the benefits of antioxidant foods and products. But is there much substance to these claims?
Why are antioxidants good for the body?
Foods or natural products rich in antioxidants have one key ability: to reduce or inhibit the effects of free radicals. Free radicals are toxins that can be generated by pollution, cigarette smoke, UV rays, or other poisons. These toxins attach to cells and cause oxidative damage, which can set off negative chain reactions throughout the body and lead to the development of serious conditions.
Some synthetic antioxidants have been developed in order to protect the body against these effects. However, growing research has shown that these synthetic antioxidants may also be harmful to human health, and many people are now turning to natural sources of protection. This is where essential oils come in. With higher ORAC values than most antioxidant-rich foods, essential oils could play a valuable role in protecting against free radicals.
What is an ORAC value?
ORAC stands for Oxygen Radical Absorbance Capacity. It refers to a lab test that aims to quantify what is known as the 'total antioxidant capacity' of a food by testing how well a sample of that food can protect vulnerable molecules from free radicals. This is observed in a test tube, and then an ORAC value is assigned. The lower the level of damage to the vulnerable molecules, the higher the ORAC value.
Blueberries are often used as the poster ORAC-rich snack, having a value of 2,400. The highest ORAC value of any known fresh food is 30,300, and belongs to goji berries. In contrast, the highest ORAC value of any essential oil belongs to clove oil, and sits at 1,078,700.
What other benefits can antioxidants have?
Antioxidants don't just protect the body from damage - they can also lead to better skin. Free radicals can destroy collagen production, causing hyperpigmentation and loss of elasticity. This can lead to premature aging and signs of damage to the skin. Antioxidants can help prevent these effects and keep skin looking younger and healthier.
Which oils are highest in antioxidants?
The top ten essential oils by ORAC value are as follows:
Are antioxidants too good to be true?
In some ways, yes. Whilst very beneficial for health, antioxidants aren't the easy miracle that some people make them out to be. Some companies or sites may claim that free radicals have the ability to cure cancer and other serious diseases, which sadly isn't true. Purging the body entirely of free radicals also shouldn't be our aim, as some free radicals can actually benefit the body by killing unwanted bacteria. Balance is key, as is understanding what antioxidants can realistically do for your health.
Even though antioxidants aren't a miracle cure for serious diseases, they can make a significant contribution to a healthier lifestyle, and act as an extra line of defence against harmful substances. Diffusing essential oils or applying them topically, whether in massage or as part of a skincare routine, can help you to experience these benefits.
In summary:
Antioxidants can help to protect the body from free radicals and prevent damage to cells.
Antioxidant ability is measured by ORAC values, which test how well a food or natural product can protect molecules from oxidisation
Many essential oils have far higher ORAC values than the most antioxidant-rich fresh foods.
Whilst some people exaggerate the abilities of antioxidants, they can still significantly contribute to overall health.
Shop our essential oils here.