31 May 2023 / Laura Garvin Gomez
How to Make Soy Candles with Essential Oils
All-natural candles are a fantastic alternative to common synthetic varieties. Learn how to make your own using essential oils and soy wax.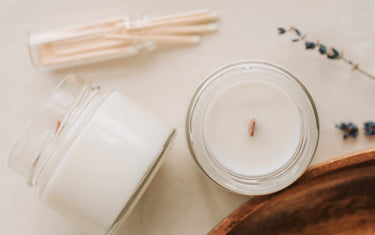 Making your own candles is an incredibly therapeutic experience and can be a great option for naturally scenting your home.
When we browse for candles in the supermarket, it can be hard to determine exactly what's in each type. Even if there's an ingredient list available, the amount of complicated chemical jargon can be difficult to decipher and may put us off our purchases altogether.
The best way to know exactly what's going into our candles is to make them ourselves. While this may appear daunting at first, learning how to make candles is actually super easy and has become a popular craft among many hobbyists.
If you're interested in learning how to make soy candles with essential oils, we're outlining all the steps you'll need in this quick and easy guide.
Why soy wax?
Soy wax has become an immensely popular option for creating candles and wax melts in recent years.
Unlike paraffin wax, which is found in most commercial candles, soy wax is completely natural and produces a clean, chemical-free burn.
Made from the extracted oils found in soybeans, soy wax can burn for up to 50% longer than paraffin wax and contains a very effective scent throw for essential oils.
There are also other natural wax options available, like coconut and beeswax, but these can be more expensive and, in the case of beeswax, not necessarily suitable for vegans.
For this reason, if you're starting out in the world of candle making, we recommend soy wax as a rule of thumb. Learn more about the different types of candle wax and how they work.
Why use essential oils for soy candles?
There are two different options when it comes to scenting your candles: essential oils and fragrance oils.
Both have different appeals, and both work extremely well when combined with soy wax. The primary difference between essential oils and fragrance oils is that fragrance oils are synthetic.
Unlike essential oils, fragrance oils won't provide you with any natural benefits like helping with sleep or uplifting your mood. But they do offer a much wider selection of unique scents.
The reason why we've opted for essential oils in this recipe is because they'll allow you to create a completely all-natural candle. If you want to use fragrance oils instead though, feel free to make adjustments as needed.
Learn more about the differences between essential oils and fragrance oils.
How to make soy candles with essential oils
Making soy candles is relatively fuss-free but if you've never made candles before, it might be a good idea to refer to our beginner's guide before getting started.
You can also browse through our candle making tips for beginners to help tackle some frequent issues that may occur with first timers.
Here's how to make your own soy candle using essential oils.
You will need:
Soy wax flakes
Essential oils of your choice
Candle wicks
Glue dots
Your choice of candle container
A glass bowl
A saucepan
A thermometer
How much essential oil to add to soy wax
When determining how much essential oil to add to soy candles, it's important you keep the size of your container and the amount of wax you're using in mind.
For instance, a larger container will require more wax, and will therefore need more essential oil to create a good scent throw. In general, we recommend adding 30-35 drops of oil to every 160g of soy wax flakes.
Make sure your fragrance load doesn't exceed 10% of the wax amount at any time. This may ruin the final function of your candle. Learn more about how much fragrance to add to a candle and why.
Method:
We'll be using the double boiler method to heat our wax for this recipe, but you can also use the microwave method if you prefer. Learn more about different wax melting methods.
Fill your saucepan about halfway with water and heat gently on the stove. Place your soy wax flakes into a heatproof glass bowl and place it on top of the water.
Heat the wax over medium heat until it has completely melted. Do not let the wax get hotter than

80°C. Use your thermometer to help measure to wax temperature as it heats.

While your wax is melting, add your glue dots to the metal stabilisers on the bottom of your wick. Gently but firmly secure the wick to the centre of your candle container. Make sure that it's as centred as you can get it, otherwise it may affect the burn.

Loop your wick around a pencil or chopstick to help keep it in place. Your wick should be 3-4 inches higher than the length of your candle container.

Returning to your wax, let it cool to 65°C, and add your essential oils. Gently stir them into the wax for about a minute or so.

Transfer your wax from the bowl into a jug and pour it carefully into your candle container. Make sure the wick remains secure as you do this.
Let the candles sit for 24 hours. Once the wax has set, trim your wick to around 2cm above your wax.
Light your candle and enjoy!
Can you make essential oil blends for soy candles?
The scent is the most integral part of your soy candle, so you want to make sure you're getting it exactly how you want it.
Unless you prefer one scent in your candle, it's likely you'll want a blend of essential oils to create a unique and well-balanced aroma.
To do this, all you have to do is determine the maximum amount of drops you want in your candle (e.g., 32 drops), and divide this number by the number of oils you're using.
So for instance, if you're using lavender and rosemary in your candle, you'll need 16 drops of each. This can be adjusted as many times as you like until you find the right scent combination for you. You can also refer to our blending guide for tips to help you do this.
If you aren't keen on creating your own blends but want more than just one aroma in your soy candles, you can check out our range of essential oil blends to help you find a scent combination that's just right.
Once you get the core basics down, candle making is simple, fun, and incredibly handy. Whether you choose to craft with soy wax or another wax type, remembering these steps will help turn your new hobby into a beloved pastime.