5 min read / 19 January 2022 / Laura Garvin Gomez
Benefits and Uses of Pink Pepper Oil
Pink pepper has many key differences from its famous cousin and is powerfully protective.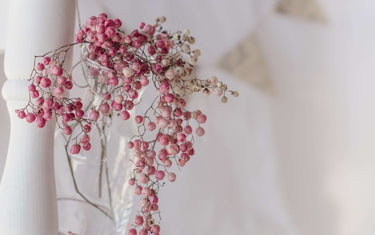 The lesser-known cousin of the world's most popular spice, pink pepper is one of the best-kept secrets in traditional medicine.
Despite often going unnoticed in the aromatherapy world, pink pepper oil is traditionally used for its protective properties, as it can help to guard our health in a number of ways - as well as stimulate our minds.
What is Pink Pepper Essential Oil?
Not to be confused with its more common sibling, black pepper, pink pepper oil is a crisp and woodsy balm that is traditionally used to help flavour food.
Also known by the botanical name Schinus Molle, pink pepper is extracted via steam distillation from the ripe peppercorn fruits of the pink pepper tree, which is native to South America.
Often considered to be a strong middle note in perfumery, pink pepper has been known to blend well with other essential oils including fellow spices, citrus oils, and floral oils.
Pink pepper oil vs black pepper oil
Black pepper oil and pink pepper oil do share similarities, but they are distinctly separate oils.
For one, they are distilled from different plants. Black pepper is distilled from the peppercorn fruits of a flowering vine native to India, whilst pink pepper comes from the fruits of an evergreen Peruvian tree.
Furthermore, black peppercorns are dried before the oil is extracted, whilst pink pepper essential oil is extracted from the ripe fruit.
What does pink pepper smell like?
Pink pepper doesn't have that warming, spicy, and sometimes overpowering aroma that black pepper has.
On the contrary, pink pepper is much brighter, combining soft woody notes with floral undertones. In fact, pink pepper is often found in perfumes due to its strong yet well-balanced scent.
What are the health benefits of Pink Pepper Essential Oil?
Alongside its well-hidden scent, pink pepper oil also has a variety of well-hidden properties as well, helping to aid the mind and body in different ways. Pink pepper can help:
Prevent and treat infections
Act as an antioxidant
Relieve anxiety
Soothe pain
Can pink pepper essential oil help to prevent and treat infections?
Pink pepper has been found to have antibacterial properties that make it great for protecting our health.
An animal study in 2020 found that pink pepper's antibacterial abilities made it an effective agent against cavity-causing bacteria, preventing damage to teeth and gums by inhibiting bacterial activity.
Oil-pulling with pink pepper oil could be a great way to protect oral health. You may want to try adding a drop or two of pink pepper oil to a carrier oil and swishing it around the mouth before spitting it out for a natural mouthwash.
You can learn more about oil pulling with essential oils here.
Pink pepper oil has also been found to have antifungal properties. A study in 2019 found that pink pepper oil was an effective agent against fungi, suggesting that the oil may help us to get rid of stubborn fungi on the skin and in the home.
These antibacterial and antifungal properties make pink pepper a great cleaning agent. Adding a few drops of pink pepper essential oil to a spray bottle of water can make a great homemade cleaning spray.
Is pink pepper essential oil an antioxidant?
These antimicrobial properties aren't the only protective benefits that pink pepper essential oil offers.
Pink pepper has also been found to have antioxidant abilities, which help it to prevent oxidative damage to cells.
A study in 2014 found that the oil showed significant antioxidant activity, inhibiting the effects of free radicals in the body and lowering the risk of some serious health conditions.
Can pink pepper oil be used to relieve anxiety?
Oils with grounding effects are often said to reduce anxiety. Pink pepper is widely considered a grounding oil, promoting feelings of warmth, comfort, and contentment - helping us to stay more present.
Its woodsy scent has also been found to lessen stress and have a positive effect on symptoms of anxiety, balancing our mood. This frees up our minds and allows us to be more productive.
Pink pepper oil is also said to help enhance our concentration, improving alertness and stamina in order to keep our minds steady.
Why is pink pepper oil good for soothing sore muscles?
Pink pepper oil is said to have anti-inflammatory and antispasmodic properties.
This makes it a great remedy for muscle aches, as its anti-inflammatory properties can soothe swollen muscles or tissues, whilst its antispasmodic properties can prevent muscles from cramping.
Add a few drops of pink pepper oil to a carrier oil and massage into the affected area for a homemade muscle balm. Alternatively. pour a few drops of pink pepper oil into a warm bath to relax and soothe the body.
How to use Pink Pepper Essential Oil
1. Aromatherapy
Many pink pepper oil benefits can be unlocked through the well-known practice of aromatherapy.
Diffusing this woody, spicy, and lightly floral scent throughout your home can help stimulate the mind and balance emotions. It also makes for a great blending base with other essential oils.
Combine 5-7 drops of the oil with water and add to an oil burner or diffuser for a distinctive, fresh, and mildly warming scent.
Alternatively, you can simply hold a bottle of pink pepper essential oil to your nose and gently inhale.
Add a few drops to a tissue or cotton ball for on-the-go aromatherapy.
2. Bath
Add 6-8 drops of pink pepper essential oil to warm bathwater for a stimulating, restorative experience for the body.
Adding pink pepper oil to your bath can carry many of the same therapeutic benefits as aromatherapy and can also function as a beneficial muscle balm for mild aches and pains.
3. Skincare
Add a couple of drops of pink pepper essential oil to a carrier oil (such as sweet almond or jojoba oil) or your chosen lotion and spread evenly, or onto affected areas.
Pink pepper's antioxidant and anti-inflammatory properties make it a great choice for protecting skin cells as well as inhibiting the risk of free radicals.
We always advise performing a patch test before using pink pepper essential oil on the skin.
4. Soap & Candles
Suitable for soap making and candle making. We recommend following a tested recipe.
Looking for creative ways to use your pink pepper essential oil? Discover a number of fun candle and soap recipes in our Make at Home blog section.
Although less famous than black pepper, pink pepper is an incredibly useful oil with strong protective qualities. Unlike the spicy, nose-tingling smell of black pepper, it has a floral, woodsy scent that leaves us happier as well as healthier.
| | |
| --- | --- |
| Product Name | 100% Pure Pink Pepper Essential Oil |
| Botanical Name | Schinus Molle |
| Scent Type | Spices |
| Benefits & Uses | Antibacterial, Antioxidant, Anti-Inflammatory |
| Suitable for Diffusers? | Yes, this pink pepper essential oil is perfect for diffusers. |
| Suitable for Candles and Soaps? | Yes, this pink pepper essential oil is perfect for candle and soap making. |
| Extraction Method | Steam Distillation |
| Bottle Type | Tamper proof and UV resistant |
{ let idx = null; product.variants.forEach((v, i) => { if (v.featured_image && v.featured_image.id == $event.detail) { idx = i; } }); if (idx !== null) swiper.slideTo(idx, 0); }" x-init="() => { if (variants.length > 1) { const images = product.variants.map(v => { if (v.featured_image) { return `
`; } }) appendSlides(images); } else { if (product.featured_image) { appendSlides(`
`); } } }" >
{ if (visible && product == e.detail.data) return; ready = false; const articleTop = document.querySelector('[data-article]').getBoundingClientRect().top + window.scrollY; $nextTick(() => { product = e.detail.data; selected = product.variants[0].id; ready = true; setTimeout(() => { top = e.detail.target.getBoundingClientRect().top + window.scrollY - articleTop; show(); }, 10) }) }" @scroll.window="close()" >