6 min read / 3 December 2021 / Laura Garvin Gomez
Benefits and Uses of Mandarin Oil
Known as the gentlest of the citrus oils, mandarin oil is soothing and calming.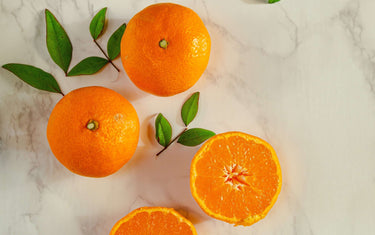 Cultivated for over three thousand years, mandarins are often associated with wealth and prosperity.
Sharing a name with the orange-robed high officials of the Chinese empire, mandarins were traditionally used in Chinese medicine to treat chest, gastric, and liver discomfort, and made their way to Europe as an indigestion cure.
Despite these powerful benefits, mandarin is known as a gentle oil, and unlike other citrus oils is very skin-friendly when diluted.
For this reason, mandarin oil is commonly used in the present day as a facial cleanser, as well as a relaxant and pain reliever.
What is Mandarin Essential Oil?
Like most citrus fruits, mandarin is extracted via cold pressing – a process in which the peel of the fruit is repeatedly poked and squeezed to release the oil within.
While this process usually creates phototoxicity in the oil, this is not the case for mandarin – so there is no need to worry about avoiding using it in direct sunlight.
Mandarins, also known as Citrus Reticula, can be found on evergreen mandarin trees native to China and surrounding regions. When cold-pressed, they produce an orange-coloured oil with a bright and sweet citrus scent.
What are the benefits of Mandarin Essential Oil?
Because mandarin is so gentle, it lends itself well to several applications and can be used frequently for a number of ailments.
Some of the most common mandarin oil benefits include:
Stress relief
Pain relief
Antibacterial
Skin cleansing
Can mandarin essential oil reduce stress?
Multiple studies have been conducted on the potential stress-relieving effects of mandarin.
A study in 2008, for example, found that mandarin oil can be used to prevent anxiety-related sleep loss as well as promote healthy sleeping patterns.
Many citrus oils like mandarin have also reported uplifting qualities that, when inhaled, can help to boost mood and provide energy for the mind and body.

Can I use mandarin oil for pain relief?
Mandarin oil isn't just soothing for the mind. It has also been shown to reduce pain caused by pulled muscles and swollen joints, as well as provide relief from nausea.
A study in 2016 examined the effects of essential oil inhalation on the pain, anxiety and nausea of hospital patients - and found that mandarin oil had a positive impact on all three counts.
This soothing, relieving quality is speculated to be attributed at least in part to the presence of terpenes in the oil, which are associated with pain relief.
Mandarin is also said to be a highly effective anti-inflammatory and is said to be proficient in reducing inflammation not only on the surface of the skin, but underneath it too.
In fact, a 2014 animal study found that mandarin oil was even able to soothe symptoms of inflammatory bowel disease – helping to ease discomfort and improve overall health overtime.
Try diffusing mandarin oil around your home or rubbing a diluted amount onto the abdomen or sore muscles to feel these benefits.
Is mandarin essential oil good for cleaning?
On top of its immaculate anti-inflammatory benefits, mandarin oil also has strong antibacterial properties.
A study in 2014 looked at the effectiveness of mandarin in the food preservation process, and found that the oil helped to prevent the loss of firmness and colour changes over fourteen days.
This suggests that mandarin oil is great for slowing or preventing the growth of bacteria - qualities which make it an ideal ingredient in home cleaning sprays.
This is true of most other citrus oils too, and you can find out how to utilise each of them in your day-to-day cleaning routine by following our guide on how to make a natural surface cleaner here.

Does mandarin oil cleanse skin?
Not only is mandarin oil gentle, but unlike other citrus oils, it isn't considered phototoxic - meaning diluted mandarin oil is safe to apply to skin.
Some sources have suggested that mandarin oil can be used to effectively reduce signs of aging in the skin, as well as the appearance of scars, although this evidence is still largely anecdotal.
What we do know is that mandarin oil has strong antibacterial and antifungal effects that can help prevent the growth of any unwanted bacteria in the skin, as well as keep the pores clear and free from any common abrasions or annoyances – like acne.
These effects may be due in part to the presence of the constituent limonene in the oil, which has been extensively researched and associated with numerous skin and body boosting effects.
How to use Mandarin Essential Oil
Aromatherapy
The sweet and brightening aroma of mandarin oil is one that wouldn't go amiss in any household – especially as the summer months approach.
Mandarin oil is great for reducing stress and anxiety levels as well as getting rid of airborne bacteria, so diffusing it through your home is an ideal solution if you find yourself feeling on edge.
Bath
If you're wanting to add an extra element of relaxation to your bath without feeling overly sleepy afterward, mandarin oil could be a good option for sprinkling in.
Its soothing effects can not only calm your mind, but your body also – with its anti-inflammatory properties helping to dispel any sore muscles or cramps that may be troubling you.
Massage
Since mandarin oil is so anti-inflammatory, it also makes for a fantastic massage base when combined with an enriching carrier oil – like jojoba or sweet almond.
Its uplifting properties will help to calm your senses and provide effective pain relief.
Skincare
Mandarin is incredibly gentle on the skin, so can be used effectively to cleanse skin and rid it of unwanted bacteria or scarring.
That being said, it is still always important to dilute your mandarin with a carrier oil, and perform a patch test before use to ensure you are not sensitive to this natural product.
Cleaning
Mandarin oil, like most other citrus oils, is an exceptional cleaning agent as a result of its antibacterial and antifungal properties.
Adding a few drops to a spray bottle with water and an emulsifier (like dish soap) is a quick and easy way to keep surfaces fresh and spaces clean.
Soap and candle making
If you're looking to add an extra layer of summery scents to your chosen project, mandarin could be a great choice, as it blends well with other citrus oils as well as gentle, floral oils like lavender or geranium.
We always recommend following a tested recipe and a clear guide before getting started.
The History of Mandarin Essential Oil
It was not until the early 19th century that mandarins were introduced to Europe by the historian Sir Abraham Hume, who brought the fruit back from its travels to China.
It is said that mandarins were cultivated in China from as early as the 12th century BC, and are still valued to this day as a traditional gift of fortune and prosperity given during the Chinese New Year.
Mandarin's medical history is steeped in luxury and wealth., with the fruit being mainly dispersed among the upper classes for centuries.
However, these days both the fruit and the oil are incredibly accessible, and its benefits are able to be enjoyed by all.
| | |
| --- | --- |
| Product Name | 100% Pure Mandarian Essential Oil |
| Botanical Name | Citrus Reticulata |
| Scent Type | Citrus |
| Benefits & Uses | Relaxing, Antibacterial, Soothes Inflammation |
| Suitable for Diffusers? | Yes, this mandarian essential oil is perfect for diffusers. |
| Suitable for Candles and Soaps? | Yes, this mandarian essential oil is perfect for candle and soap making. |
| Extraction Method | Cold Pressed |
| Bottle Type | Tamper proof and UV resistant |
{ let idx = null; product.variants.forEach((v, i) => { if (v.featured_image && v.featured_image.id == $event.detail) { idx = i; } }); if (idx !== null) swiper.slideTo(idx, 0); }" x-init="() => { if (variants.length > 1) { const images = product.variants.map(v => { if (v.featured_image) { return `
`; } }) appendSlides(images); } else { if (product.featured_image) { appendSlides(`
`); } } }" >
{ if (visible && product == e.detail.data) return; ready = false; const articleTop = document.querySelector('[data-article]').getBoundingClientRect().top + window.scrollY; $nextTick(() => { product = e.detail.data; selected = product.variants[0].id; ready = true; setTimeout(() => { top = e.detail.target.getBoundingClientRect().top + window.scrollY - articleTop; show(); }, 10) }) }" @scroll.window="close()" >