4 May 2022 / Caitlin Devlin
How to make self-care bath blends with essential oils
Relax, restore and relieve muscle ache with these natural blends.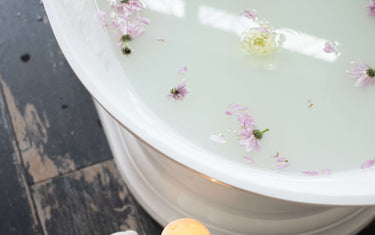 No matter what you may be up to, make sure you take the time to show yourself some love.
It's important to ensure that we can trust ourselves to indulge in some self-care.
Looking after our own basic needs is important, but treating ourselves is crucial too, and our self-care shouldn't go neglected.
These all-natural bath blends can help you to make the most of time to yourself and find a few moments of bliss in a busy week.
Relaxing & brightening:
This blend helps to ease stress and lift low moods for a brighter state of mind.
Lavender is deeply relaxing and de-stressing, offering relief from anxious feelings.
It is also known to soothe aching muscles and do away with the tension of the week.
Sweet orange is a powerful anti-anxiety agent and is also known to lift spirits and promote positivity.
Finishing this blend is a drop of spearmint essential oil, which is more calming than stimulating peppermint and can brighten the mind whilst relaxing muscles.
Transporting & restorative:
This blend offers relief from the cares of the week and helps us to feel restored in body and mind.
Calming lavender is known to relieve symptoms of anxiety and depression, and can even aid with stress-related insomnia, whilst the intriguing scent of warming frankincense can decrease negative emotions.
Frankincense is also said to boost the immune system, helping to promote wellness.
An extra boost comes from smoky cedarwood, which has a grounding effect that helps us to feel present and content.
Soothing & healing:
This blend eases muscle aches and soothes inflammation in joints and tissues.
Bright mandarin has a soothing, anti-inflammatory effect on the body that helps to relax muscles and relieve soreness.
It is also associated with a reduction in the sensation of pain.
Geranium is another pain-relieving oil, able to reduce inflammation in muscles and joints. Its floral scent also offers relief from stress.
Sugary spearmint is a favourite among athletes thanks to the soothing effect it has on muscles, and one drop of this minty oil goes a long way.
How to use:
Combine your essential oils with a teaspoon and a half of jojoba oil and mix well. (You may want to use a different carrier oil here, but jojoba is generally considered one of the best for use in the bath).
Run a bath to the temperature you require.
Disperse your oils evenly throughout the water and use your hand to spread them around.
Light some candles, turn on some relaxing music, and enjoy!
Caution:
Remember that the oil will not dissolve in the water and so may cause the tub to become slippery.
Avoid applying oils directly to the skin without a carrier oil.
Shop our essential oil range here.