1 June 2023 / Laura Garvin Gomez
How to Make Candles with Essential Oils
Candle making is a fun and easy way to get creative with your oils - no expertise needed.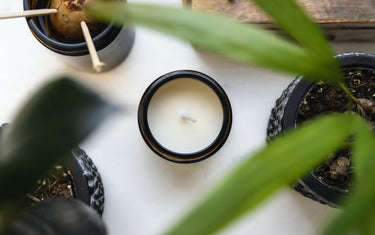 If you're looking to get creative with your oils, then candle-making is the perfect place to start.
Whether you're a seasoned crafter or a complete beginner, candles are an ideal homemade gift – they're simple to make, they're budget friendly, and there's no end to what you might create.
Unlike soap making, which can take a few attempts to master, candle making is a very accessible craft, and one that you don't need a ton of free time to get stuck into.
This basic guide to candle making will serve as the basis for all your future creations. Simply swap in your chosen oils and you're good to go! 
How to make candles using essential oils
You will need:
Soy wax flakes: You'll want roughly twice the capacity of your container. To measure the correct quantity, fill your container with wax flakes as high as you'd like your candle to be, tip the flakes into a bowl, and repeat. You should do this for every container you plan to use.
Essential oils or fragrance oils of your choice: Finding the correct quantities of essential oils or fragrance oils is the one area of candle-making that may require a little experimentation. See below for our guide to choosing and measuring your oils. Or why not try a premade blend like pumpkin spice essential oil blend.
Candle wicks: Make sure these are significantly taller than your containers. You'll then trim them later.
Glue dots
Candle containers
A heatproof glass bowl
Method:
Add a glue dot to the underside of the metal circle at the end of your candle wick, then press that circle to the bottom of your candle container. Hold for a few seconds to make sure that it is stuck down neatly.
Measure out the amount of wax you will need by filling your candle container as high as you would like it, and then repeating the process. The wax will halve in volume when melted, so you will need enough wax flakes to fill your container twice.
Place a pan of simmering water over the stove. Pour your soy wax into a heat proof glass bowl, and then place it over the pan. Let the wax melt before removing it from the stove.
Set aside the wax to cool for a minute or so, but ensure that in this time it remains in a liquid state.
Add your oils and mix them into the wax.
Carefully pour the wax mixture into your chosen container. Ensure that the wick stands straight and remains upright as you do this.
Let the candles set for 24 hours, ensuring the wick stands straight for the entire time.
Snip the wick to the length you want, and light to enjoy!
How do I choose and measure my oils?
The quantities of the oils you choose will vary due to a number of factors: the potency of the oil, the size of the container, the number of oils you use, and personal preference.
As a general rule, we would recommend using 30-35 drops of oil for every 160g of soy wax flakes.
However, if you are using an oil with a particularly strong or gentle scent, you may want to add more or less.
Use your best judgement and adjust next time if needed. If you are using a combination of oils, then you may want to add 15 drops of one and 16 of the other – don't double the total amount of oil!
You can use either essential oils or fragrance oils in your candles. Some people prefer the stronger scents of fragrance oils, or they may want to use a scent that can't be found in natural products.
Others value the natural scents and benefits of essential oils. We would recommend experimenting with both in order to find your favourites.
What are some good essential oils for candles?
Some of our favourite essential oils for candles are:
What are some essential oil candle making tips?
Once you use up a candle, re-use the container and fill it with a new one! It's good for the planet – and your budget.
You may also want to experiment with adding colour to your candles. You can do this at step 5 and add the colour to the wax along with your oils. Make sure you research your colour beforehand to ensure that it's candle friendly.
Keep your wick standing straight all day by laying two skewers or chopsticks across the surface of the candle and placing the wick between them. Just be sure not to drop them in the wax!
Throughout the calendar year, making candles with essential oils can provide all kinds of seasonal fun. Now that you know the basics, why not create your own candle recipe for the next holiday that comes around?