17 September 2023 / Laura Garvin Gomez
How to Use Grapeseed Oil for Massage Therapy
Explore the therapeutic benefits of grapeseed oil in enhancing your massage sessions for ultimate relaxation and well-being.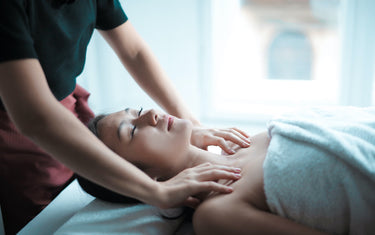 Massages are great, aren't they? A good massage can help to boost circulation, reduce muscle tension, improve skin tone and enable you to relax and de-stress.
Grapeseed massage oil is a favourite with many people, as it is odourless and non-greasy, absorbing easily into the skin so you aren't left looking too oily and shiny.
If you are looking for a new oil to work with or are just curious to know what it's like to massage with grapeseed oil, we've got you covered. We'll explain its benefits, suggest how it can be used and provide some recipe inspiration to get you started.
Is grapeseed oil good for massage?
Grapeseed oil is perfect for all types of massages, offering benefits such as:
High levels of vitamin E: The high levels of vitamin E contained in the oil help to lubricate the skin, so it looks and feels rejuvenated after a massage. When massaged into the face, it allows the vitamin C and vitamin E already present to work more efficiently, producing better long-term results.
Stacked with a host of minerals and vitamins: When massaging grapeseed oil into your skin, it means vitamins A, B, D, and E are all being delivered. The oil also contains a host of fatty acids that your skin will love, whilst helping to boost natural protection against external irritants and pollution.
Reduce the signs of ageing: Many people hope that certain oils and creams can help to reduce the signs of ageing, and grapeseed oil can score high marks here. You can use it to prevent or reduce the appearance of wrinkles, stretch marks and blemishes. Collagen can also be boosted with regular application, helping to create smoother, firmer skin and less sagging.
Antioxidant protection for even skin: Grapeseed oil contains a powerful antioxidant flavonoid called proanthocyanidin that research has shown has higher activity than vitamin C and E. The oil also contains some enzymes that accelerate the release of histamine when the skin is inflamed or dealing with allergic reactions.
Works as an effective skin toner: Almost everyone wants an even skin tone, and with regular topical massage application, grapeseed oil can do some of that work. Thanks to its astringent properties, the oil can tighten up the skin, reducing the appearance of large-looking pores. This helps skin to look more even and vibrant in the long run. 
Grapeseed massage oil application
There are several ways that a massage with grapeseed oil can help your body. Here are a few suggestions:
1. Using grapeseed oil for your skin
As we mentioned in the benefits section above, grapeseed oil contains vitamins A, C, D and E, whilst also delivering a high amount of omega chain fatty acids. In addition, the oil has antimicrobial, anti-inflammatory and antioxidant properties, so whether you are massaging the face, arms, legs or feet, it has lots of health benefits to offer. Massage enthusiasts also prefer to use grapeseed oil because it doesn't leave much of an oily residue once applied.
2. Using grapeseed oil for your hair
The palmitic acid contained in grapeseed oil makes it ideal for hair application. When massaged into your follicles and scalp, the compound can gradually work to soften your hair, making it smoother and silkier to the touch. This should work on all hair types, whether you have dry, damaged, frizzy or brittle hair. It won't leave behind a greasy residue after application, whilst the vitamin E contained in the oil can help in the fight against dandruff by keeping the scalp moisturised.
Grapeseed oil massage recipes
We've learnt why grapeseed oil is great for skin, but how can you apply it? Take a look at some of our massage recipe ideas for some inspiration.
Mix the ingredients for each recipe in a small bowl and only apply small amounts at first, to gauge how much is suitable for your skin type:
1. Grapeseed oil for face massage
If you suffer with dry skin, you can try this grapeseed oil and essential oil mix to rejuvenate and freshen up your pores:
Mix together and gently apply to your face, taking care to avoid your eyes, nose and mouth areas.
2. Grapeseed oil full body massage
There are few things more invigorating than a full body massage, and grapeseed is the perfect base oil to use. See if the following works for you:
Use this as a spa treatment at home to relax after a long hard day and to bring some much needed energy back into your body.
3. Grapeseed oil hair massage
Whether it's to stimulate the scalp, combat frizz or simply just to improve the health of your hair, grapeseed oil could be just the thing you need. This hair mask could help:
Take time to apply this to your hair, and only use as much as you need to avoid making it feel too heavy or greasy.
4. Grapeseed oil foot rub
When your feet are tired, it's usually true that your body starts to follow. Try this grapeseed oil foot rub recipe to ease those aches and pains:
Not only can this help to hydrate your skin if you are tired, but also gives you an energy boost which can help your whole body.
When it comes to massages, everyone has their favourites, but the more you learn about grapeseed oil and its many benefits, the easier it becomes to consider giving it a go. It's an extremely versatile oil that can be applied from head to toe, and because it blends so well with essential oils, the recipe combinations are almost endless. When you apply grapeseed oil, you are giving your skin the treatment it needs and deserves, and it will love you back for giving it so many crucial vitamins and nutrients.
{ let idx = null; product.variants.forEach((v, i) => { if (v.featured_image && v.featured_image.id == $event.detail) { idx = i; } }); if (idx !== null) swiper.slideTo(idx, 0); }" x-init="() => { if (variants.length > 1) { const images = product.variants.map(v => { if (v.featured_image) { return `
`; } }) appendSlides(images); } else { if (product.featured_image) { appendSlides(`
`); } } }" >