4 min read / 11 February 2022 / Caitlin Devlin
How to make romantic rose geranium and cedarwood soap
This all-natural soap has a luxurious scent that inspires romance.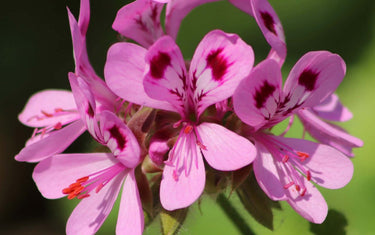 Special occasion coming up? Sometimes it's best to go homemade.
Instead of driving yourself crazy by scrolling endlessly online for that perfect gift, try making these delicately scented bars of rosy pink soap instead.
Topped with dried rose petals, they look just as romantic as they smell, and the combined scents of rose geranium and cedarwood essential oils have a relaxing, grounding effect that leaves us not only clean but fully refreshed.
Remember that soap takes about a month to cure, so be sure to start this process well before the big day!
Before you start:
This recipe won't include a list of equipment and the instructions may not be minutely detailed at every stage.
That's because you can find all of this information by heading over to this article: A beginner's guide to making soap using essential oils.
We recommend having it open as you work through this recipe, especially if you are fairly new to soap-making.
You should also pay attention to all the relevant safety information contained in the article.
Ingredients:
63g sodium hydroxide
110g distilled water
114g coconut oil (refined)
91g shea butter
227g olive oil
23g castor oil
¼ tsp Ultramarine pink pigment
Can I use fragrance oils to make this soap?
If you want the rosy scent in your soap to have the kind of consistency that comes with artificial products, then you may want to use a fragrance oil in place of rose geranium essential oil.
Our Rose Geranium (Egyptian) Fragrance Oil would be a great pick here, or even our Rose Fragrance Oil if you're looking for a sweeter scent.
Bear in mind that whilst fragrant oils can make great additions to soap, they have none of the natural benefits of essential oils and therefore won't have the same naturally soothing effect as rose geranium essential oil.
What is Ultramarine pink pigment?
Ultramarine pink is a natural colourant that it's quite easy to source from online retailers.
It gives the bars of soap a pretty blush pink colour to compliment the rose petals, but it isn't an essential part of this recipe.
You can feel free to swap it out for a colourant of your choice, or leave it out altogether and let your soap bars remain a neutral colour.
Optional decoration:
Dried rose petals
Witch hazel
You will also need a spray bottle in order to spray the witch hazel.
How do I dry rose petals?
We recommend using three scented roses, preferably in different colours. Gently pull off the petals and throw away the stems.
Spread the petals in a thin layer over a baking tray or other large, flat dish. Try to avoid the petals overlapping or piling on top of each other.
Place the tray out of direct sunlight in a warm, dry place and allow 2-3 days for the petals to dry completely.
Method:
Mix the Ultramarine pink powder in a tablespoon of olive oil and set aside.
Measure your coconut oil and shea butter into a pan and your olive oil and castor oil into a jug.
Pour the distilled water into a heat-proof jug.
Dissolve the sodium hydroxide crystals into the jug of water. *Please refer to our soap-making guide for instructions on how to do this safely.*
Melt the coconut oil and shea butter in a pan on a very low heat. When both have melted, remove the pan from the heat and set down on a heat-proof surface.
Pour the olive and castor oil into a pan with the melted coconut oil and shea butter.
Measure the temperature of the mixed oils and lye solution – both should be around 35-38 degrees Celsius.
Pour the lye water through a sieve into the pan of oils.
Stir the solution together. Then hold the stick blender to the bottom of the pan and blitz for a couple of seconds. Turn off, stir, and repeat until the mixture thickens to 'trace'. At this stage it should have a thin, custard-like consistency.
Add the rose geranium and cedarwood essential oils and fully mix in using a spatula.
Leave the soap in its mould for 48 hours before cutting into bars. You should then leave the soap to cure in a cool, dry place for 28 days.
Take the dried rose petals and crush them into smaller pieces.
When the soap has fully cured, spray the top of each bar with witch hazel, sprinkle the rose petals on top, and spray with witch hazel again. It is important to do this after the curing process is complete, as it prevents the rose petals from losing their colour during the 28 days of curing.
Leave the witch hazel to dry on the top of the bars for 12 hours, at which point the rose petals should be stuck on.
Package up as gifts and give away – or keep for yourself!
Shop our essential oil range here.