17 March 2022 / Caitlin Devlin
How to make clary sage, patchouli and black spruce candles for Mother's Day
These candles blend three relaxing essential oils to help Mum unwind.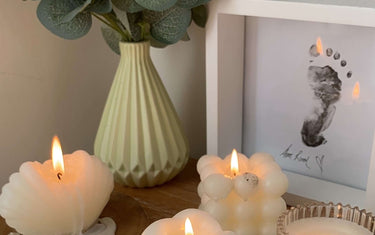 This Mother's Day,
try this easy DIY for a beautifully-scented homemade
gift.
No matter if Mum has a whole day off to relax or a stolen five minutes in a busy day, candles are a great gift.
They can be placed on desks to keep stress down, on bookshelves to scent a room, or on tables as a centrepiece. These candles use a beautiful blend of three essential oils that help to promote balance and wellness.
Clary sage can relieve anxiety, patchouli encourages the release of dopamine and serotonin, and black spruce has a grounding effect – all benefits that help Mum to feel her best.
Ingredients:
This is a very rough guide, as these quantities should vary dependent on the size of candle that you plan to make and the blend that smells best to you.
We would recommend adding between 30-35 drops of essential oil in total, so if you decide to adjust the amount of an oil – or remove it altogether – then make sure that you account for it in your other measurements.
This recipe uses three essential oils. If you prefer to use fragrance oils for a more consistent scent, then you can substitute in the fragrance oils of your choice without changing the quantities.
However, it should be noted that if you do so, you will miss out on the natural stress-relieving, mood-boosting benefits of essential oils.
You will also need:
Method:
Add a glue dot to the underside of the metal circle at the end of your candle wick, then press that circle to the bottom of your candle container. Hold for a few seconds to make sure that it is stuck down neatly.
Measure out the amount of wax you will need by filling your candle container as high as you would like it, and then repeating the process. The wax will halve in volume when melted, so you will need enough wax flakes to fill your container twice.
Place a pan of simmering water over the stove. Pour your soy wax into a glass bowl, and then place it in the pan. Let the wax melt before removing it from the stove.
Set aside the wax to cool for a minute or so, but ensure that in this time it remains in a liquid state.
Add your oils and mix them into the wax.
Carefully pour the wax mixture into your chosen container. Ensure that the wick stands straight and remains upright as you do this.
Let the candles set for 24 hours, ensuring the wick stands straight for the entire time.
Snip the wick to the length you want, and light to enjoy!
Shop our essential oil range here.