21 March 2022 / Caitlin Devlin
How to make bath salt cakes for Mother's Day
Gift these relaxing homemade bath salts to mum this Mother's Day.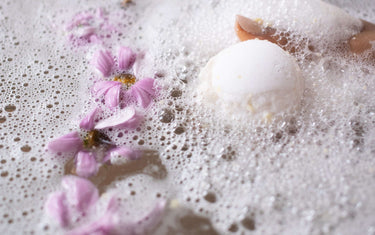 One of the best gifts that you can give to your mum this Mother's Day is
the gift of relaxation.
These bath salts combine four relaxing floral oils for an indulgent bath-time experience that will help her to fully unwind.
To make things as convenient for her as possible, this recipe teaches you how to form the salts into neat cakes that can be dropped into a warm bath – perfect for tying up with some ribbon and leaving on her pillow.
Ingredients:
Why these essential oils?
The floral scents of these four oils are all considered soothing and stress-relieving, and can even lessen sensations of pain. You're free to adjust the quantities of these oils as you like dependent on what smells best to you, or remove one altogether – just remember to rebalance the quantities so that you're still using 10 drops of oil in total. If you'd prefer to use a standardised blend of these oils, try our Floral Relief Pure Essential Oil Blend.
You will also need:
Cookie cutters (in whatever shape you like)

A baking tray

Baking parchment

A mixing bowl
Method:
Add the Epsom salt, the pink Himalayan salt and the bicarbonate of soda

to a mixing bowl and mix well.

Add the essential oils and the rose water and mix well until fully combined.

At this point your mixture should be damp but not to the point that the

salt starts to dissolve.

Line your baking tray with baking parchment. Place a cookie cutter on the

tray and fill it with the mixture, packing it in tightly against the sides of the

cookie cutter. Do not exceed the rim of the cookie cutter.

Slowly lift your cookie cutter and check that the salt cake holds its shape.

If it doesn't, consider adding more salt to your mixture in order to make it

firmer. Increase the quantity of Epsom salt in small increments until the

cake is holding its shape without support.

Repeat the previous step until the mixture is all used up. The quantity of cakes you make will depend on the size and shape of the cookie cutter that you are using.

Place the tray with the formed cakes somewhere cool and dry for 12 hours or until the cakes have hardened and dried.

Give away as gifts to the amazing mothers in your life – or keep to yourself!
Tip: It is best to store these cakes in an airtight container in order to preserve their scent.
Shop our essential oil range here.