1 June 2023 / Laura Garvin Gomez
How to Make a Natural Air Freshener
Elevate your home's ambiance naturally with a blog that shares the secrets of crafting homemade air fresheners, bringing fresh and delightful scents to your living space.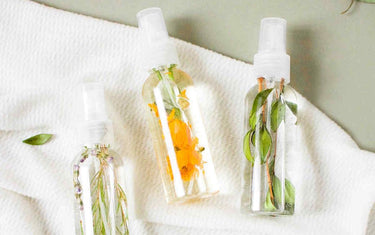 If you want to learn how to make a homemade room spray using essential oils, we've put together an easy-to-follow recipe for you to use.
Using essential oils to create a natural air freshener is one of the best ways to bring the subtle fragrances of nature into your home.
We explain the benefits, what kind of alcohol to use and offer some suggestions on which oils could work for you, giving you the basics to try a whole range of fragrance combinations for your home.
What are the benefits of an essential oil room spray?
Some of the benefits of using an essential oil room spray include:
Sanitises air and eliminates odour: Sometimes the air inside a room can smell stale, or there may be odours drifting in that are not pleasant to live with. Using an essential oil room spray allows you to eliminate those odours and sanitise the air with a few quick spritzes.
Alternative to candles: Scented candles can be a wonderful addition to any space, although they may not be suitable for every situation, such as small rooms or around young children or pets. The spray gives you an alternative way to enjoy your favourite fragrance with more control over how much is released into the air.
Use them anywhere: It's unlikely that you will leave your home with a diffuser (unless it is portable) or an essential oil candle, but an essential oil spray gives you that option. It can go pretty much anywhere that you do, so whether it's in the car, hotel room or on a long journey, you get the ambiance that suits you.
Offers aromatherapy benefits: If you have trouble sleeping, then a few spritzes of a lavender-based essential oil room spray could be enough to help you relax. Or you could add a citrus oil into the mix, which can be used to boost energy levels and add a positive edge to the air.
How to make a room spray with essential oils
An essential oil room spray can offer more beyond just refreshing the air in the room. Each oil is packed with aromatherapy benefits that can benefit your mind and body, whether it's helping you to relax or giving you a pick-me-up.
Before you get started, check that you have the following supplies and ingredients:
Glass spray bottle
Essential oils of your choice
Vodka (this is to help the water and essential oils combine)
Water
You can learn how make an essential oil spray by following the steps below:
Pour two tablespoons of vodka into the spray bottle.
Add 25-30 drops of essential oil drops to the bottle.
Leave the mixture to settle for about 5 minutes, before shaking well.
Add 6 tablespoons of filtered water to the bottle.
Shake the bottle again.
You can now use the spray as and when you need to freshen up the room. If you want to increase or decrease the scent level, simply add more essential oil drops to the spray the next time you make it.
What is the best alcohol for an essential oil spray?
There are a few alcohol options you can use for your essential oil spray. In our room spray recipe we include vodka, although another popular option is to use ethanol/grain alcohol or perfumers alcohol.
Do not use rubbing alcohol or any other type of methylated spirit in your spray, as these are too toxic and could cause harm if inhaled or ingested in any way. Aside from that aspect, the odour is far from pleasant and would not mix well with essential oils.
What essential oils are good for room sprays?
The best essential oils for room sprays are a personal choice, based on the type of fragrances you prefer and what kind of aromatherapy benefits you want to enjoy. Some of our favourites include:
Follow our instructions on how to make an essential oil room spray and you can be spritzing away in a matter of minutes. After your first try, you can start to think of new combinations to try to create your own unique fragrance, allowing you to transform the ambiance of a room whenever you need. As always, due to their high concentration levels, always take care when handling essential oils and keep the spray out of the reach of children and pets.