10 June 2023 / Laura Garvin Gomez
Castor Oil for Eczema: How Does it Work?
Uncover the power of castor oil in treating eczema and discover its remarkable healing effects.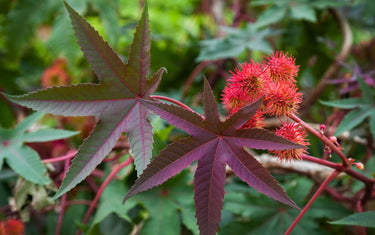 If you search Google using the terms 'castor oil' and 'eczema', you will see lots of results about how the skin condition can be treated naturally.
Because eczema can only be eased and not fully cured, it can be difficult to live with, so it is often the case that people who have the condition are always looking for new ways to manage the symptoms.
We look at the possible benefits of using castor oil for eczema, along with how to use it and whether you can apply it to your scalp and other parts of your body.  
What is castor oil?
Castor oil is extracted from the beans of the castor plant, which is typically found in tropical rainforests. Due to its hydrating properties, its often referred to as a humectant, and it also contains omega-9 fatty acids, which makes it a fantastic moisturiser.
There are two different types of castor oil: yellow castor oil and black castor oil. Yellow castor oil is cold-pressed, whilst black castor oil is derived from roasted castor beans.
How to use castor oil for eczema
As castor oil is very thick, mixing it with another oil before topical application is the best method to use. Carrier oils like olive oil, coconut oil or almond oil are ideal, using a 1:1 mix ratio to get the best results.
Before you apply the mix to your skin, check that the area is clean. The best time for application is usually after a bath or shower or once you have wiped the area clean, as this allows you to enjoy the full hydration benefits.
Follow the steps below to apply castor oil to your skin:
Use a small cloth and soak it in the oil mixture.
Apply the cloth to the area of skin you want to treat.
Cover the skin using another cloth or plastic sheet, which will help to retain the moisture.
Even when mixed with a carrier oil, the mixture will be quite thick and depending on the porosity of your skin, it can take a little time for it to fully absorb. Applying the mixture before you go to bed should ensure it absorbs and gets to work hydrating your skin overnight.
Is castor oil good for eczema?
Whilst there are no studies that have established a link between the use of castor oil to reduce eczema symptoms, many people believe that its properties can still prove useful.
Some products that are marketed towards people with eczema contain castor oil, and a 2018 review of studies found that one of the creams that included it in its ingredients prevented eczema flares and improved flare-ups if they occurred.
What are the benefits of using castor oil for eczema?
Although there is no scientific evidence to suggest that topical use of castor oil can reduce eczema symptoms, it may be able to by:
Relieving itching: Studies have found that castor oil contains anti-inflammatory properties, which could prove helpful in helping to relieve itching and irritation caused by eczema.
Hydrating your skin: Applying castor oil topically to your skin can increase its moisture levels, as the oil is a natural fatty emollient, and it could prove to be a helpful addition to prescription skin creams.
Protecting from infections: Castor oil also has antibacterial and antimicrobial properties that may be able to offer additional protection against infection on areas of eczema that have cracked skin.
Slowing down skin cell growth: The antiproliferative properties contained in castor oil could allow it to slow down the growth of some skin cells in eczema, potentially stopping it from developing further.
You may want to use castor oil to remove scars that have been caused by eczema, although there is no scientific data that supports its ability to do so.
Can you use castor oil for eczema on the scalp?
Castor oil also has several benefits it can offer to your scalp and hair, helping to create more nourished and healthier follicles.
Many people who apply castor oil to their scalp say that it can be very effective at moisturising a dry, irritated scalp. Experts advise that you can use cold-pressed castor oil on the hair shaft and that black castor oil should only be used on the scalp. If you do apply black castor oil to your hair, use a follicle sealing technique afterwards so it can retain as much moisture as possible. If you're looking for an alternative to castor oil, why not try our rosemary oil for hair.
Is it safe to use castor oil on eyelashes and eyebrows?
You also have the option of using castor oil on your eyebrows to moisturise and add body. However, because your eyelashes are so close to your eye, you should speak with a medical professional before application to ensure it does not create any issues.
Are there any risks to using castor oil for eczema?
The National Eczema Association states that it is safe to use cold-pressed castor oil on your skin, although there is always a possibility that you could experience an allergic reaction.
If this is your first time using castor oil, carry out a skin patch test by applying a small amount to a clear area of skin. Cover with a plaster and leave for up to 24 hours. Should you experience an allergic reaction, the skin should become red, irritated or inflamed, and the skin should be cleaned and dried, and an alternative oil used instead.
For anyone using castor oil for hair or scalp, it is a good idea to use another oil if you have dandruff, as it can make the condition worse.
The antimicrobial, antioxidant and antiproliferative properties of castor oil mean it could prove to be effective at easing eczema symptoms. Due to the lack of scientific evidence available, there is some uncertainty about the results you may see, so you should never use it as a replacement for prescription-based treatments, but rather as a complementary treatment. In most cases, castor oil is completely safe to use and should not cause an allergic reaction, and it also offers possible benefits for the scalp and hair.
{ let idx = null; product.variants.forEach((v, i) => { if (v.featured_image && v.featured_image.id == $event.detail) { idx = i; } }); if (idx !== null) swiper.slideTo(idx, 0); }" x-init="() => { if (variants.length > 1) { const images = product.variants.map(v => { if (v.featured_image) { return `
`; } }) appendSlides(images); } else { if (product.featured_image) { appendSlides(`
`); } } }" >