5 min read / 20 October 2023 / yasmin sharp
How do I Sell Wholesale and White Label Soap?
Discover the insider secrets to successfully selling wholesale and white label soap.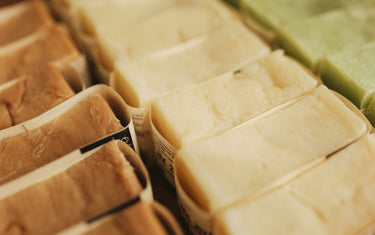 Even if the idea of making and selling your own soap sounds appealing, depending on your circumstances, it may not be a realistic option.
Using a wholesale or white label soap provider can offer a solution, enabling you to outsource the production to an experienced company.
Many find that it's a helpful manufacturing option that can make it easier to start a business without having to invest in equipment, ingredients and packaging.
In this article we explain how white label soap branding works, the pros and cons and how it can influence your pricing.
What is a white label soap?
When a soap is white labelled, it means a company has allowed another company to sell their product under their own brand.
This has the advantage of making it appear that the purchasing brand is responsible for creating the product.
This is a common occurrence in almost every industry, ranging from food and beverage companies to computer software manufacturers.
What are the benefits of white label branding?
If you decide to work with a white label soap company, you can enjoy benefits such as:
Reduced costs
Finding the money to invest in soap making equipment and ingredients can be costly, and using a white label service can reduce your expenditure and save you time.
It also means lengthy production processes are not needed, and you can focus on branding and selling your soap.
Building credibility faster
A white label soap manufacturer will research and test the quality of their products, which means you will not have to.
Working with a credible white label partner that can ensure the quality of their product allows you to maintain high standards, which can help you quickly build a strong reputation amongst your customers.
Focusing on brand building and marketing
Because you are not placing a focus on the production element of the product, you will have more time to build and scale your business.
This enables you to identify your customer base and create relevant marketing ideas that add appeal to your product.
You can also spend more time conducting market tests to see what works and turns a profit for you.
Increased supply
Working with a white label soap provider allows you to produce larger batches of your product at a faster rate.
This is good news if you are ramping up marketing and producing more sales, as it then becomes easier to meet demand.
It also presents the opportunity for your brand to expand into new markets to broaden your customer base.
Are there any downsides to working with a white label soap company?
There are some reasons why using a white label soap provider may not work for you, so it's important to be aware of the following:
Inconsistent quality
One of the biggest concerns for brands that use a white label soap provider relates to the consistency of the products.
Most brands establish their own quality controls at an early stage.
The white label producer may not always follow the same procedures, so spot checking batch deliveries from the producer can help you ensure that quality standards are being maintained.
Less control
Outsourcing the production of your product means you will not be directly involved in the manufacturing process.
Any changes you may want to make can be slower to implement, so good communication and maintaining a good relationship with the provider is of vital importance for this reason.
Potential liability
Because the brand is not involved in the production process, they may have to take on the responsibility for any issues experienced by customers.
When looking for a white label soap provider, ensure that they operate in a location that has proper regulatory support to reduce this potential risk.
Who is white labelling for?
The white label soap approach can benefit a whole host of businesses in different ways, such as:
Creating a soap brand to sell online to customers.
Adding a branded soap to an existing line of products.
Selling a branded soap in-store or at local markets.
Placing a branded soap in the restroom or kitchen of your business.
Giving a branded soap away as a gift to customers.
Is private labelling the same as white labelling?
During your research you may find that the term "private labelling" is used interchangeably with "white labelling".
Whilst the former term is generally used to describe white labelling, it can also be used to mean something else.
There are instances where "private label" refers to a unique product that has been made exclusively for a certain company or retailer.
For example, if a retailer wants to release a specific version of a product or a one-off release, they may contact a manufacturer to create that for them.
When it comes to soapmaking, this is when a seller requests that a product is tailored to their exact requirements, with small changes to certain aspects that make them unique from their other soap products.
Does white labelling affect pricing?
If you outsource the manufacturing of your soap products to a white label provider, then there will be additional costs you will need to consider.
The fees for using a white label service vary, depending on the packages offered by the supplier, which can be influenced by the type of product, quantity, packaging costs, delivery times and more.
In the same way you would calculate a unit cost to determine the margin for your products, this is also what you need to do if you are using a white label service.
The supplier should tell you the cost, including delivery charges, of their service, which you can then use as the basis for your pricing.
White label soap branding can help you to save money on equipment, ingredients, packaging – and perhaps even space - if you do not have room to set up an area in your home dedicated to production and packaging.
With the production outsourced, you can focus more on marketing and finding new customers and if things are going well, you can quickly increase supply to meet demand.
Of course, it may not be the best choice for every business, so it's important to weigh up the pros and cons to see if it can benefit you.