8 min read / 24 October 2023 / yasmin sharp
A Full Guide on How to Start a Soap Business
Discover the essential steps and insider tips for launching your own successful soap business with our comprehensive guide.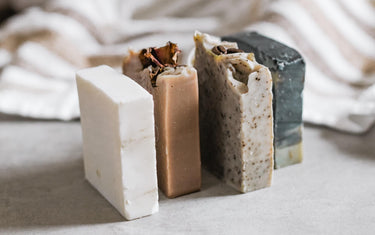 Turning your soap making hobby into a business involves a fair amount of preparation and groundwork but the rewards can be worth it.
Whilst it may seem like a lot of work and a little daunting, with a good action plan in place you can be up and running in no time.
From identifying your target audience and shaping your branding to meeting the legal obligations and marketing your product, our guide on how to start a soap business breaks everything down into manageable steps to help you along the way.
Step 1: Carry out your research
A key part of learning how to start a soap business at home involves carrying out your own research before you get started.
There is a lot of information available online about how to start a soap business, offering valuable advice relating to production, ingredients, marketing and much more.
Making the effort to do some thorough research can not only save you time in the long run, but it can help you avoid making costly mistakes that otherwise could have been avoided.
Step 2: Is your product ready to sell?
The cornerstone of any business is the product, so before it is made available to customers, you need to ensure that you are happy with the quality.
As a home-based business, you will likely be taking care of the manufacturing (unless you are outsourcing to a white label provider).
Take time perfecting it until you are completely happy that it is up to a standard you would be happy buying as a customer.
Rushing into selling a product that isn't ready can end up costing you a lot more money, especially if you need to go back and make big alterations to the recipe or packaging.
Given the nature of the product, learning how to start a soap business from home requires a careful approach, which should ensure you only go to market when everything is ready to go.
Step 3: Who is your target market?
Now that you have the product ready for sale, the next big question to answer is who are you going to sell it to?
This is known as your 'target market', which should help you develop a marketing strategy that can provide a solid sales base for your product.
A good place to start your research is by looking at the competition to see what type of products are popular.
For example, if natural-looking soaps are selling with an older audience, they are less likely to be interested in brightly coloured soap, which gives you an indication of the type of product they may want to buy from you.
Aside from the age group of your target market, you should also consider their gender and budgets.
This influences the type of fragrances and packaging that will appeal to them and how much they will be willing to spend.
The key to good target market research is remembering that it is about the customer and not just your own preferences.
So, it's important to strike a balance between the creations you love and the type of soaps that your target market will be interested in buying.
Step 4: What is your selling point?
Every good product has a USP (Unique Selling Point).
This helps to shape the marketing approach for your product by telling customers what makes your soap different and worth buying.
Take some time to think about why you believe your soap is better than your competitors. Are you using natural ingredients? Do you want to make your soap bright, colourful and fun? Look at what separates you from other soap sellers (you can also use some for inspiration) so your product has a unique, original appeal.
Consider what you look for as a customer and what attracts you to certain brands.
This will give you more clarity about your target audience, which makes it easier to market and promote your product.
Step 5: How cost-efficient is your production process?
People often wonder "How much does it cost to start a soap business?".
The answer can be found by calculating all the costs involved in making and selling your soap, so you can set a price that works for customers and produces a profit for your business.
Production costs include the equipment, ingredients, packaging and posting of the product, which all need to be broken down into unit costs so you can add a markup for the final sale price.
If you struggle to make a profit on your product, perhaps look at using cheaper ingredients or packaging materials that reduce your product costs (and don't overlook postage costs which can add up).
Buying the equipment for a soap making business requires an initial financial outlay, so set aside a budget you can afford.
It's also important to find a reliable, reputable supplier who provides a wide range of good quality ingredients.
Step 6: Keep up to date with your legal obligations
When figuring out how to start a soap business in the UK, you also need to familiarise yourself with the various legal obligations.
Because handmade soap is classed as a cosmetic product that is used on the skin, certain safety guidelines must be followed.
This includes obtaining a safety assessment written by a qualified cosmetic chemist, along with sending a new product notification to the Office for Product Safety and Standards for each type of soap you want to sell.
The safety assessment will include all the ingredients used in your product, so any time you need to alter the formula, you will need to have a new report written up.
This goes back to step 2 of our guide, highlighting how important it is to perfect your recipe before you go any further.
The legal aspect is an important part of selling homemade soap, as it ensures you are compliant and gives your customers some guarantees about product safety.
Approaching this aspect of setting up a soap business for the first time can feel daunting, so take your time and do not rush through this step.
Step 7: Start out small
It's always a good idea to start a new business with a small product line, so you are not over committing yourself before establishing the soap on the market.
Focus on the products that will appeal to your target market so you can see what piques their interest.
Once you start to accumulate sales you can slowly add to the product line to make it more varied.
Produce small batches of your product to start with, because some soaps will sell better than others, and you don't want to have a huge pile up of items (known as dead stock) that you cannot sell.
Starting small also helps you conserve on costs.
As we mentioned in the previous step, there are costs relating to equipment, ingredients and packaging that all need to be accounted for, which requires an initial outlay of money.
Testing the waters allows you to gradually find your customers and develop your brand without overspending and leaving yourself stretched financially.
Step 8: Branding and packaging
Having a great product is important, but it also needs to create a visual appeal for customers.
Your branding not only represents your products and company, but it is also a reflection of your values.
Plus, strong branding will also help you to stand out from the competition.
Branding incorporates everything from the company logo and product packaging to your website/e-commerce store and social media.
And if you are planning on selling the product at markets and fairs, the packaging will play a crucial role in attracting customers.
The branding should also complement the ideals of your target market.
For example, if your USP is that the soap is made from 100% natural ingredients, using eco-friendly packaging will offer more appeal.
Or, if you are selling a high-end product, the packaging should have a luxury appeal.
Step 9: Create a business plan
As you are turning your hobby into a business it is also a good idea to create a business plan.
This will help you set your commercial goals and lay down a pathway that can allow you to achieve them.
You may want to include details such as:
Finances: Include details about your start up budget and how it will be spent. Think about both short-term and long-term sales targets. Consider the unit cost of your products and the retail price, so you set an achievable revenue target.
Target market: Add details about the type of customers you want to sell to.
Marketing plan: Think about how you will market and promote your soap and the platforms you can use to do this.
Your vision: Look ahead and imagine where you would like your business to be over the next few years. This can help you plan out the steps needed to get you there.
Market analysis: Include your research about competitors and their popular products. Also take note of the things you can learn from them.
Step 10: Finding your customers
You should have an idea of the type of customer you want to sell to, but how do you find and engage with them?
Social media can be a great help here, giving you a platform to network and promote your brand and products.
Instagram, TikTok, YouTube, Facebook and Pinterest provide spaces that do not require you to spend much money, and you can get creative by creating content that engages with potential customers.
You may also want to sell your products in person at local markets, Christmas fairs and craft fairs, or even to your circle of friends and family.
Selling in person can make it easier to build trust in your brand as you will be able to explain the strong points of your product face-to-face.
You can also demonstrate your customer service skills, which can go a long way in convincing customers to return.
Setting up a website or ecommerce store is another option.
There will be additional costs involved and SEO requirements that need to be considered, so it all depends on your budget and available time.
Amazon, Etsy and eBay are popular choices, along with the likes of Squarespace and Shopify that are usually quite quick to set up.
If you've been wondering "How do I start a soap business?" Hopefully you can use our guide as a start point.
The most important takeaway should be not to rush any part of the process, as it will help you avoid wasting valuable time and money.
Start your soap business on a small scale and build gradually, so you can develop a loyal customer base that trusts your brand and products.
And remember, you will want to make a profit from your new venture, so always keep a close eye on the costs involved in every aspect of your business.