6 February 2023 / Laura Garvin Gomez
How to Make Body Butter
Nourish your skin the natural way with this enriching homemade body butter.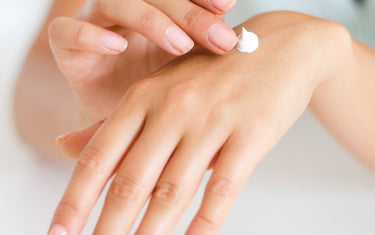 Finding truly natural beauty products on the shelves can be a challenge.
For every facial serum and body cream that graces the depths of our bathroom cupboards, there's a whole host of hidden preservatives and chemical nasties that may have gone unnoticed.
Even products that market themselves as natural can sometimes contain unwanted ingredients. Many creams that feature water or "aqua" as their primary ingredient tend to be the most clogged with preservatives, in spite of their natural façade.
This is because water-based products are more susceptible to spoiling or growing bacteria, meaning more chemicals have to be added to give them a good commercial shelf life.
Thankfully, you can combat any potential worries surrounding shop-bought products by making your own DIY body butter at home.
What is body butter?
Body butters are deeply rich and nourishing alternatives to your standard body lotions and creams.
Made purely out of natural oils and butters, they tend to come in a light, whipped format and are generally quite thick in consistency.
Unlike homemade lotions, body butter recipes don't require any water and will not spoil too quickly nor pose a great risk of contracting harmful bacteria.
They also don't require preservatives and have a much longer shelf life than most other DIY creams and body serums.
How to make whipped body butter
If making your own homemade body butter sounds like the perfect dream for you and your family, our recipe below can show you the easiest and most effective method for whipping it up (no pun intended).
You will need:
Step 1: Prepare your ingredients
Add the shea butter, coconut oil, and sweet almond oil to a saucepan. Gently warm the mixture over a medium heat until all the ingredients are melted. If you can, try use a double boiler to avoid too much direct heat on the delicate butter.
Step 2: Add in your scents
Remove the butter and oils from the heat and place aside. If you want to add essential oils into your body butter, now is the chance to drop those in. Mix well until all the ingredients are combined.
Step 3: Cool your mixture
Pour your melted ingredients into a large bowl (glass is preferable) and transfer into the refrigerator. Leave to cool overnight or monitor gradually until the mixture is solid. Alternatively, you can place your mixture in the freezer for 1-2 hours.
Step 4: Whisk it up
Once your mixture is completely solid, use a kitchen aid or handheld electric whisk to start whipping up the body butter. If you're wanting to include arrowroot powder, add this here and continue whisking until the consistency is light and fluffy.
Step 5: Transfer the butter
Scoop your whipped body butter into your chose air-tight jar or container. You're done!
What are the benefits of these body butter ingredients?
We'll be detailing why we think these ingredients are best for you, but feel free to swap them out for other natural butters (like coconut butter or mango butter) or carrier oils of your choosing.
Shea butter: Shea butter is an intense natural moisturizer extracted from the nuts of the African shea tree. It is safe for all skin types and is said to help boost collagen production as well as help promote cell regeneration.
Coconut oil: Filled with healthy fats and medium-chain triglycerides (MTCs), coconut oil is an all-natural superstar that has been revered for its skin hydrating properties. It is a common remedy against dry skin conditions like eczema and psoriasis and can also help reduce signs of ageing.
Sweet almond oil: Sweet almond oil is incredibly popular in beauty products for its high vitamin E and antioxidant content. It is naturally anti-inflammatory and has been known for treating damage on the skin.
Arrowroot powder: Arrowroot is a type of starch not too dissimilar from cornflour. Its benefit in this recipe is to prevent the body butter from becoming too greasy.
Which essential oils are best for my body butter?
The best part about making something homemade is that you can get it to smell however you want to.
From fun seasonal favourites like peppermint oil (so you smell like a candy cane!) to more refined classics like lavender essential oil, they offer up a whole host of scent opportunities for you and your loved ones.
If you're wanting to keep on the skin-loving theme, however, there are some scents that will not only help you smell great, but also keep your complexion in good condition.
A few of the most popular choices include:
Floral oils in particular have been revered for their gentle nature on skin, and many are linked to impactful anti-ageing qualities as well as positive effects on the reduction of scars, acne, and sun damage.
Essential oils like frankincense and lemon are also known astringents. Astringents can naturally shrink pores and regulate the amount of oil that goes into the skin, meaning there is less of a risk of breakouts as well as ailments like puffiness and pre-mature ageing.
What's the shelf life of homemade body butter?
When stored in a cool, dry place (like a cupboard) and placed in an air-tight container, homemade body butter can last up to 6 months without spoiling.
If you're wanting to be on the safer side of things, you could also try sticking your body butter in the fridge - so long as you're sure no hands will mistake it for food!
As body butters are made out of all-natural materials, there's a chance they may soften slightly in the summertime. To avoid this, keep your jars away from warm spots and direct sunlight at all times.
In the event of your body butter melting, simply pop it in the fridge for a bit and re-whip once it's hardened.
Learning how to make body butter can be a great way to fully understand every ingredient that goes into your beauty regimen, and it's fun too!
Feel free to get the whole family involved in the process or share out to loved ones as a unique Christmas or birthday gift.