14 July 2023 / Laura Garvin Gomez
Can You Use Vitamin E Oil for Scars?
Uncover the truth about using Vitamin E oil for scars and explore its potential benefits for scar healing.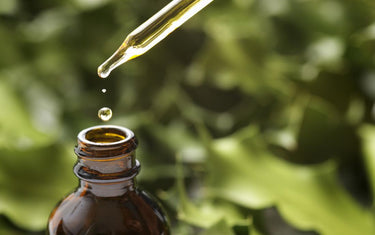 For people who prefer natural remedies to treat ailments and skin conditions, using vitamin E oil for scars seems like an obvious choice.
There is no fast and immediate remedy for healing scars and scarred tissue, but many people believe that vitamin E provides an effective option.
We take a look at how using vitamin E oil for scars could be helpful and discuss its benefits, the scientific research carried out to date and how to apply it to the skin.  
What are the benefits of using vitamin E on scars?
Some of the potential benefits vitamin E could offer to scars includes:
1. Antioxidant properties that protect the skin
Vitamin E plays a crucial role in protecting the body against UV radiation and air pollution. It helps to combat free-radicals and can also delay the signs of ageing. Regular application of vitamin E can destroy free radicals that are responsible for reducing skin proteins, causing DNA damage and negatively affecting cell membranes and connective tissues. Thanks to the vitamin's antioxidant properties, it may also be able to boost collagen production and maintain the elasticity and strength of the skin.
2. Anti-inflammatory properties for calming the skin
Another key property of vitamin E oil is the anti-inflammatory benefits it can offer to your skin. Once applied it can help to soothe the skin and strengthen its barrier function. There is also a lot of anecdotal evidence that suggests it may be able to soothe and nourish irritated skin to calm itchiness and inflammation.
3. Moisturising and hydration for scarred skin
Regular use of vitamin E oil may promote skin hydration whilst also nourishing areas of dry skin. Another method many people try is to mix vitamin E oil with their preferred moisturiser to treat their scars. Alternatively, you could try a moisturiser that contains vitamin E, as most brands tend to include it in their ingredients.
Does vitamin E oil help scars?
Many people believe that with regular application, vitamin E oil can help to reduce scars, burns and stretch marks.  In scientific terms, the results so far have not been able to provide enough evidence to support these claims.
For example, one study looking at the topical application of vitamin E did not report that it was able to improve scar appearance. However, another study claimed that vitamin E may be able to improve the cosmetic appearance of scars.
Additional research has also found that vitamin E may be able to benefit other skin conditions. For example, the findings of a study released in 2015 suggest that people with eczema or atopic dermatitis may be able to improve symptoms and enjoy a better quality of life by using vitamin E.
At this stage, it is not possible to state with certainty that vitamin E is able to improve the appearance of scars. However, whilst the research is mixed, it remains a powerful ingredient that continues to be used by some of the most popular cosmetic brands around today, and it is essential for the basic human maintenance of the human body.
What is the best vitamin E oil for scars?
Our Vitamin E carrier oil is a very popular choice for people who are looking for non-cosmetic solutions for reducing the appearance of scars. In addition to fighting free radicals that can affect the all-round health of your skin, vitamin E's moisturising properties can also be used to prevent and heal peeled, cracked or yellowing nails. As it is a carrier oil it can also be applied directly to the skin without any dilution required.
How to use vitamin E oil for scars
Research on vitamin E oil for scars is ongoing but it appears that using it on scars does not cause any harm. So, if you are looking for a natural application to treat your scars, follow the steps below:
Clean the scar area with a mild soap and pat the skin dry with a towel.
Gently apply a few drops of vitamin E to the scar area.
Massage the oil into the skin using circular motions until absorbed into the skin.
You can repeat this process twice a day. Try in the morning and just before you go to bed as it allows enough time for the oil to absorb into the skin.
What to avoid when applying vitamin E to scars
There are a few important things to remember before you apply vitamin E oil to your skin that will help to keep you safe:
Do not apply the oil or any other essential oil to an open scar or wound.
Keep the scar covered when you are out in the sun.
Apply sunscreen to the scar area before you come into contact with the sun outdoors.
Avoid applying too much pressure to the scar whilst massaging the oil into the skin – it only requires gentle application.
Are there any other natural remedies for treating scars?
Vitamin E can be combined with a host of natural ingredients to treat scars, burns and stretch marks such as:
Coconut oil: Coconut oil is stacked with micronutrients and when applied to the skin it can create a thick moisturising barrier, whilst it may be able to support early scar treatment.
Extra virgin olive oil: Another carrier oil that may be effective in helping to reduce the appearance of scars. Many people use it to reduce redness and to hydrate the skin and it doesn't clog your pores.
Aloe vera oil: The oil extracted from the plant may be able to reduce swelling, redness and inflammation in an infected area of skin.
Avocado oil: Whether you eat the food or apply avocado oil to your skin, you will receive a good amount of vitamin E and fatty acid intake, which could smooth and soften the appearance of scars.
Neem oil: Cold pressed neem oil can help to stimulate collagen production, whilst minimising scarring and healing skin tissue. It can also provide a protective barrier on the skin against sun damage.
Most scars tend to fade over time, although there many can be permanent, although the size and depth of the injury will determine if it fades or remains visible.  Whilst science may not be able to provide clear cut proof that vitamin E oil can help to reduce the appearance of scars and scar tissue, many people continue to believe in its ability to heal the skin. Provided you follow the tips suggested in the above 'What to avoid when applying vitamin E to scars', using the oil should not have any negative affect.
{ let idx = null; product.variants.forEach((v, i) => { if (v.featured_image && v.featured_image.id == $event.detail) { idx = i; } }); if (idx !== null) swiper.slideTo(idx, 0); }" x-init="() => { if (variants.length > 1) { const images = product.variants.map(v => { if (v.featured_image) { return `
`; } }) appendSlides(images); } else { if (product.featured_image) { appendSlides(`
`); } } }" >