26 August 2023 / Laura Garvin Gomez
Does Jojoba Oil Clog Pores?
Uncover the relationship between jojoba oil and pore health in our blog's clarifying exploration.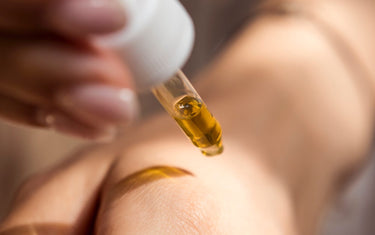 "Will jojoba oil clog pores?" is a smart question to ask before you use it the first time. When too much oil, dirt or dead skin cells get trapped in your pores, it can cause them to become inflamed and possibly lead to an acne breakout. And no one wants that to happen after they apply an oil or cream to their skin.
We wanted to make things a little clearer with regard to jojoba oil and its effects on the skin. To help, we answer the questions "Is jojoba oil pore clogging?", "What are the skin benefits?" and more in this article, so you can decide if the oil can work for you.
Does jojoba oil clog pores?
Jojoba oil should not clog up pores as it is a non-comedogenic oil that is able to hydrate your skin without making it feel oily or greasy. This enables it to act in a similar way to natural sebum, benefitting your skin without clogging pores and creating further issues.
And because jojoba oil is more of a wax water than an oil, it can balance the skin's oil production whilst also ensuring pores do not become clogged. It can go one step further and help to unclog pores, as it works in conjunction with the sebum to produce a more balanced look and feel to your skin.
What are the skin benefits of jojoba oil?
Jojoba oil pore clogging should not be an issue and instead, you can enjoy a host of skin benefits with regular application:
1. It contains anti-inflammatory properties
Skin inflammation can occur for many different reasons, especially if you are trying to manage psoriasis, acne or rosacea. Jojoba oils anti-inflammatory properties can be ideal for helping to reduce these symptoms, reducing swelling, irritation and redness on the skin.
It's also great at helping to soothe and cool sunburn, and for calming minor cuts and other irritations. At the same time, the anti-inflammatory properties protect the skin and is usually a very good option for people with sensitive skin.
2. Jojoba oil has fantastic moisturising abilities
Thanks to its similarities to sebum, jojoba oil works as a highly moisturising natural ingredient for the skin. Once applied, it can penetrate deep into the skin, helping to hydrate and refresh dry areas. The oil's fatty acids are great for the elasticity of the skin, which can help to reduce wrinkles and fine lines over time. It's also very lightweight and easy to apply and can be used directly without worrying about dilution.
3. Helps to de-age and uplift your skin
With its ability to penetrate deep into skin cells and combined with vitamins B and E, jojoba oil offers cellular level hydration benefits. If included as a regular part of your skincare routine, jojoba oil can help to create a softer, more supple-looking complexion.
Plus, its powerful antioxidant properties help to boost protection against the elements, shielding against UV rays so your skin doesn't feel as dry.
4. Balances out oil production
As we mentioned, jojoba's similarities to the natural sebum produced by the skin allows it to regulate and manage how much oil is being produced. Less sebum is produced by the skin when it senses there is enough present, which minimises the risk of clogged pores, acne breakouts and blackheads. So, whether you have very dry or oily skin, jojoba oil can be used as a natural moisturiser that works in tandem with your needs.
5. Cool and soothe sunburnt skin
If you have been out in the sun for too long and it feels sore and sensitive, applying some jojoba oil can help to cool and soothe. The oil's vitamin E properties work in combination with the antioxidants to aid red and peeling skin, keeping it moisturised to repair and return to normal faster. However, jojoba oil should not be used as a sunblock replacement.
6. Can protect and heal the skin
The high levels of vitamin E found in jojoba oil offer protection and healing benefits against environmental stressors and free radicals. Antifungal and antibacterial properties are also contained in the oil, which can offer some protection and relief against infections.
Laboratory tests have found that it can kill some types of bacteria and fungi that are responsible for causing candida and salmonella. And because it is a natural emollient, over time, it can soothe and soften the skin, which is great news for anyone struggling to hydrate rough or dry skin.
7. Use it to moisturise the scalp
Jojoba oil contains vitamins B, C and E, as well as zinc and copper minerals, all of which are great for the hair and scalp. If you have a dry or itchy scalp, massage in 1-2 drops of jojoba oil to moisturise the skin and it could also help in the treatment of dandruff. The oil can't be used as a replacement treatment, but can prove effective as a natural complementary solution that eases some of the symptoms associated with dry and itchy scalps.
8. A natural solution for allergy sufferers
When you use an essential oil, there is always a small risk that it could cause an allergic reaction on your skin, due to its high concentration levels. That risk is significantly reduced with jojoba oil, as it is a carrier oil that is suitable for all skin types and can be applied directly without any dilution required.
Whether it's a cosmetic cream, essential oil or carrier oil, there is always a small risk you could experience an allergic reaction when applying a new substance to your skin, but it is very rare with jojoba oil.
9. It could promote collagen synthesis
Collagen is a protein found in your joints and skin and other parts of your body made of cartilage, and the antioxidants in jojoba oil may be able to help promote its synthesis. One study was able to find a link between antioxidants and collagen synthesis, which can be hugely beneficial for the skin. As you get older the collagen levels in your body decrease, which is partly why your facial structure changes, and the production of more collagen could slow down the process.
10. Use jojoba oil to quicken wound healing
Early research has found that application of jojoba oil to your skin encourages cells to bind together after a cut or scratch has separated them, which makes it a promising ingredient for wound healing. This could be why jojoba oil is able to treat acne and acne scarring and its naturally high levels of vitamin E can also go a long way towards speeding up the wound healing process.
How to use jojoba oil for skin
If you want to apply jojoba oil to your face, follow the steps below:
Use a gentle cleanser to prepare your face, removing any makeup or surface dirt that may be present.
Add a few drops of jojoba oil to the palm of your hands and gently rub to warm it up.
Massage the oil into your chosen area of skin using circular motions. It's a good idea to start with a small amount so you don't apply too much at first.
Focus on areas of the skin that tend to show more wrinkles, such as the mouth, eyes and forehead.
Allow the oil to absorb into your skin for a few minutes. Apply it just before you get into bed or in the morning to prepare for your day.
Alternatively, you can add a few drops of jojoba oil to your favourite skin cream, use it as a makeup remover, as a massage oil or even to treat your hair and scalp.
How often should you use jojoba oil?
Jojoba oil is completely safe to use on a daily basis, and to see the best results it is recommended that you incorporate it into your daily skincare routine.
Mix it into a face cream before application or apply using your fingers or a cotton ball, before gently massaging into your pores. It doesn't take long to absorb and after a few weeks you may start to see the improvements you hoped for.
Can I use jojoba oil with other oils?
Jojoba oil is a carrier oil, which means it can be used as a base for an extensive range of essential oils. This enables you to enjoy the aromatherapeutic benefits offered by the likes of lavender oil, tea tree oil, rosehip and many more, which all have their own nutrient and vitamin properties that can improve the look and feel of your skin.
How long does jojoba oil last?
Jojoba oil can last for a very long time because it does not spoil or go off, unlike many other types of oils. As long as it is stored and used correctly, it can sometimes remain in its container for a couple of years without losing its effectiveness.
Oxidation and degradation can still occur with jojoba oil, especially if the oil is overexposed to air, heat and light over time. This will impact the structure of the oil so it loses some of its natural nutrients, making it less effective.
It is generally recommended to only use the same jojoba oil for a maximum of two years. Store in a cool, dry space and keep the oil in a dark glass bottle away from direct heat sources, with the cap tightly sealed.
Look and smell the oil if you are unsure if it has gone off, and if there is a strange odour or it looks too cloudy, it is likely that it has expired and will need to be replaced.
Are there any side effects of jojoba oil?
Jojoba oil is usually safe for most people to use on their skin and whilst no major side effects have been associated with it, you should take the following into consideration.
Allergic reactions: Allergic reactions to jojoba oil are very rare, but there is always a small chance it could happen. If you experience any itchiness, redness or swelling, do not use the oil any further. You may want to complete a patch test before you use the skin on larger areas of skin.
Greasiness: It is best to start with a small amount of jojoba oil to get a better idea of how much is suitable for your skin. Because it is oil-based, applying too much too soon could make your skin look and feel greasy.
UV protection: Whilst jojoba oil can offer some protection against UV rays it should never be used as a sunblock cream replacement. Experts advise that you should avoid using it in conjunction with sunscreen as it could make your skin more sensitive to the sun if you are out for a prolonged period.
Acne breakouts: People with acne-prone skin may not always be a good fit with jojoba oil, as in some cases it can trigger further breakouts, even though it is non-comedogenic (it doesn't clog pores). If you have acne-prone skin and want to use jojoba oil, we recommend starting with a very small amount to see how your skin reacts.
To carry out a patch test, simply add a few drops of jojoba oil to the inside of your elbow and cover with a plaster for 24 hours. If you experience any redness, itchiness, irritation or inflammation on the skin, wash the oil off using warm soapy water and discontinue use.
So, can jojoba oil clog pores? Based on research and feedback offered by countless users, we can confidently say that it does not. In fact, it works to do the complete opposite, so if you do suffer from oily skin, it could provide the natural solution you've been looking for. Add jojoba oil into your favourite moisturiser to enjoy its benefits, or massage directly into your skin safe in the knowledge it will hydrate, refresh and help your skin to look and feel great.
{ let idx = null; product.variants.forEach((v, i) => { if (v.featured_image && v.featured_image.id == $event.detail) { idx = i; } }); if (idx !== null) swiper.slideTo(idx, 0); }" x-init="() => { if (variants.length > 1) { const images = product.variants.map(v => { if (v.featured_image) { return `
`; } }) appendSlides(images); } else { if (product.featured_image) { appendSlides(`
`); } } }" >