21 February 2023 / Laura Garvin Gomez
Benefits of Rosehip Oil for Your Face
This beautiful oil can revive your skin and leave your complexion looking radiant. Find out why.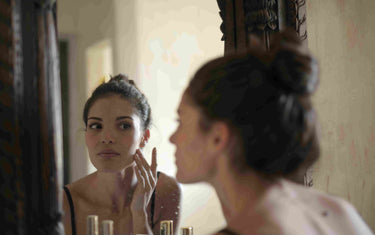 The benefits of rosehip oil are just as beautiful as they sound, and can work untold wonders for your skin.
We've heard a lot about various skin-saving carrier oils and what they can do for us.
Oils like coconut have been scooping up the limelight for years, while steady risers like castor are proving to do more than what we initially assumed. But what about using rosehip oil for face and skin care?
Well, it turns out rosehip may be the unsung hero we've all been waiting for. Despite falling under the radar slightly in the wellness world, big celebrity names have been praising the effects of rosehip for years, and dermatologists are starting to catch on to its effects with greater force every year.
So, what exactly makes this sweet-sounding oil so impactful for our complexions? We'll be diving into all the rich benefits of this rosy carrier oil and how they can positively affect your self-care.
What is rosehip oil?
Derived from the rosa canina bush and occasionally referred to as rosehip seed oil, rosehip is a cold-pressed carrier oil commonly found and grown in Chile.
Not to be confused with rose oil, which is derived from the petals of the rose bush, rosehip oil has been used for centuries across ancient civilisations for its nourishing vitamins and high levels of essential fatty acids.
Like all carrier oils, rosehip oil is commonly combined with essential oils to help reduce their potency and make them safe for use on the skin.
Rosehip also contains antibacterial and antimicrobial properties that can be further influenced by the presence of essential oils.
What are the benefits of rosehip oil for skin?
Many scientists have studied the effects of rosehip oil across numerous dermatological circumstances.
Most have concluded that the oil's naturally-occurring components can produce skin-loving, impactful effects that are well worth integrating into your own routine.
Some of the most notable benefits include:
Hydrating and moisturising
Exfoliating
Boosting collagen
Reducing inflammation and acne
Protecting against sun damage and hyperpigmentation
Reducing scars and fine lines
Keep in mind that this list will not be the same as those detailing rose oil benefits for face, as rose by itself is an essential oil, so will be much too potent for use on its own.
Can rosehip oil hydrate your face?
Lack of hydration in your complexion can become a big problem as you age or dependant on the weather conditions in your location.
Rosehip oil's high levels of linoleic acid and linolenic acid, as well as its rich fatty acid content, can help keep cell walls strong and reduce the risk of dryness caused by these factors.
Rosehip is also easily absorbable, and can lock antioxidants into the skin barrier to protect it against external factors like sunlight or pollution (more on this later).
A study in 2015 assessing the moisturising effects of rosehip oil confirmed that frequent application could improve the skin's overall hydration levels.
As rosehip oil is non-greasy, it is considered suitable for all skin types as an alternative, all-natural moisturiser.
Does rosehip oil exfoliate skin?
While there are no solid elements in rosehip that can make it an effective skin exfoliator, there are benefits in its natural composition that could contribute to more buffed-out, vibrant looking skin.
One of these is its significant vitamin A (retinol) content, that can encourage healthy skin cell turnover and leave your complexion looking brighter and more nourished.
Rosehip's B vitamins and the presence of vitamin E can also contribute to regeneration and the appearance of exfoliated skin.
Will using rosehip oil boost collagen?
As you age, the amount of collagen your body produces goes down.
Since collagen is considered integral to the skin's natural structure and elasticity, it may come as no surprise that this lack could take a toll on the firmness of your complexion over time.
Vitamin A is a huge player in the production of collagen, and rosehip oil is known for being extremely high in this particular nutrient.
The aforementioned 2015 study also proved rosehip's ability to inhibit MMP-1 production - an enzyme which breaks down collagen levels.
Is rosehip oil anti-inflammatory?
If you suffer from rosacea, psoriasis, acne, or other related conditions, the application of rosehip oil may help to limit inflammation.
Rosehip oil has a significant number of polyphenols and anthocyanins - two strong antioxidant compounds that are said to protect and heal the skin from various factors, including inflammation.
It also contains vitamin E, another antioxidant with a history of anti-inflammatory effects.
Can rosehip oil heal damaged skin?
Rosehip oil is considered the best of the best when it comes to healing damaged skin.
Thanks to its notable antioxidant levels, rosehip has been known to successfully combat sun damage and prevent photoaging caused by exposure to UV rays.
As UV exposure interferes with collagen production, usage of rosehip oil can further safeguard the skin from any visible irritation in the first place - though it should never be used as a replacement for sun cream.
Rosehip oil is also famed for its qualities against hyperpigmentation, which is the presence of excess melanin on certain areas of the skin.
The vitamin A found in rosehip can reduce these spots with frequent application, while the hydrocarbons lycopene and beta-carotene can lighten areas of hyperpigmentation to promote a more even skin tone.
How does rosehip oil impact wrinkles and fine lines?
Continuing the theme of rosehip oil's anti-aging wonders, dermatologists have also noted a significant effect against the appearance of fine lines and wrinkles.
A 2015 study on post-surgical scarring saw patients successfully treating their incisions with rosehip oil after detailing a significant reduction in inflammation and scar colour.
Rosehip has also proven particularly successful against crow's feet, largely thanks to its antioxidant levels promoting faster cell regeneration.
Are there any precautions for using rosehip oil on your face?
Carrier oils in general are very safe for topical application as they are much more gentle than potent essential oils or even fragrance oils that you might find.
That being said, allergic reactions to rosehip oil are not uncommon, and therefore a patch test should always be conducted if you've never used the oil on any part of your body before.
There's no denying the superstardom of rosehip oil when it comes to tacking signs of aging and inflammation.
Applying a few drops to your face daily as a replacement moisturiser or cleanser can see your skin glowing in no time, and further use in a massage could encourage more improvements across the rest of your body, too.
Remember that less is always more when it comes to oils - so don't go overboard - and remember to test for allergies if you're new to the magic of rosehip.
| ANALYTICAL DETAILS | RANGE % |
| --- | --- |
| APPEARANCE | OILY LIQUID |
| COLOUR | LIGHT YELLOW - YELLOW |
| COLOUR (LOVIBOND) | ≤ 30.0Y, ≤2.5R |
| ODOUR | ODOURLESS |
| SPECIFIC GRAVITY @ 20℃ | 0.911 – 0.935 |
| REFRACTIVE INDEX @ 20℃ | 1.467 – 1.485 |
| PEROXIDE VALUE | ≤10.0 |
| MOISTURE | ≤0.1 |
| FREE FATTY ACID (% AS OLEIC) | ≤0.5 |
| ACID VALUE (MGKOH/G) | ≤1.0 |
| IODINE VALUE (MG/G) | 138.0 – 179.0 |
| SAPONIFICATION VALUE (MGKOH/G) | 185.0 – 206.0 |
| FATTY ACID PROFILE | | RANGE % |
| --- | --- | --- |
| C-CHAIN | ACID NAME | |
| C16:0 | PALMITIC | 2.0- 10.0 |
| C18:0 | STEARIC | 1.0 - 7.0 |
| C18:1 | OLEIC | 10.0 - 26.0 |
| C18:2 | LINOLEIC | 35.0 - 65.0 |
| C18:3 | ALPHA LINOLENIC | ≤ 35.0 |
| C20:0 | ARACHIDIC | ≤ 2.0 |
{ let idx = null; product.variants.forEach((v, i) => { if (v.featured_image && v.featured_image.id == $event.detail) { idx = i; } }); if (idx !== null) swiper.slideTo(idx, 0); }" x-init="() => { if (variants.length > 1) { const images = product.variants.map(v => { if (v.featured_image) { return `
`; } }) appendSlides(images); } else { if (product.featured_image) { appendSlides(`
`); } } }" >