3 min read / 10 January 2022 / Caitlin Devlin
Benefits and Uses of Rosewood Oil
Rosewood oil has wonderful benefits for skin and is packed full of cleansing benefits.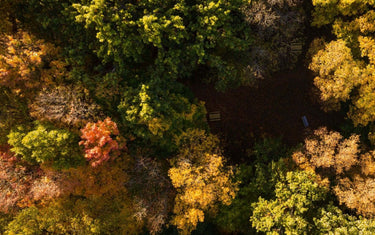 The delicately scented rosewood tree has been used for many years in Amazonian systems of medicine.
Native to the Amazon, Guyana and surrounding areas, this giant evergreen tree become so popular when it was discovered by the west that it became overexploited in the furniture and carpentry industries.
Now the tree is regarded as a protected species and has returned to being used for its natural benefits.
Wonderfully restorative for skin and an effective household cleaner, the oil distilled from the woody matter of the rosewood tree is valued for far more than its earthy, floral scent.
Rosewood essential oil is great for skin.
A very gentle oil when properly diluted, rosewood has a long list of benefits for skin. It is known as an effective tissue regenerator, allowing it to heal damaged and dry skin quickly for a softening, toning effect.
This also reduces the appearance of stretch marks and wrinkles.
In addition, rosewood is a cleansing oil that is able to deeply clean pores and prevent the growth of harmful microorganisms on the skin.
The soothing nature of the oil helps it to calm irritated skin, and so it may act as a useful natural remedy for conditions such as acne and eczema.
Adding a few drops of rosewood essential oil to a carrier oil makes for an effective natural skin treatment.
It has significant antibacterial effects.
Rosewood is considered an antibacterial and antiseptic oil, allowing it to fight against harmful bacteria and prevent them from infecting the body.
A study in 2020 found that rosewood oil showed antibacterial activity against a wide range of standard and marine environment strains of bacteria, which suggests that it can provide high levels of protection.
This antibacterial activity is theorised to be due to the presence of the constituent linalool, which has been observed in many other essential oils that have strong cleaning properties.
Research in 2019 even found that rosewood oil could even be effective in combatting antibiotic-resistant bacteria.
Since these bacteria have become resistant to modern medical efforts, natural solutions may be needed, and there's a chance that rosewood oil may play a role.
It's an antioxidant.
The previously mentioned study in 2020 also found that rosewood oil was able to efficiently inhibit the activity of free radicals in the body.
This suggests that the oil has antioxidant abilities. Antioxidant oils are able to prevent harm caused to cells by toxins and protect the overall health of the body, and for this reason many people incorporate them into their daily routine.
Diffusing rosewood oil or diluting and applying topically may help you to benefit from its antioxidant properties.
It's effective against fungi.
Rosewood oil has also been shown to display significant antifungal activity. A study in 2019 measured the effect of rosewood essential oil against different fungi to see how well the oil was able to inhibit cultures.
Rosewood oil was found to completely inhibit the fungi against which it was tested.
Diluting rosewood oil with a carrier oil can make for a great treatment for fungi on the skin. You may also want to use rosewood oil in a spray bottle to tackle stubborn fungi in your home.
Associated with luxury in the west for many years, rosewood has been prized and coveted to excess.
Perhaps it's time to explore the simple, natural benefits of the oil, and allow this sweet-smelling tree to return to its roots.
Shop our rosewood essential oil here.