7 min read / 27 March 2023 / Laura Garvin Gomez
Jasmine Oil Benefits for Hair
This beautiful essential oil is not only revered in the world of perfumery, but in the beauty world, too.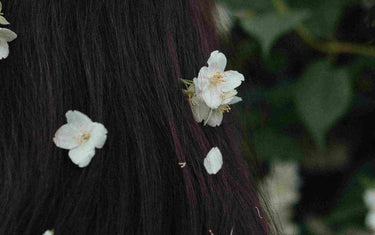 Jasmine essential oil is famed for its sweet, delicate scent that is often described as one of the most beautiful aromas in the world.
It has an extensive history in perfumery and contains many aromatherapy benefits that have been enjoyed by civilisations for centuries.
Besides this, jasmine oil has also been spotted as an ingredient in many commercial beauty products, specifically surrounding haircare.
This surge in its use begs the question; what are the jasmine essential oil benefits for hair? How does it work, and how can this light yet floral oil make its way into your haircare routine?
We're here to provide you with all the answers you'll need to get started.
What is jasmine essential oil?
Jasmine oil, also known by the botanical name Jasminum officinale, is a highly luxurious essential oil extracted via steam distillation from the blooming white flowers of the jasmine plant.
While this plant is believed to be native to Iran, jasmine can also thrive in a variety of warm climates.
Jasmine essential oil is commonly used as a sedative to promote relaxation, as well as an aphrodisiac and an energy booster.
Is jasmine oil good for hair?
Because of its delicate flowers, jasmine is one of the more expensive essential oils to extract, and therefore is not so common for use in haircare compared to the likes of rosemary or peppermint.
However, this doesn't mean its benefits for our locks should go completely unnoticed. Jasmine oil has been known to soothe, moisturise, and even promote hair growth. Especially if used in conjunction with our rosemary oil for hair.
When combined with a carrier oil, using jasmine oil as part of your day-to-day routine can help keep your locks feeling fresh, smooth, and protected from external irritants.
What are the jasmine oil benefits for hair?
We've noted some of the most impactful benefits that jasmine hair oil can provide for your locks and scalp.
1. It can lock in moisture
Jasmine oil is a natural emollient. This means it can successfully maintain hydration levels in the skin by sealing the skin barrier and preventing moisture from escaping.
When applied to the scalp, this can be beneficial for those with dry, dull hair, as well as those suffering with dandruff.
Jasmine oil can also be used on the face and body to help tackle similar issues.
2. It's antimicrobial
Like many essential oils, jasmine oil has rich antimicrobial properties - specifically against bacteria and viruses in the body.
One 2008 study found that the antibacterial properties of jasmine could successfully fight off strains of E. coli, thanks to a variety of natural components found within the oil.
A similar 2009 study also noted jasmine's effects against the hepatitis B virus.
While neither of these microbes is likely to appear on your hair, these studies demonstrate the power that jasmine could have against conditions like psoriasis or dermatitis on the scalp.
3. It can encourage cell turnover
By acting as an anti-microbial, jasmine essential oil can also help to soothe dry skin and help seal the areas surrounding the hair cuticle.
This can help prevent breakage caused by external irritants like dyes, heat, and brushing, as well as possibly encourage hair growth with frequent use.
How to use jasmine oil for hair
While essential oils are usually extremely potent, jasmine oil is actually light enough for daily use - but it does still have to be diluted.
Those with particularly fine hair should avoid using jasmine oil so frequently, however, as it can feel slightly heavy on these more delicate hair types.
With that in mind, we're looking into some popular ways you can incorporate jasmine oil into your haircare regime.
1. Make a quick and easy hair oil
If your hair is naturally thick or curly, making a hair oil can help to tame frizz levels and smooth the hair as well as provide additional moisture to your locks. They also work particularly well after a hair wash day.
Here's how to make your own jasmine hair oil at home.
You will need:
Method:
Mix the oils together in a small bowl.
Part your hair into six to eight even sections.
Gently apply the oil directly to your scalp, and gradually follow up by adding small amounts to the strands.
Leave overnight and wash out the next day.
2. Use as a pre-scalp treatment
Pre-scalp treatments can help to enhance blood circulation as well as decongest the scalp from any bacteria or build-up.
This can help promote hair growth over time, as the hair follicles are provided with a sounder environment in which to grow.
Here's how to make one using jasmine oil.
You will need:
Method:
Pour your carrier oil into a separate dish.
Carefully add in your essential oils, making sure not to add too much, and mix well.
Gently massage the solution into your fingertips for 5-10 minutes.
3. Make a pre-shampoo conditioner
If you find your hair frequently looks damaged or dry, it could benefit from a deeply cleansing pre-shampoo conditioner.
Applied before washing your hair, this solution can help protect it from any breakage or irritation that may be caused during the shampooing stage.
Here's how to create your own pre-shampoo treatment at home.
You will need:
Method:
Combine plain conditioner and your chosen oils together in a large bowl.
Wet the hair and separate it into four sections.
Apply the conditioner evenly to each of these sections.
Leave in for 20 to 30 minutes before rinsing out with warm water.
4. Create your own styling spray
For those with curly or thick hair types, it's best to avoid over-washing, so giving your hair a good boost of moisture in-between washes can be an effective way to spruce up your look.
Making your own styling spray is a quick and easy way to achieve this, especially with essential oils like jasmine in the mix.
Here's how to create your own at home.
You will need:
Method:
Place your ingredients all together in a blender. Blitz until combined thoroughly.
Decant the mixture into your spray bottle.
Spritz it lightly onto your hair every morning and leave in until the next wash.
Are there any risks to using jasmine essential oil for hair?
Despite its gentle nature, jasmine oil is like any other essential oil in that it's too potent to be used on the hair by itself.
To avoid irritation (which could make your chances for hair growth worse!) always combine your jasmine oil with a plant-based carrier oil like argan, jojoba, or coconut oil.
It's also recommended to perform a patch test of the oil on unbroken skin before using it on your hair. If you notice redness, itching, or a rash, cease use immediately.
Anyone who is pregnant or nursing should consult with their doctor before using jasmine oil to ensure it's safe for their health and lifestyle.
Is jasmine essential oil suitable for all hair types?
Jasmine oil can work wonders on some hair types, but it's not necessarily for everyone.
If you suffer from any kind of scalp condition - like psoriasis or dermatitis - jasmine oil is greatly recommended to help soothe irritation in these areas as well as minimise the risk of flaking.
Those with damaged, curly, thick, natural, or dry hair can also benefit greatly from using jasmine oil on their locks. But, if you have fine or thinning hair, jasmine oil is not best recommended.
In these cases, an oil like rosemary or peppermint may be more beneficial, as they can also work to strengthen and thicken the hair.
Frequently Asked Questions
Does jasmine oil promote hair growth?
Yes, jasmine oil is great for promoting hair growth thanks to its strong antimicrobial and emollient properties that can safeguard your hair from damage and breakage.
What does jasmine oil smell like?
Many people have described the aromas of jasmine as rich, delicate, and floral with sweet undertones and an overall air of sensuality.
Can jasmine oil reduce hair loss?
While jasmine oil has many great benefits for hair, it's not advised for hair loss as it can be quite heavy on thin or fine hair types.
No matter how you use it, the sweet aromas of jasmine oil can give your hair just the right boost to keep it feeling soft, smelling fragrant, and looking great.
Remember to always combine your jasmine oil with a suitable carrier oil base, and be sure to patch test it before applying anywhere on the body.