31 January 2023 / Laura Garvin Gomez
Argan Oil For Hair: What Are the Benefits?
This miracle hair remedy has certainly not flown under the wellness radar, but what exactly makes it such a valuable asset to our routines?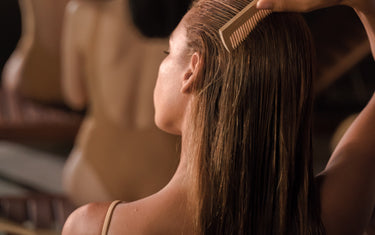 When it comes to hair care, argan oil is everywhere.
Its sheer power for our locks has seen it grace every product from your standard shampoos and conditioners to those salon-worthy, top tier treatments.
Compared to the other natural stars of hair care, like coconut oil or castor oil, using argan oil for hair seems to be the most talked-about option out there - but what does argan oil do for hair, exactly?
Filled with essential vitamins, nutrients, and antioxidants for bright and shiny hair, we'll be detailing all the reasons why this powerhouse oil is so great for maintaining healthy locks.
What is Argan Oil?
Cold pressed from the kernels of the Moroccan argan tree and know affectionately as "liquid gold", argan oil has had many traditional applications - including uses in cooking and holistic medicine.
Its cosmetic uses have also been around for several centuries, though they only exploded significantly in Western popularity from the early 2000s.
Like most carrier oils, argan oil is mostly odourless, but can contain a light nuttiness. Argan oil is most commonly applied topically to the hair, skin, and nails for a nourishing boost.
Is argan oil good for hair?
There's no denying the incredible benefits of argan oil for the hair, and what's ideal is that it works well on pretty much all hair types.
That being said, argan oil is best for those with thick, curly, or weighed-down hair, so might be seen as slightly too heavy for really thin hair types if you're wanting a lightweight feel.
Those with significant hair loss or damage should also consider seeking a doctor's advice for the best products to use, as argan oil isn't suitable for more complex issues.
What are the argan oil benefits for hair?
Experts and scientists alike have agreed that what makes argan oil so great boils down to the wealth of fatty acids and powerful antioxidants within its composition.
We've listed some of our favourite benefits that make this carrier oil such a valuable asset to your hair care routine.
1. Moisturises, hydrates, and conditions
Argan oil is full of healthy acids, including oleic and linoleic acid, which have been known for their moisturising qualities.
When combined, they can help lubricate the hair shaft and lock in essential nutrients needed for nourished, hydrated hair.
Argan oil also contains high levels of vitamin E, which has been known to protect the hair and scalp by forming a fatty layer arounds its surface. This in turn can prevent dryness, reduce frizz, and give your hair a boost of shine.
2. Improves scalp health
Naturally anti-inflammatory with a whole host of antioxidant properties behind it, argan oil has been coined as a great tool for scalp health.
This is due to its ability to combat dryness and inflammation in the skin, meaning it can reduce irritation and facilitate a healthier environment for hair follicles to grow.
It has also been noted as a great treatment for those suffering from hair loss as a result of psoriasis as well as seborrheic dermatitis.
3. Prevents breakage and styling damage
The antioxidants found in argan oil work as great defendants against external irritants such as sunlight, pollution, and chemical treatments.
A 2015 review on hair cosmetics revealed that oils rich in linoleic and oleic acids (like argan) could successfully prevent breakage during heat styling by forming a protective layer on the hair shaft.
A further 2013 study also noted that argan oil could reduce signs of damage caused by harsh hair dyes.
4. Argan oil for hair growth
While there is no specific research on the effects of argan oil for hair growth, its effects on the scalp give significant grounding for experts to believe it could be beneficial, especially when used in conjunction with rosemary oil.
Since a happy scalp equates to happy hair, using argan oil to keep it in good shape can only result in a positive outcome over time.
A small 2010 study also noted the successful effects of vitamin E oil on hair growth - a natural compound which argan has plenty of.
How to Use Argan Oil for Hair
As with all carrier oils, there are many ways to utilise their benefits depending on your unique needs and circumstances.
Here are some of the most popular options to try:
1. Make your own hair mask
Making a hair mask is a simple and effective way to get the nutrients of argan oil into your hair, and can also be easily combined with other hair-boosting oils like coconut oil or castor oil.
If you're feeling extra indulgent, you can even try adding essential oils like rosemary oil into the mix for an added kick of wellness.
Simply mix the oils together (if you're using essential oils, be sure to refer to our hair blending guide) and smooth the solution across your hair - from root to tip.
Wrap your hair securely in a towel or hair wrap and leave overnight, then wash out as normal in the morning.
2. Use as a leave-in conditioner
If you want an all-natural alternative to conditioner, argan oil could be just the trick.
Wash and towel-dry your hair after showering, then proceed to add two or three drops to your hair, making sure to spread the oil evenly.
Repeat this once or twice a week for best results.
You can also try adding a couple of drops to a dollop of your shampoo for a moisturising boost.
3. Use as a styling product
Argan oil makes a great on-the-go styling tool, particularly against common issues like frizz and puffiness.
Add a couple of drops to your palm and apply lightly to the surface of dry hair, before styling as usual.
Frequently Asked Questions
How often should you use argan oil for hair?
Start off by applying argan oil two to three times a week. Then, depending on how your hair takes to it, you can up the amount slightly.
For heavier treatments like hair masks, it's best to stick to a couple of times a week at most.
What are the side effects of argan oil for hair?
As argan oil is derived from tree nuts, those with known allergies (as well as those prone to allergies) should steer clear of argan to avoid reactions.
Using too much argan oil in your hair can also result in greasiness, so be sparse with your applications.
Do I put argan oil on wet or dry hair?
Argan oil works best after washing and while the hair is still wet. That being said, it can also be applied to dry hair in small doses for a styling boost.
Argan oil is the king of hair oils for a reason, and implementing it into your routine will certainly result in shinier, healthier locks with frequent application.
If you're looking to use argan oil with other oil types, you can check out our Hair Care and Ultimate Hair Care bundles to target all your wellness needs in one.
{ let idx = null; product.variants.forEach((v, i) => { if (v.featured_image && v.featured_image.id == $event.detail) { idx = i; } }); if (idx !== null) swiper.slideTo(idx, 0); }" x-init="() => { if (variants.length > 1) { const images = product.variants.map(v => { if (v.featured_image) { return `
`; } }) appendSlides(images); } else { if (product.featured_image) { appendSlides(`
`); } } }" >
{ if (visible && product == e.detail.data) return; ready = false; const articleTop = document.querySelector('[data-article]').getBoundingClientRect().top + window.scrollY; $nextTick(() => { product = e.detail.data; selected = product.variants[0].id; ready = true; setTimeout(() => { top = e.detail.target.getBoundingClientRect().top + window.scrollY - articleTop; show(); }, 10) }) }" @scroll.window="close()" >