5 min read / 19 April 2023 / Laura Garvin Gomez
How to Make Meditation Candles
Learn how to create your own custom meditation candles with our step-by-step guide.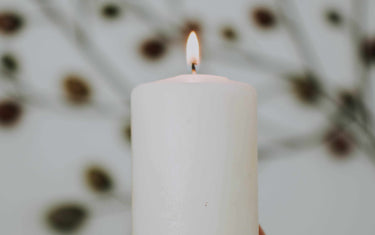 Whether you follow a particular meditation method or simply take time out to relax your mind, there are lots of things you can do to create the ideal ambience.
Using candles for meditation is a popular choice for many people as you can enjoy the scent and the calming effect of a slow-burning flame. Here we explain all you need to know about meditation candles, including how to make them, so you can enjoy their benefits whenever you want.
What is a meditation candle?
A meditation candle is a candle that is crafted with essential oils and is used to stimulate your senses. Many people use these types of candles as part of their meditation process, although they can also be used to create a relaxing ambience to unwind and relax in. Making your own meditation candle is easy and is a cheaper alternative to buying them ready-made online or in an aromatherapy store.
Are there any benefits to using meditation candles?
These calming candles offer a variety of benefits, which can range from improving your sleep pattern to helping you manage your stress levels. Some of the more general benefits include:
Aromatherapeutic qualities: Candle mediation can be a simple but highly effective tool for helping you to unwind. The inclusion of essential oils means you can not only enjoy their wonderful scents but also the many aromatherapeutic benefits they have to offer.
Natural remedy:

When you make your own meditation candles, you never have to worry about the ingredients as you know exactly what goes into them. There won't be any chemicals or harsh substances included, only soy wax, a cotton wick and your favourite essential oil.

Mood setting:

There are few things better than a candle when it comes to setting the right mood. Whether you want to enjoy their scent or lose yourself in the flame as it slowly burns, it creates a natural, calming effect almost unlike anything else.

Wonderful gift:

Mediation candles also make for a wonderful gift. They are easy to make and do not require expensive ingredients, and will always be appreciated by friends and family. Even if they never burn the candle, they also make for great decoration around the home.
What are the best essential oils for meditation candles?
Of course, it all comes down to personal preference, but some of the most popular essential oils used for mediation candles are:
A wonderful blend of thyme, lavender and ylang ylang: Individually, each of these essential oils can offer an array of health benefits, and when brought together in our Meditation Essential Oil Blend

they create a truly wonderful blend. Thyme contains linalool which can help to ease anxiety and depression and is also used by some to help them sleep better. Lavender is well known for its unique ability to improve sleeping patterns, whilst many rely on ylang ylang and the harmonious effect it can create.
Calm your mind and thoughts with lavender oil: Whether it's being used as a natural sleep remedy or to offer pain relief, Lavender Essential Oil

is a staple that should be in every home. The fresh, floral scent is a true delight and works a treat in a candle recipe, filling the room and your home with its beautiful scent. For centuries, people have been using lavender oil to clear their minds, and it can help you to find your own piece of mental stillness and calm.

Ylang ylang offers a soothing, calming scent: Mental health is important and with the right essential oil steadily burning with your homemade candle you can create your own haven of escape. Ylang Ylang Essential Oil

is also great at calming the mind and creating a sedative effect, so if you struggle to sleep or need help finding centring your mind as you meditate, this could be perfect for you. It's also known for calming nerves and in some cases even blood pressure rates, which is ideal if you need to de-stress after a tough day or week.
How to make meditation candles
To make a meditation candle at home, follow these steps:
Glue the wick:

Use a clean, dry, dust-free container for your candle and place this at the centre of the container and leave it to harden. (Make sure this container is suitable for candles.)

Secure the wick:

The wick will need to be firmly secured so it doesn't move when the wax is poured in. You can use a wick centring bar (which you can easily buy online for only a few pounds) to ensure you are ready to move onto the next step.

Melt the wax:

Use the container to measure out how much soy wax you will need and then melt it over boiling water in a pouring pitcher or pot.

Add the essential oil:

You can now add your essential oil of choice – wear rubber gloves for this part as it can cause irritation if it touches your skin.

Pour the wax:

Carefully pour a little bit of the melted wax into your container and let it stand for a while to set the wick. Fill up the rest of the container and let it cool at room temperature for a minimum of 12 hours.

Trim the wick:

You can now remove the wick holder and trim the wick so it sits just below the rim of the container. Decorate the candle with any ribbons or other trimmings you like and then lit the wick whenever you are ready.
Hopefully, we've taken away some of the myths about candle making and shown that you don't have to be an expert to craft your own. And you don't have to be a meditation guru to enjoy a meditation candle - all you have to do is light the wick and relax in a way that suits you best. Feel free to use our essential oil suggestions above or experiment a bit more to find the perfect fragrance blend that will help you relax and forget your troubles for a while.
{ let idx = null; product.variants.forEach((v, i) => { if (v.featured_image && v.featured_image.id == $event.detail) { idx = i; } }); if (idx !== null) swiper.slideTo(idx, 0); }" x-init="() => { if (variants.length > 1) { const images = product.variants.map(v => { if (v.featured_image) { return `
`; } }) appendSlides(images); } else { if (product.featured_image) { appendSlides(`
`); } } }" >
{ if (visible && product == e.detail.data) return; ready = false; const articleTop = document.querySelector('[data-article]').getBoundingClientRect().top + window.scrollY; $nextTick(() => { product = e.detail.data; selected = product.variants[0].id; ready = true; setTimeout(() => { top = e.detail.target.getBoundingClientRect().top + window.scrollY - articleTop; show(); }, 10) }) }" @scroll.window="close()" >