5 min read / 29 March 2023 / Laura Garvin Gomez
How to Make Lemon Oil
This multi-purpose agent has been a star in the aromatherapy world for centuries. Here's how to make your own at home.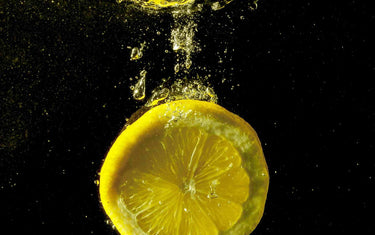 Lemons are packed full of benefits for our health and cleanliness.
Originating in Asia, they've been referred to as "the fruit of heath" for centuries due to their benefits against bacteria, their positive effects on mood, and their overall impact on our bodies.
It's likely we've all come across concentrated lemon essential oil before, but did you know you could also make a milder version from the comfort of your own home?
We'll be sharing two popular recipes on how to make lemon oil, as well as the differences between a DIY oil and a commercial essential oil.
What is lemon essential oil?
Lemon essential oil, also known by the botanical name Citrus Limonum, is a sharp yet zesty remedy that can be extracted from the peel of the fruit in two distinct ways: steam distillation and cold pressing.
Steam distilled lemon oils are generally safe for use on the skin after dilution, while cold pressed lemon oils could produce phototoxic effects if applied topically.
Either way, both oils require specialist extraction methods to achieve the oil with the strength and potency we recognise. But, this isn't the only way to experience its benefits for the mind and body.
What's the difference between this lemon oil and essential lemon oil?
These homemade lemon oil recipes will provide a much milder, much less concentrated version of the essential oil - but that doesn't mean they aren't impactful.
The biggest difference between these oils is that you can use this DIY lemon oil for cooking. Cooking lemon oil that's too potent is generally not recommended, as it can lead to irritation in the body or to the internal organs.
Homemade lemon oil, however, is essentially an "infusion" of the lemons and is thus considered safe for internal consumption.
Both oils can also provide wider benefits for the body like clearing bacteria, soothing morning sickness, reducing stress, and tackling acne build-up.
What's the difference between this lemon oil and lemon juice?
DIY lemon oil and lemon juice are not the same. Lemon oil comes specifically from the peel of the fruit, while lemon juice is squeezed from the juicy pulp inside the fruit.
Both can be used for things like cleaning and cooking, but lemon oil is considered much more versatile and a much greater source of some of the benefits that lemons have to offer.
How to make lemon oil
There are two ways to make lemon oil at home: the cold method and the hot method. One takes significantly longer than the other, but both will be more than worth your time in the end!
We've broken down all the steps you need to know below.
Cold method (2-week preparation time)
You will need:
Method:
Wash your lemons thoroughly under cold water and leave them to dry for 2 hours.
Peel your lemons using a knife, vegetable peeler, or zester. Try to avoid using any of the fruit pulp.
Pack your yellow peel into an airtight jar.
Add your chosen carrier oil. Screw on the lid of your jar and shake well.
Place the jar on your windowsill for two weeks and allow the heat to infuse your oils together. Shake daily for best results.
After two weeks, use a strainer or cheesecloth to separate the oil from the peel.
Store your DIY lemon oil in a cool, dark place for up to a month and use as desired.
Hot method (45-minute preparation time)
You will need:
Method:
Wash your lemons thoroughly with cold water and pat the dry using a paper towel. Leave to sit for around half an hour until completely dry.
Using a knife, vegetable peeler, or zester, remove the lemon peel from the fruit. Be careful not to keep any of the fruit pulp attached to the peel.
Place your lemon peel in a small pot and pour your coconut oil over the top.
Gently heat the oil and bring it to a simmer for 5 minutes, then allow it to cool.
Alternatively, you can leave your oil in a glass bowl and place this over the top of a pot of water, leaving it to simmer for 2-3 hours.
Strain the oil into your airtight jar using a strainer or cheesecloth, and store it in a cool, dark place for up to a month.
How long will my homemade lemon oil keep for?
Most DIY lemon oils should stay good for up to a month if stored in a cool, dry place. Be careful to avoid direct sunlight around your oil infusion to help it stay potent and usable for longer.
Some ideal locations to store it include a dark cupboard, or in your refrigerator. If you opt for using lemon essential oil instead, this should remain at its best for a minimum of 24 months after opening.
Where to buy essential lemon oil
If you don't feel like going through all the trouble of making your own lemon oil at home, our lemon essential oil is just as impactful with double the punch.
Remember, though, that essential oils - as opposed to oil infusions, like above - should not be taken internally as they are much more potent and could cause harm.
That being said, they're certainly handy for making your own cleaning sprays, for adding to your electric diffuser, and for using on your skin once diluted with a carrier oil.
Learn more about the benefits of lemon essential oil.
Making your own lemon oil is a great way to experience all that lemon essential oil has to offer, whilst using ingredients that are likely already lying around in your cupboards at home.
Feel free to experiment with different methods and uses, and remember to always take note of the kind of lemon oil you're using, and its particular strength.
{ let idx = null; product.variants.forEach((v, i) => { if (v.featured_image && v.featured_image.id == $event.detail) { idx = i; } }); if (idx !== null) swiper.slideTo(idx, 0); }" x-init="() => { if (variants.length > 1) { const images = product.variants.map(v => { if (v.featured_image) { return `
`; } }) appendSlides(images); } else { if (product.featured_image) { appendSlides(`
`); } } }" >