22 August 2022 / Laura Garvin Gomez
How To Make a Shampoo Bar
Refresh and renew your haircare routine with this DIY bar - made using essential oils.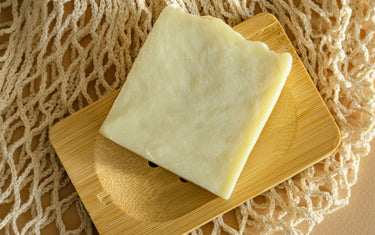 Shampoo is an integral part of most of our haircare routines.
It can cleanse, soften, and most importantly clean our hair to make it look and feel nourished and shiny.
As waste accumulates globally, however, its likely many of us are becoming concerned with the amount of plastic we use - and how we can avoid using it as much as possible.
Thankfully, there's a more sustainable alternative to the rows upon rows of plastic shampoo bottles we find at out local supermarkets.
Creating your own handmade shampoo bar can not only reduce waste, but also enhance your haircare routine by including gentle, natural ingredients.
Shampoo bars can also last up to three times the length of regular, medium sized shampoo bottles - saving you money and decreasing your plastic usage overtime.
To help you get started, we've provided an easy-to-follow shampoo bar recipe below.
Shampoo bar ingredients
63g sodium hydroxide lye crystals
113g cold water
114g Argan Oil
91g shea butter
227g olive oil (light coloured)
23g castor oil
2 tbsp honey
What are sodium hydroxide lye crystals?
Also known simply as "lye", sodium hydroxide crystals are used to help combine the oils, butter, and water into one solid and usable block.
The crystals also produce that desirable foam and lather needed in a good soap or shampoo bar.
Why these essential oils?
While you can substitute any essential oils you like within this recipe, we recommend these two oils both for their pleasant smell and their rich benefits for the hair and scalp.
Tea tree oil is a common ingredient in several commercial shampoos and conditioners due to its powerful effects against dry scalp and dandruff.
Lavender oil, on the other hand, has been shown to have positive attributes towards hair growth and health, as well as providing a gentle, pleasant scent.
You will also need
Gloves and goggles
A mask
Full-cover clothing (long sleeves, closed-toe shoes, covered legs)
Stick blender
Heat-safe containers (such as glass or stainless steel)
Soap mould
Spatula/whisk
Thermometer

How to make shampoo bars
Note: This method uses cold pressing as opposed to hot process.
Dissolve the sodium hydroxide crystals in water. It's very important to

always pour the lye crystals into the water, not the other way around. Pouring water into the lye crystals can cause an adverse reaction. Once dissolved, set the lye water aside.
Melt the shea butter in a pan on a very low heat. When it's melted, remove the pan from the heat and set down on a heat-proof surface.
Combine the argan oil, olive oil, castor oil and essential oils in a separate container. Mix them together before pouring them into the pan with the melted shea butter.
Measure the temperature of the oil mixture and allow it to cool to approximately 35-38 degrees. Your lye water should be around the same temperature.
Pour the lye water through a sieve into the pan of oils.
Stir the solution together. Then hold the stick blender to the bottom of the pan and blitz for a couple of seconds. Turn off, stir, and repeat until the mixture thickens to 'trace'. At this stage it should have a thin, custard-like consistency.
Working quickly, pour the mixture into your mould and tap to settle it.
For fast results, put the mixture in the fridge overnight and take it out the next day. After 48 hours, take the shampoo mixture out of the mould and cut it into bar.
Technically the shampoo bar is now ready to use. However, curing it for 28 days will give you better-quality, longer-lasting bars. During the curing process, the shampoo bar(s) should be stored in a cool, dry place accessible to airflow.
Once the shampoo bars are ready, feel free to use them as a part of your haircare routine, repeating this process as often as you need.
Shop our essential oil range here.