28 February 2022 / Laura Garvin Gomez
How to lighten your hair with lemon essential oil
Create sun-kissed hair and bring out natural highlights with this lightening spray.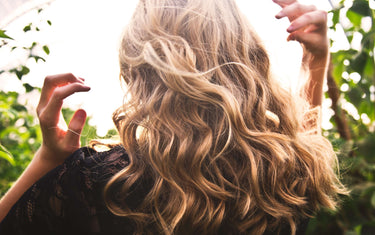 We've all heard that lemon juice can give us natural blonde highlights, but have you ever thought of trying this trick with lemon essential oil?
Many of us have spent a summer or two lying in the sun with lemon juice in our hair, trying to achieve beautiful sun-kissed highlights.
Lemon essential oil is a potent natural product that can help us to achieve lightened, sun-kissed hair without having to head to the salon.
How to use lemon essential oil to lighten hair
The potency of lemon essential oil is said to open hair follicles when exposed to the sun more fully than lemon juice alone, stripping hair of its colour for a natural bleaching effect.
Please note that you will get a much better result if you use cold-pressed lemon for this trick as it tends to contain higher levels of vitamin C.
Ingredients & Equipment
Method & Usage
Combine the coconut oil and lemon essential oil and stir well.
Squeeze the juice from the halved lemon into the oil mixture and stir well.
Pour the mixture into the spray bottle and fill to the top with water.
Wearing an old t-shirt or keeping a towel around the shoulders, separate wet or dry hair into sections. If you do not want to lighten all of your hair then tie the hair you wish to preserve the colour of out of the way.
Keeping hair in its sections, brush any knots out.
Spray each section of hair with lightening mixture until the texture is noticeably different and comb through. Repeat for each section. Be sure to only spray the hair and not the face or the scalp. You may also want to wear gloves in order to protect your hands from the mixture.
Sit outside in direct sunlight for 20-30 minutes, making sure that each section is exposed to direct sunlight for a good amount of time.
Wash hair, making sure to remove all of the lightening mixture.

Precautions
Avoid applying cold-pressed lemon essential oil to skin or scalp. Cold-pressed lemon oil has phototoxic effects which can irritate or cause burns to the skin in direct sunlight.
Make sure that you apply sunscreen before sitting in the sun for a prolonged period of time, and bring water with you to avoid dehydration.
You can repeat this process several times if you like but you should be sure to leave a few days between each repetition. If you do choose to regularly repeat the process then keep an eye on the health of your hair, as this technique can be drying if applied too often.
Not got time to sit in the sun? Next time you buy a new bottle of conditioner, mix in twenty drops of lemon essential oil to slowly lighten your hair over time. Or if you're looking for hair growth, why not try our rosemary oil for hair.
{ let idx = null; product.variants.forEach((v, i) => { if (v.featured_image && v.featured_image.id == $event.detail) { idx = i; } }); if (idx !== null) swiper.slideTo(idx, 0); }" x-init="() => { if (variants.length > 1) { const images = product.variants.map(v => { if (v.featured_image) { return `
`; } }) appendSlides(images); } else { if (product.featured_image) { appendSlides(`
`); } } }" >