2 min read / 7 January 2022 / Caitlin Devlin
Benefits and Uses of Lemon Verbena Oil
Lemon verbena is a fresh, citrussy herb with cleansing, insect-repellent properties.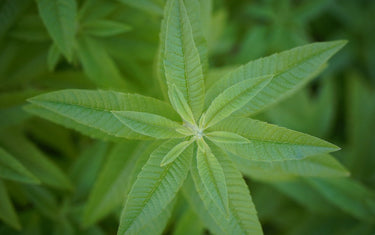 Although we don't know much about lemon verbena's early history, there is some belief that this citrusy oil was the substance refereed to by Ancient Egyptians as 'Tears of Isis'.
What we do know is that by the 1700s, lemon verbena was everywhere, spread as a miracle cure for fever.
The small lemon verbena shrub, also known as lemon beebrush, was prized for its medicinal properties, and many years later we are beginning to rediscover them.
Lemon verbena essential oil is antibacterial.
Lemon verbena has natural antibacterial properties, allowing it to attack harmful bacteria around the home.
It's antifungal properties also mean that it can inhibit the growth of fungi and prevent unwanted organisms from thriving.
Try adding a few drops of lemon verbena to home cleaning sprays for a natural alternative to commercial products.
It repels mosquitos.
There has been mounting concern throughout the last few years over the fact that mosquitos are becoming resistant to commercial solutions.
Natural products such as lemon verbena are not only potent against mosquitos, but lessen the risk of resistance.
A 2006 study showed that lemon verbena oil could help to kill mosquitos at the larval stage, and it is also commonly used to repel adult mosquitos.
It can relieve pain.
Muscle pain is often caused by spasms in the muscles themselves.
Lemon verbena has been found to have antispasmodic properties, which can help to lessen these spasms and relax the muscles, lessening pain.
Lemon verbena is also an anti-inflammatory, which helps it to reduce painful inflammation in muscles and joints.
It may aid digestion.
Tea made from lemon verbena is traditionally associated with sleep-promotion, pain relief in the stomach, and better digestion.
Many people still use lemon verbena to improve digestion and relieve gastric discomfort.
A 2011 study showed that the oil was able to reduce inflammation in the colon, allowing for an easier, more comfortable digestive process.
To benefit from these effects, try applying a diluted amount of lemon verbena topically to the abdomen.
Despite being quite an underrated oil, lemon verbena has a vast list of beneficial properties that allow it to soothe, heal and protect the body.
Perhaps soon we will see it considered as valuable a medicinal oil as it once was.
Shop our lemon verbena essential oil here.