5 September 2023 / Laura Garvin Gomez
Is Rosemary Oil Good for Eyebrow Growth?
Explore the eyebrow-boosting potential of Rosemary Oil.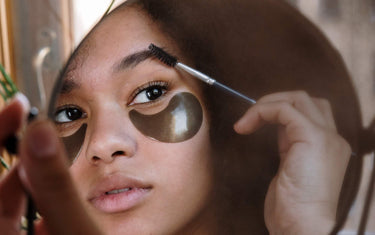 Everyone wants thick, luscious eyebrows, although keeping them that way is not always easy.
There are lots of remedies and treatments you can try, and many people firmly believe that using rosemary oil for eyebrows can make all the difference.
Rosemary essential oil is stacked with health benefits, with many of the vitamins and nutrients contributing to the growth of new hair. In this article, we explore how using rosemary essential oil for eyebrows works, the best way to apply it and some of the alternatives you can also try.
Is rosemary oil good for eyebrow growth?
Using rosemary oil for eyebrows offers several potential benefits that can keep them looking lush and vibrant. Some of the key benefits include:
1. Supporting hair growth
Rosemary essential oil contains carnosic acid, which research has found to be effective in healing tissue damage, and nerve damage and can also boost cellular turnover. So, with regular application, it can improve blood circulation and encourage nerve growth, helping follicles to receive the nutrients they need to grow. One study compared rosemary oil to Rogaine (the hair growth product), which produced similar results after 6 months.
2. Could prove effective at preventing dandruff
Eyebrow dandruff is perhaps more common than you think, with dry skin, contact dermatitis and seborrheic dermatitis often being the cause. Rosemary essential oil can work to remove bacteria that clog up eyebrow hair follicles, helping to minimise the appearance of flakes.
3. Use it to reduce the appearance of grey hairs
Genes and environmental stressors are the main causes of grey hairs, with research finding that when cells are damaged and they start to oxide, it can accelerate ageing processes. Rosemary oil can provide protection against these free radicals, which may also help in slowing down the appearance of grey hairs. The oil's aromatherapeutic benefits can provide stress relief, which is also useful in combating the onset of greys.
4. Rosemary oil can reduce hair loss
Eyebrow hair loss is mostly internal, with a thyroid disorder being the most common cause. If thyroid glands are underactive or overactive, it can trigger hair loss, although if you notice your eyebrows are starting to thin, it is usually because of the former. Rosemary oil contains powerful antioxidant properties that can work against free radicals to protect cells, which can also minimise hair loss.
How to use rosemary essential oil for eyebrow growth
If you want to use rosemary essential oil for eyebrow growth, follow the steps below:
Dilute your rosemary oil with a carrier oil, such as jojoba, almond or coconut oil. Or alternatively buy our pre-mixed rosemary oil for hair.
Use a cotton swab or mascara wand to apply the mixture to your eyebrows.
Leave the oil on your eyebrows for 30 minutes, or apply before bed and leave overnight.
Rinse the oil off using warm water.
Follow these steps 2-3 times a week, and you can start to see results after a few months, although it may be faster or slower, depending on the individual.
How long should it take rosemary oil to help hair growth?
Naturally, you will want to see fast results from using rosemary oil for eyebrow growth. However, when it comes to hair growth, there are lots of different factors at play, and the amount of time it takes depends on the individual. Experts advise that it can take up to six months to show its worth, although that is just a general guideline.
Some people notice a difference in a matter of days or weeks, whilst it can take a little longer for others. The key is to stick to the routine and to give the oil's vitamins and nutrients every chance to work their magic on your eyebrows.
Make your own rosemary water to boost hair growth on your eyebrows
A good alternative to using rosemary essential oil is rosemary water, which you can make yourself at home without much hassle. Use the steps below for guidance:
Boil enough water for 2-3 cups in a saucepan.
Add a handful of rosemary sprigs.
Place the lid on the saucepan and remove from the heat.
Leave the saucepan to cool completely.
Pour into a glass bottle and store in the fridge.
You can use rosemary water every day, if needed, and apply it in the same way as described above. It should keep for up to 2 weeks before you need to make a new batch.
What are the side effects of using rosemary essential oil?
Rosemary essential oil is generally considered safe to use, although there is a small risk that it could cause an allergic reaction in some people. If you have sensitive skin or are a first-time user, it is always a good idea to complete a patch test to ensure it is suitable for your skin.
To complete a patch test, dilute a small amount of rosemary oil and apply to the inside of your elbow. Cover with a plaster for 24 hours and if you experience any irritation, redness or inflammation, wash the oil off your skin and discontinue use.
You should be able to use rosemary oil on any hair type, as the health benefits are targeted towards the follicles, rather than the hair strand.
What are the alternatives to using rosemary oil for eyebrow growth?
If you aren't a fan of rosemary oil or if you have an allergic reaction, there are lots of alternatives you can use to stimulate eyebrow growth.
1. Castor oil is rich in vitamin E and fatty acids
The high levels of fatty acids and vitamin E in Castor Oil can help to promote hair growth and also repair damaged hair follicles. It also contains ricinoleic acid, which many believe is able to boost blood circulation, which could increase nutrition to your follicles, helping to reduce breakage and strengthen hair strands.
2. Use coconut oil to moisturise and enrich your eyebrows
Coconut Oil is a fantastic natural moisturiser that can nourish your eyebrow hair to leave them looking shiny and vibrant. The lauric acid contained in the oil offers antibacterial benefits that can protect the follicles and reduce infection risks, safeguarding your eyebrow hair against environmental stressors, whilst supporting their growth.
3. Pamper your eyebrows with olive oil's natural ingredients
Vitamins A and E are found in olive oil, both of which have been found to promote hair health and thickness. The oil also contains a phenolic compound called oleuropein, which was found to contribute to hair growth in mice in a study conducted in 2015. Some people say that regular application helps to darken their eyebrows, enhancing their all-round appearance.
4. Aloe vera can promote hair growth for eyebrows
Aloe vera is stacked with vitamins and minerals (A, C, E, B1 and more) that are all beneficial for hair growth. The oil is well regarded for its natural healing properties, and it can also help to moisturise your skin, which also contributes towards hair growth.
5. Try vitamin E oil to boost eyebrow growth
Vitamin E can be found in some of the oils we've already mentioned, so another option could be to go straight to source and use Vitamin E Oil to boost hair growth on your eyebrows. The antioxidant properties can stimulate the blood capillaries, which can support the growth of new hairs.
A combination of anecdotal and scientific evidence suggests that rosemary essential oil can help to boost eyebrow growth. From conditioning and strengthening hair to reducing hair loss and stimulating hair growth, there are lots of ways your eyebrows can benefit. Before using it for the first time, complete a patch test to ensure it is suitable for your skin. And if rosemary oil isn't for you, then not to worry, as there are quite a few natural alternatives you can try that could be kinder to sensitive skin.
{ let idx = null; product.variants.forEach((v, i) => { if (v.featured_image && v.featured_image.id == $event.detail) { idx = i; } }); if (idx !== null) swiper.slideTo(idx, 0); }" x-init="() => { if (variants.length > 1) { const images = product.variants.map(v => { if (v.featured_image) { return `
`; } }) appendSlides(images); } else { if (product.featured_image) { appendSlides(`
`); } } }" >