9 June 2023 / Laura Garvin Gomez
How to Mix Essential Oils for Hair Growth
Discover the secrets of harnessing the power of essential oils to promote vibrant and healthy hair growth.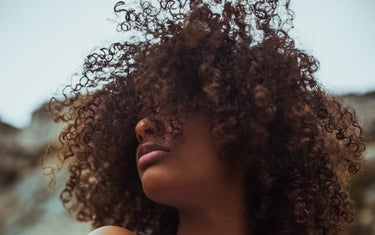 Many people use essential oils for their hair in the belief that it will grow faster and improve scalp and skin health.
Most men and women will experience some form of hair loss in their life, whether it's due to genetics, diet, stress or medications, and it can cause a lot of concern.
When it comes to mixing oils for hair, there are a few things to be aware of before you start to apply it. With that in mind, we explain how to mix essential oils for hair growth, along with all the basics you need to enjoy the natural benefits they can provide.
Can essential oils make your hair grow?
Essential oils can help your hair to grow and improve scalp health and the overall texture. Whether you make your own blend and apply it topically to your hair, or you mix the oil with your favourite shampoo, regular use can increase the strength, growth and shine of your hair.
The important thing is to ensure you follow a regular routine as this will help you enjoy the best results. Essential oils should always be mixed with a carrier oil before application, or you can simply apply a carrier oil directly to your hair without the need for dilution.
How to mix essential oils for hair growth
Before you start to mix essentials oils for hair growth, check that you have the following ingredients:
Carrier oil of choice (jojoba oil or grapeseed oil are ideal)
Essential oils of choice (read below for some suggestions)
Glass dropper bottle
Small jar or bowl
Stirring spoon
Now that you've got everything ready, follow the four simple steps below:
Arrange your ingredients: Take some time to read through the various benefits of each oil and consider how their scents will combine. You will also need to choose a carrier oil to reduce the concentration levels of the mixture.
Organise the blending tools: You will need certain tools to combine the essential oils, so they are ready to apply to your hair. Ensure you have a glass dropper bottle, a stirring spoon and a small jar or bowl to hand.
Measure the oils: The dilution level of your essential oils should be 1-3% for topical use. For example, if you use 30ml of carrier oil, you should add 18 drops of essential oils to the mix, which gives you 2% dilution.
Mix the oils: Blend the essential oils in the bowl or jar, stirring thoroughly until they are fully combined, then add the carrier oil and continue to stir.
Store and use: Your essential oil hair blend is now ready for use. Transfer the mixture to the dropper bottle (you may find it easier to use a funnel). Secure the cap and store in a cool, dry space away from direct sunlight or heat.
To apply the oil to your hair, you can add some of the mixture to your hands and gently massage it in, leaving it to rest for 30-60 minutes.
How do essential oils help your hair?
We all experience different issues with our hair from time to time and regular application of essential oils can make it easier to manage, helping with things like:
Adding balance to oily scalps: Everyone's scalps produce different levels of sebum, which can sometimes create an oily scalp or a dry fringe. Using the right essential oil blend can regulate sebum production to help you find the right balance.
Calm an irritated scalp: Our hair is exposed to a lot of harsh environments, from hot and cold weather to windburn and UV rays. Organic aromatherapy oils can heal and soothe a damaged scalp and hair follicles, with regular application also helping to minimise damage through the day.
Improved frizz control and moisture levels: When moisture escapes our hair, it usually leads to frizz, especially when there is too much product or exposure to heat styling tools. With the right blend you can maintain hydration levels beneath the surface and reduce the daily struggle to calm wandering hair strands.
More strength and less breakage: Too many chemical treatments or an unhealthy lifestyle can damage our hair, causing it to split and break more easily. Certain essential oils can strengthen weakened strands down to the root, so it is more resilient and healthy.
What is the best oil mix for hair growth?
There is no one best oil mix for hair growth, as each blend offers its own unique benefits. So, rather than focussing on the best oil combination for hair growth, we've put together a list of what we believe are the best essential oils to use on your hair:
Lots of products promise to take care of and improve our hair, although the vast majority feature essential oils as a core ingredient. So, why not cut out the middleman and go straight to the original source instead? If you're not quite ready to make that jump, the two work wonderfully hand in hand, so either way you can improve scalp blood circulation, enjoy stronger roots and see the results with healthier, shiny, thick hair that makes you look and feel great.
{ let idx = null; product.variants.forEach((v, i) => { if (v.featured_image && v.featured_image.id == $event.detail) { idx = i; } }); if (idx !== null) swiper.slideTo(idx, 0); }" x-init="() => { if (variants.length > 1) { const images = product.variants.map(v => { if (v.featured_image) { return `
`; } }) appendSlides(images); } else { if (product.featured_image) { appendSlides(`
`); } } }" >