1 March 2023 / Laura Garvin Gomez
How Do Essential Oil Diffusers Work?
Discover how essential oil diffusers work and find the right one for your needs in this informative guide.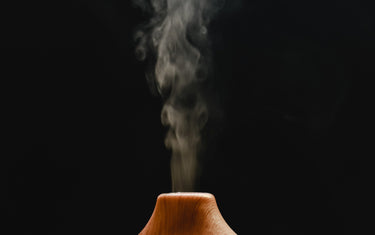 Sometimes it can be hard to add something new to your skincare routine, especially when there are so many things to take care of daily. But it's important to take care of yourself, and enjoying a little extra TLC doesn't have to mean making a huge effort.
Essential oil diffusers offer a low-entry option for self-care, bringing elements of wellness into your home and creating a calm and tranquil space where you can slow things down. Here we explain more about essential oil diffusers, how they work, and some of the best oils to use.
What is an essential oil diffuser?
An essential oil diffuser is a device that breaks essential oils down into small molecules, emitting them into the air so you can enjoy the unique fragrance and health benefits. This allows you to gently breathe in the scent anywhere you choose, helping to create a calm and pleasant ambiance to set the right tone for your space, whether you are relaxing, cooking or trying to get a good night's rest.
What are the different types of essential oil diffusers?
One of the best things about essential oil diffusers is that there are lots of different types to choose from, such as:
Reed diffusers:

A reed diffuser is simply made up of thin sticks of porous wood placed inside a glass container with essential oil. The sticks soak up the oil, and the scent is diffused as the atmospheric temperature changes - the warmer it is, the faster the oil evaporates, and the more you will smell the aroma.

Electric diffusers:

When using an electric diffuser, the essential oil is broken down and emitted as a mist into the room. This is done via a heating coil inside the diffuser, with the temperature controlled by a built-in thermostat to ensure it does not overheat.

Ultrasonic diffuser: Silent ultrasonic vibrations are used to break apart the essential oil, which is then sent into the air as a mist. No fans or heat sources are required as the vibrations steadily evaporate the oils so you can enjoy the full fragrance anywhere in your home. A good example of an ultrasonic diffuser is this Aroma Oil Diffuser

which features a light-changing colour display while also helping to humidify dry air in your home. It's small and compact enough to fit onto a shelf or table without getting in the way and comes in a neutral colour that enables it to blend in with most decors as you enjoy your favourite scent for hours to come.

Nebuliser diffuser:

These types of diffusers are traditionally popular among aromatherapy practitioners. You do not need any water or other oils to do the work, emitting a fine mist that will fill your home with a delightful scent that is relaxing and comforting in equal measure.
How does a diffuser work?
There are several different types of essential oil diffusers you can use, with each one working in a different way. We have explained the basics of how each one works in the section above, but a more detailed explanation will be provided with the product when you make a purchase. Some use heat or electricity to emit the oil into the air while other devices use calming, silent vibrations.
Adding a diffuser to your home can give you the feeling of living in a spa, as the scents create a sense of lasting calm and serenity.
It can also help to carry out a skin patch test before using a diffuser, even though you are inhaling the oil, as it will give you a good indication of how your body will react to it. If you have any health concerns you should always first consult with your doctor.
Keep your essential oils out of the reach of children and if you experience a sore throat, shortness of breath or a headache you should not use it any further. Also, if you have any pets in your home, pick your essential oils carefully as some can be bad for their health.
What are the best essential oils to use with an oil diffuser?
Finding your favourite essential oil is easy as there are so many to choose from. Some of the best essential oils to use with an oil diffuser include:
If the thought of diluting essential oils, applying them to your skin and washing them off feels too time consuming, then diffusers offer the perfect alternative. Once the diffuser is set up, you can leave it to work its magic quietly in the background while you go about your day with a calmer state of mind. And with an ever growing number of essential oils and blends to choose from, you'll never run out of new scents to enjoy!
{ let idx = null; product.variants.forEach((v, i) => { if (v.featured_image && v.featured_image.id == $event.detail) { idx = i; } }); if (idx !== null) swiper.slideTo(idx, 0); }" x-init="() => { if (variants.length > 1) { const images = product.variants.map(v => { if (v.featured_image) { return `
`; } }) appendSlides(images); } else { if (product.featured_image) { appendSlides(`
`); } } }" >
{ if (visible && product == e.detail.data) return; ready = false; const articleTop = document.querySelector('[data-article]').getBoundingClientRect().top + window.scrollY; $nextTick(() => { product = e.detail.data; selected = product.variants[0].id; ready = true; setTimeout(() => { top = e.detail.target.getBoundingClientRect().top + window.scrollY - articleTop; show(); }, 10) }) }" @scroll.window="close()" >