4 March 2023 / Laura Garvin Gomez
Is Castor Oil Good for Eyelashes?
Learn about the effectiveness of castor oil in promoting eyelash growth and achieving fuller lashes.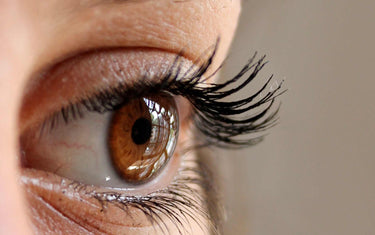 We can spend a lot of time fussing over our eyebrows and eyelashes and start worrying if they are not looking as vibrant as we'd like.
A simpler, more straightforward solution could be to use castor oil on eyelashes and eyebrows to encourage hair growth and to make them appear fuller and denser. It's an easy little tool that could change how you feel about the hair around your eyes, and we go into more detail about how to get the most from this wonderful carrier oil.
Does castor oil grow eyelashes?
While castor oil offers many benefits, unfortunately, it cannot make your eyelashes longer. However, thanks to its moisturising properties, it can make your eyelashes look thicker, so they may appear longer and more vibrant.
You may also be able to use castor oil to prevent eyelash breakage, which could help them to grow to their full potential. Some research has suggested that using castor oil could reduce or even reverse hair loss, although it is far from conclusive at this stage, so there is a chance it may help to keep your eyelashes in place for longer before they fall out.
Is castor oil good for eyelashes?
As mentioned above, castor oil can help make your eyelashes look thicker and denser due to its moisturising properties.
When applying any oil or a similar product to the area around your eyes, you should always do so very carefully, as getting it in your eye will likely cause irritation. We explain how to dilute and apply castor oil below so you can get the most from it without causing unnecessary harm.
How to use castor oil for eyelashes
There are several ways you can use castor oil for eyelashes. However, before applying it to the skin around your eyes, you should carry out a patch test.
A patch test is a precautionary step that allows you to test the oil on a small part of your skin to ensure it doesn't cause any allergic reactions:
Dilute the castor oil with another carrier oil using a 1:1 ratio.

Apply a small amount to the inside of your forearm.

Cover the area with a plaster for 24 hours.

If there is no reaction, the oil should be fine to use.

However, if you experience any redness, itchiness or inflammation during this period, wash the oil off right away and do not use the oil for your eyes or anywhere else.
What are some of the ways to use castor oil on eyelashes?
Castor oil with another carrier oil
Coconut oil, jojoba oil and sweet almond oil are good carrier oils to mix with castor oil. They are all high in vitamin E and essential fats, which can add shine and lustre to your lashes when applied frequently.
Mix the castor oil with your carrier oil of choice in a small glass container or bottle using a 1:1 ratio (for example, two tablespoons of castor oil and two tablespoons of sweet almond oil).

Once they have been blended, use a clean eye liner brush to apply the mixture to your eyelashes.

Leave it on for a minimum of 30-60 minutes before washing off.
Use an overnight eyelash mask
Start by cleansing your face and removing any make up from your eyes.

Take a clean eyeliner brush or clean mascara wand and dip it into a diluted castor oil mixture (using the same 1:1 ratio as above).

Apply the castor oil mixture to your upper and lower lash line.

Leave it on your eyelashes overnight and remove in the morning with a makeup wipe.
You should apply castor oil to your eyelashes every day if you want to add more life to your eyelashes. It's a quick and easy process that shouldn't take more than a few minutes to do at a time.
What is the best castor oil for eyelashes?
A good place to start is with our castor oil which can be diluted with other carrier oils for use on eyelashes. It's a multipurpose oil that can be used to manage infections and repair signs of scarring and dry skin. Castor oil is also renowned for being a natural laxative, helping to increase muscle movement in the bowels thanks to its acidic compounds, while also helping to aid digestion.
Are there any risks to using castor oil?
In general terms, castor oil is safe to use for eyelashes. As we mentioned above, you should take good care when applying it to the skin around the eyes to ensure it does not touch any part of the pupil.
A patch test will give you a good indication of how your eyelashes will respond to castor oil. Follow the steps we explained above before using it on your eyelashes and always dilute the castor oil with a carrier oil to reduce its potency and the likelihood of it producing a negative reaction.
Castor oil is simple and easy to use and can do wonders for your eyelashes if used on a regular basis. Use it as part of your skincare regime and you should start to see results within a few weeks. While it won't be able to grow your lashes, it can condition them to give them more life, which can also help to bring out the colour of your eyes. Always take care when using the oil around the eyes, and remember to wash it off your skin using warm water.
| ANALYTICAL DETAILS | RANGE % |
| --- | --- |
| APPEARANCE | OILY LIQUID |
| ODOUR | ODOURLESS |
| COLOUR | CLEAR - YELLOW |
| COLOUR LOVIBOND | ≤2R, ≤20Y |
| SPECIFIC GRAVITY @ 20℃ | 0.915-0.925 |
| RELATIVE DENISTY @ 15℃ | 0.957-0.969 |
| REFRACTIVE INDEX @ 20℃ | 1.477- 1.481 |
| FREE FATTY ACID (% AS OLEIC) | ≤ 1.0 |
| PEROXIDE VALUE (MEQ 02/ KG) | ≤ 10.0 |
| IODINE VALUE (G/ 1 OOG) | 82.0 - 90.0 |
| ACID VALUE | ≤2.0 |
| SAPONIFICATION VALUE (MG KOH/GR) | 177.0- 187.0 |
| UNSAPONIFIABLE MATTER | ≤1.0 |
| ACETYL VALUE (MGKOH/G) | 140.0- 150.0 |
| HYDROXL VALUE (MGKOH/G) | 160.0- 169.0 |
| FATTY ACID PROFILE | | RANGE % |
| --- | --- | --- |
| C-CHAIN | ACID NAME | |
| C16:0 | PALMITIC | 1.0 - 2.0 |
| C18:0 | STEARIC | 1.0 - 3.0 |
| C18:1 | OLEIC | 2.0 - 5.0 |
| C18:1 | RICINOLEIC | 85.0 - 90.0 |
| C18:2 | LINOLEIC | 3.0 - 7.0 |
{ let idx = null; product.variants.forEach((v, i) => { if (v.featured_image && v.featured_image.id == $event.detail) { idx = i; } }); if (idx !== null) swiper.slideTo(idx, 0); }" x-init="() => { if (variants.length > 1) { const images = product.variants.map(v => { if (v.featured_image) { return `
`; } }) appendSlides(images); } else { if (product.featured_image) { appendSlides(`
`); } } }" >