2 min read / 21 February 2022 / Caitlin Devlin
How to make lavender aroma stones as a natural diffuser
These homemade flour and salt 'stones' can keep your home smelling fresh.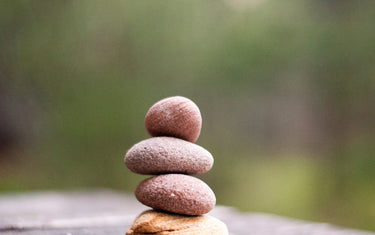 If you're looking for an electricity and flame-free way to diffuse essential oils around your home, then aroma stones are for you.
These easy-to-make stones can be combined with any oils or blend of your choice to create beautiful scents perfect for you or a loved one.
Safe and mess-free, they can be jostled or knocked over without causing damage – no water or flames here! – and so are especially convenient for households with children.
Treat yourself to a relaxing weekend afternoon DIY, or perhaps try them as a Mother's Day gift.
What are aroma stones?
Aroma stones are natural air fresheners that can be infused with essential oils to keep your home smelling beautiful. They slowly release their fragrance over time and are an incredibly low-maintenance way of scenting your home.
Aroma stones are sometimes made from plaster of Paris or lava stone but the ones in this recipe use household ingredients, so that you can make them with leftovers from your kitchen cupboard.
Ingredients:
190g white flour
45g salt
1tsp corn starch
85ml boiling water
1 tbsp Lavender Essential Oil
2 tbsp dried lavender (optional)
2 tbsp purple clay powder (optional)
This recipe uses lavender essential oil as an example, but you can substitute in any oil or blend that you like. You can also adjust the colour of the clay powder and the botanical decoration to match, or you can leave these elements out altogether. It's up to you.
What is clay powder?
Clay powder is a natural colourant that is easily sourced from online retailers. Some people like to use colourants in their aroma stones in order to make them more of a feature in the room. You can also make these stones without colourants, however, and they will still do their job at diffusing a beautiful scent throughout any space.
Method
Mix the flour, salt and corn starch together in a large bowl. You may want to sieve the dry ingredients first so as to avoid clumping.
Add your oil and clay powder (or other colourant) to the boiling water.
Pour the water over the dry ingredients, taking care to protect exposed skin.
Stir the dry ingredients into the water until a ball of dough is formed.
Once the dough is in a ball, keeping it in the bowl, knead it until it is smooth and has an even colour all the way through.
Lift the dough out of the ball and start to break it into smaller pieces. Roll these pieces into smaller balls. You can decide the size of these stones according to your preference. Do this until the large ball has been entirely broken into small stones.
Sprinkle the dried lavender (or other decorations) over the stones and gently press them in.
Leave the stones somewhere warm and dry for several days and let them harden.
Place in a prominent position in the room and enjoy the beautiful scent!
Shop our essential oil range here.