4 min read / 15 November 2023 / yasmin sharp
10 Reasons to Make Your Own Candles
Discover the joys of candle-making with 10 compelling reasons to craft your own candles.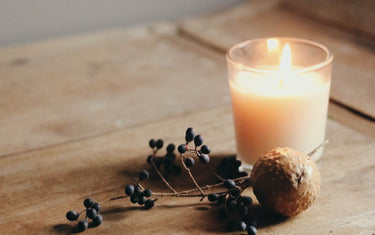 Creating something with your own hands can be extremely satisfying, no matter how simple or complicated the process.
For many, it's one of the main reasons to make candles at home, giving you an easy-to-do, creative outlet that doesn't cost much money.
If you are thinking of getting involved, perhaps our list of 10 reasons to make your own candles can help you take a leap of faith.
Is it cheaper to make candles or buy them?
Many people interested in candle making often want to know if it is cheaper to make candles or to buy them.
Buying high quality candles online or in a store will nearly always be more expensive, as you are not only paying for the ingredients that went into making them.
The brand will also add on costs for labour, marketing, shipping, profit margin and more.
The ingredients needed to make high quality candles at home tend to be cheaper, although you will have to factor in the time it takes to make them.
But if you enjoy making your own candles then that may not be something you think about too much.
What are the benefits of making your own candles?
Candle making has many benefits and here are 10 reasons to make your candles at home:
1. They're simple and fun to make
It may seem complicated to make your own candles, but with a few simple ingredients, you can soon be sculpting and moulding wax to your heart's content.
And because there are so many scents, wax types and shapes you can try, there are always new ideas to play around with.
2. It's a great creative outlet
Developing a hobby or creative outlet is great for your mental health. Making your own candles gives you a creative outlet where you can channel your thoughts, with the finished product expressing part of who you are.
Whether they're purely decorative or intended for use, you can proudly show them off around your home and take satisfaction from your hard work.
3. Creating with your own hands is very satisfying
We spend most of our days in front of the TV, laptop or mobile screens, whether it's for work or leisure.
But spending time making something from scratch with your own hands can be very satisfying.
Making candles gives you a hands-on experience where you are responsible for everything from start to finish.
4. You know what goes into making the candle
One problem with buying scented or coloured candles online or in stores is having faith in the ingredients.
That isn't a problem with homemade candles, as you choose all the ingredients, so you know exactly what goes into making them.
5. Candles are cheaper to make than buy
You don't need a lot of money to make candles, and in the long run, it will probably be cheaper than buying them online and in stores.
Of course, you will need to sacrifice a little of your own time to make them, but as we mentioned above, that is all part of the fun.
6. They make for excellent gifts
Homemade candles can be personalised in lots of different ways, whether it's the scent, shape, colour, or even wax type.
That means you can customise them for friends and family and give them away as small gifts for special occasions or festive periods.
7. You could build a side hustle
You can also make money by selling your homemade candles.
It gives you the opportunity to supplement a full or part-time income, and it can also be a great way for stay-at-home parents to earn a little extra money, without having to invest a huge amount of cash.
8. Kids can also get involved
If you're having fun learning a new skill and developing a creative hobby, it's also a great way for your kids to do the same.
They'll need to be supervised closely, but it's a family-friendly activity that brings you all together to work on a single task, whilst also providing a fun outlet for your kid's imagination.
9. Become part of a large community
There is a huge candle making community around the world, with new people starting out every day.
You'll find groups on all popular social media platforms, where you can share ideas, tips and creations, whilst also building new friendships – even if you are thousands of miles apart.
10. They can be good for the environment
Depending on the ingredients you use to make your own candles, it's a hobby that can also do some good for the environment.
Buying natural ingredients will usually be cheaper than buying brand-name candles, and because you decide what to use, you can ensure that non-toxic substances are being emitted into the air.
Not only is candle making a fun and creative way to spend your spare time, but there are lots of other reasons why it can be enjoyable.
It's usually cheaper than buying brand-name candles, you have the chance to express your creativity and you know exactly what goes into making them.
If you have kids, they can also get involved, and when it comes to birthdays, anniversaries and celebrations, homemade candles can also be given as thoughtful gifts.