28 May 2023 / Laura Garvin Gomez
Wick Mushrooming Mistakes to Avoid
Wick mushrooming is a common issue for many first-time candle makers and consumers. Here's how to tackle it.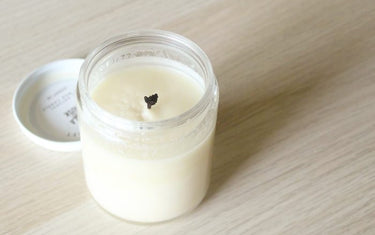 When making a candle for the first time, it's important to ensure every step is worked down to a science.
Unfortunately, though, the likelihood of getting everything right straight away is very rare. Even for seasoned candle makers, it can take a few attempts to create the perfect product you've been dreaming of.
One of the most common complaints you'll come across is issues with your wick. Candle wicks are integral to the overall burn of your candle, meaning even the slightest hitch can make all the difference between a success and a dud.
A mushroom wick is just one of many common mistakes that could occur but is relatively easy to treat with the right skills behind you. In this quick guide, we'll be covering all your questions and concerns about how to stop wick mushrooming.
What is wick mushrooming?
As the name suggests, wick mushrooming is the term given to wicks that look a little bit like a mushroom once burnt. While this may sound cute, it's not always the best news for your candle.
A mushroom wick can appear when the wax in your candle fails to burn at the same speed as your chosen wick. Once lit, the wick will start to adsorb the wax, creating a build-up of carbon particles around its centre.
Usually, mushroom wicks occur as a result of an incorrectly sized wick. If the wick is too big for your candle, it will cause more wax to be sent to the flame than it can handle. This will lead to a mound of particles that can no longer burn correctly, making it harder to re-light your candle after each use.
Wick mushrooming can also take place if your candle has been burning for more than 4 hours at a time without being blown out, or if you're using a wick that doesn't naturally curl as it burns.
Is wick mushrooming bad?
Strictly speaking, mushroom wicks aren't disastrous as they're relatively easy to fix. But, once one round of wick mushrooming occurs, it's likely to happen again across the rest of the candles in your batch.
This can be bad news for your customers as they expect a clean, fuss-free burn with every candle purchase they make. For this reason, it's probably a good idea to start again with a brand-new wick size that you know will function without issues.
How to fix mushroom wick
Despite the issues they cause, mushroom wicks aren't that uncommon to come across - even in commercially produced candles. If you've purchased a candle that's developed a mushroom wick, here's what you have to do to get rid of it:
Blow out the candle and leave it to cool.
Using a wick trimmer, snip the mushroom off the top.
Re-straighten the wick and bend the end slightly (this will increase your chances of the wick burning correctly).
Light your candle once more and enjoy a mushroom-free wick.
Again, this fix is pretty simple if you've bought a slightly dodgy candle, but it won't be the end of your issues as a business owner.
To avoid complaints from your customers, swap out the wick with one that you know will burn evenly throughout. You can buy a wick from any craft store or create your own wick using everyday supplies like string or wood.
So long as the sizing on your wick is correct, you shouldn't experience any continual issues with mushrooming thereafter.
How else can I ensure my wick is correct?
Apart from the size (which is often the biggest culprit for wick issues), there are a few other factors that will determine the total success of your wick.
Firstly, if you're wick is located directly in the centre of your candle, you're more likely to get an even melt pool across your batch.
To make sure your wick is centered correctly during the pouring process, try using wick sustainers. These will keep your wick securely fastened to the bottom of your candle container without the risk of movement.
It's also good practice to use chopsticks or a pencil to help keep your wick upright and secure while the wax is setting.
Once untied, these simple tools will allow you to achieve a gentle bend at the very end of your wick. Something as simple as this bend could be the difference between a clean, mushroom-free burn and a troublesome candle.
While wick mushrooming may seem like a pain at first, it's very easy to combat both as a consumer and as a candle maker with the proper tools in place. Creating a candle free from mushrooms is simple once you've found the correct wick type and wick size needed for a successful burn.
Ultimately, candle making is an endless game of trial and error, so don't feel disheartened if everything you were planning doesn't work right away. If you need some more advice on how to get started, you can check out our candle making tips for beginners to help tackle some more frequent woes.