7 min read / 20 April 2023 / Laura Garvin Gomez
The Top Benefits of Rosehip Oil
Curious about this well sought after beauty elixir? We're sharing everything you need to know about the power of rosehip oil.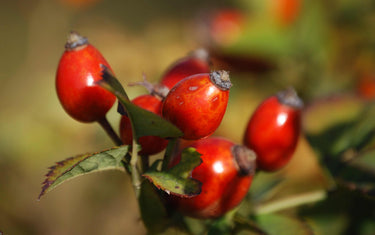 Did you know that rosehip oil is a wellness favourite among celebrities?
Used by Kate Middleton, Gwyneth Paltrow, and Miranda Kerr (to name but a few), the beautiful benefits of rosehip oil have been shared extensively in A-list circles for very good reason.
Sweet, light, and packed with power, this oil is a worthy addition to anyone's wellness cabinet, sporting everything from remarkable anti-aging effects to sleek, hair-boosting vitamins.
We're deep diving into the many benefits of rosehip oil, what it's good for, and how you can incorporate it into your five star beauty regimen.
What is rosehip oil?
Sometimes known as rosehip seed oil, rosehip oil is extracted from the cold-pressed fruits and seeds of the rosa canina plant - or the common rose bush.
Rosehips are what remains on the bush after the rose flowers die, and appear as reddish-orange buds that are considered edible and have been used extensively in holistic medicine.
Despite its name, rosehip oil is not to be confused with rose oil - a delicate and expensive essential oil that captures the essence of the flower's petals.
While it doesn't smell as fragrant as the essential oil, it still carries a light, woody scent that compliments other aromas perfectly.
What is rosehip oil good for?
Rosehip oil has been valued since ancient times for its hydrating and anti-aging benefits for the skin.
Its high levels of fatty acids, including omega 3 and omega 6, are crucial for maintaining a healthy complexion, which has led to rosehip oil being heavily revered by dermatologists.
Alongside these benefits, rosehip oil has also become popular in haircare for fighting inflammation on the scalp, and is said to have higher levels of vitamin C than the common orange or lemon.
Folklore has further named rosehip oil as an effective remedy for joint pain, thanks to its strong anti-inflammatory effects.
What are the benefits of rosehip oil for skin?
Skincare is possibly one of rosehip oil's greatest assets, boasting a whole host of unique benefits for our faces in particular.
We've detailed some of the strongest and most popular reasons to add this oil to your routine below.
1. It hydrates and moisturises
Rosehip oil is full of linoleic acid - an omega 6 fatty acid that has deeply moisturising properties for the skin.
It's also high in linolenic acid (or omega 3), which can help keep the cell walls strong and reduce the risk of dryness creeping in throughout the day.
These acids can effectively lock the many antioxidants contained in rosehip into the skin too, leading to additional protection from sunlight and external irritants which can cause dryness over time.
One 2015 study confirmed the effectiveness of rosehip oil as a hydrator, and dermatologists claim that it's an ideal natural alternative to commercial moisturisers due to its easy absorbability and non-greasy texture.
2. It's a powerful anti-aging remedy
One of the greatest factors behind pre-mature aging is the breakdown of collagen - an essential protein that is crucial to maintaining the structure and elasticity of our skin.
While collagen breakdown is normal, many like to target the appearance of fine lines and wrinkles using natural remedies like rosehip oil.
This is due to rosehip's high levels of vitamin A, which is an integral ingredient to the production of collagen. Research has also proved that rosehip oil can inhibit the production of MMP-1, an enzyme that is largely responsible for collagen breakdown.
The antioxidants found within rosehip oil are a further contributing factor to its success against signs of aging, as these can protect from further oxidative stress to the skin.
3. It regenerates and smoothens skin
Thanks to its abundance of healthy fats and vitamins like vitamin A, E, and B vitamins, rosehip oil is exceptional at regenerating and reviving our complexions.
A 2015 study found that topical application of rosehip oil on post-surgical scars could significantly reduce their appearance, while other sources note this same effect on stretch marks by massaging the oil into affected areas.
4. It combats acne and calms inflammation
Unlike some carrier oils, which can clog pores and fall very heavy on the skin, rosehip oil is generally viewed as safe for acne-prone skin.
This is due to its low comedogenicity and its effective anti-inflammatory effects, which can assist in reducing the appearance of flare-ups.
Similarly, rosehip oil has been linked to the reduction of inflammation in conditions like psoriasis, rosacea, and eczema due to the strong presence of polyphenols and anthocyanins.
These antioxidant compounds, along with the vitamin E present in the oil, can directly target inflammation and limit discomfort in these areas.
Learn more about the benefits of rosehip oil for skin.
How to use rosehip oil for skin
Pure rosehip oil can be used by itself or as a carrier oil for more potent essential oils - like geranium - that also carry skin-loving benefits.
Here's a popular method for applying rosehip oil to your face:
Add a few drops (usually around 2 or 3 will suffice) of rosehip oil to the palm of your hand.
Using the tip of your index finger, gently apply the oil to all areas of your face and neck.
Massage the oil into your skin using gentle upward strokes.
The oil should absorb quickly, but feel free to dab off an excess with a clean cloth.
Rosehip oil is best applied before your moisturiser (unless you choose to use it as an alternative) but after cleansing, exfoliation, and toning.
You can also add a few drops of rosehip oil to your existing products for a quick and easy boost.
What are the benefits of rosehip oil for hair?
Another great feature of rosehip oil is its benefits for hair. While not as extensive as its skincare applications, using rosehip oil on your locks can facilitate a much healthier environment for growth, thickness, and shine.
Here are some of the best benefits to keep in mind.
1. It reduces and repairs damage
Rosehip oil's antioxidant levels are not only a worthy asset to skin, but to haircare too.
Its high levels of vitamin E can safeguard your locks from the damaging effects of UV rays, as well as limit the impact that external stressors can have on the hair.
Stress is a common cause of stunted hair growth as well as brittle, dry strands, so frequent application of rosehip oil could successfully combat this.
2. It can relieve inflammatory scalp conditions
Your scalp is essentially an extension of your skin, so the same anti-inflammatory effects that can tackle ailments like acne can also target irritating conditions on your scalp.
This is particularly true of conditions like dermatitis (eczema) and psoriasis that can cause uncomfortable patches of dryness on the scalp.
Because scalp health is directly linked to hair health, treating your scalp with rosehip oil may also provide a boost in hair growth over time. Rosehip can make an even bigger boost to hair growth when used in conjunction with rosemary oil for hair.
3. It adds moisture and shine
The lightweight texture of rosehip oil makes it suitable for all hair types, including fine, frail, and overly dry hair.
The fatty acids (like linoleic acid) within rosehip oil work to nourish and coat the strands, leading to a reduction of frizz, split ends, and dryness.
Rosehip oil is also non-greasy, so won't leave your hair feeling weighed-down or dirty between washes.
What are the rosehip oil uses for hair?
There are a number of popular methods you can adopt when using rosehip oil in your haircare routine. Here's a breakdown of our favourites.
Make a hair mask. Apply a pea-sized amount of oil to your palm and gently massage into your scalp. Work your way down to the tips of your hair and leave for up to 30 minutes before rinsing.
Apply directly to split ends. Smooth a small amount of rosehip oil into your split ends with your fingers and gently massage to instantly camouflage their appearance.
Add to existing haircare products. Simply sprinkle a few drops of rosehip oil into your existing shampoo or conditioner and shake well. Use as normal.
Are there any risks to using rosehip oil?
Rosehip oil, like most carrier oils, is generally safe for everyday use. It's also suitable for all skin and hair types thanks to its lightweight, non-comedogenic properties.
It's good practice, however, to always perform a patch test on your skin before using any oils as a frequent part of your daily routine. This will eliminate the risk of allergies or intolerances, which can be slightly more common with rosehip.
Frequently Asked Questions
Can you use rosehip oil directly on your face?
Yes! Rosehip oil is great for direct application to the face. It can help combat signs of aging, inflammation, and dryness.
How often should you apply rosehip oil to skin?
While there are no strict guidelines on how often to apply rosehip oil, most dermatologists recommend use twice daily as a moisturiser in the morning and evening.
Is rosehip oil safe for all hair types?
Yes, rosehip oil is safe for all hair types including fine and dry hair.
It's clear to see why rosehip oil is so beloved among celebrities, and it doesn't look like its craze will be going away any time soon. As the oil grows in popularity, so too does the research and support behind it.
Soon enough, rosehip oil will become an essential part of all of our daily wellness routines.
{ let idx = null; product.variants.forEach((v, i) => { if (v.featured_image && v.featured_image.id == $event.detail) { idx = i; } }); if (idx !== null) swiper.slideTo(idx, 0); }" x-init="() => { if (variants.length > 1) { const images = product.variants.map(v => { if (v.featured_image) { return `
`; } }) appendSlides(images); } else { if (product.featured_image) { appendSlides(`
`); } } }" >