31 March 2023 / Laura Garvin Gomez
The Benefits of Avocado Oil for Hair and Skin
Glossy locks and nourished skin are just moments away with the unbeatable powers of this wellness superfood.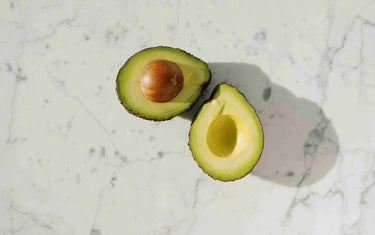 Avocados have been the super fruit (that's right, they're a fruit) of the wellness world for years now - and for very good reason.
Rich in essential fatty acids, minerals, and vitamins, the powers of the avocado are second to none when it comes to our health. Plus, they're pretty delicious too.
But what about avocado oil? How do the effects of this tasty green fruit translate when applied to our hair and skin?
We'll be running through all the facts you need know about the benefits of avocado oil for hair and skin, its uses, and any risks you need to keep in mind before making it your new favourite beauty staple.
What is avocado oil?
Avocado oil is a carrier oil, made by extracting the fat from the pulp of the avocado fruit. This process makes avocado oil very unique to other plant-based carrier oils which are usually derived from seeds, nuts, or kernels.
Despite being a fruit, avocado oil can also be referred to as a vegetable oil, and has been used extensively in the culinary world for several decades.
Recently, though, the true powers of avocado oil have been transferred to the beauty industry, where it can now be found in various creams, hair serums, and facial cleansers.
Is avocado good for hair?
When it comes to haircare, avocado oil is one of the best remedies around.
Experts have found that using avocado oil on your locks can not only leave them feeling soft and shiny, but also re-enforced with a wealth of essential nutrients.
Avocados are jam-packed full of fatty acids, lipids, fat-soluble antioxidants, and vitamins that can protect, strengthen, and even grow your hair with proper use.
What are the benefits of avocado oil for hair?
Now that we know a little bit more about what avocado oil is all about, it's time to deep-dive into some of its most powerful benefits for the hair.
1. Strengthens and moisturises hair
Avocados contain numerous antioxidants that can help strengthen and protect the hair, as well as biotin, minerals, and vitamins A, B-15, and E.
All of these elements combined can help to seal the cuticles of the hair - facilitating strength and preventing breakage.
Avocado oil is also fantastic for penetrating the hair shaft and hydrating it from within. This is thanks to its high levels of oleic acid and monosaturated fats, which allow the oil to actually seep into your locks as opposed to just sitting on top of them.
2. Encourages hair growth
Avocado oil contains biotin - a member of the vitamin B family that is renowned for its ability to encourage hair growth and thickness.
Mixing avocado oil with an essential oil like rosemary and applying it daily could, therefore, speed up the waiting time for longer, fuller locks.
3. Nourishes the scalp
If you suffer from the annoyance of dandruff, avocado oil could help banish those flakes for good.
By stimulating blood flow to the scalp, it can unclog blocked follicles and encourage new hair to come through, meaning it may also be a strong remedy against hair loss.
4. Protects your hair from external damage
Avocado oil contains beta-carotene and lutein - two powerful antioxidants that can defend the hair and scalp against external irritants, like UV rays or pollution.
This is key to keeping your hair feeling soft and looking healthy at all times.
What are the benefits of avocado oil for skin?
Avocado oil is not only a great hair booster, but a highly impactful skin cleanser too. We've listed some of the strongest benefits that this oil has to offer for your complexion.
1. Promotes a boost in collagen levels
While more research is needed on whether on not avocado oil can boost collagen all on its own, there's certainly evidence to suggest its influence in keeping these levels balanced.
Avocado oil can decrease the pathways responsible for breaking down collagen, as well as inhibit certain enzymes - like lysyl oxidase - from creating further damage in these areas.
Collagen is the protein responsible for keeping our skin looking youthful and smooth, so daily use of avocado oil may be just the trick against signs of aging.
2. Minimises inflammation and damage
Avocado oil is highly anti-inflammatory, and can reduce irritation on everything from acne and eczema to psoriasis and seborrheic dermatitis.
This means that, despite its average comedogenic rating, avocado oil can be extremely effective on all skin types where redness or inflammation is involved.
The antioxidants within avocado oil can also help to protect the skin from environmental damage in the same ways as it can the scalp and hair.
3. Helps maintain hydration
Like many carrier oils, avocado oil is a superstar for moisturising your complexion.
It works as an emollient, and can help to trap moisture in the skin to prevent increasing dryness throughout the day.
Avocado oil also has occlusive properties, and can leave skin feeling smooth and soft after just one application.
How to use avocado oil for hair growth
After learning about all the goodness that avocado oil has to offer, now's the time to incorporate it into your everyday hair care routine.
Here are a couple of methods you can try:
How to use avocado oil as a styling serum
Instead of splashing out on an expensive styling serum, try this method on your locks just before heading out the door.
Dispense a small amount of oil - no more than the size of a penny - into the palm of your hand.
Apply delicately with your fingertips onto dry hair - starting from the mid-shaft through to the ends.
Use a brush to evenly disperse the oil through your hair.
Style as normal.
How to give yourself a scalp massage using avocado oil
This method is great for stimulating blood flow to your scalp, reducing dandruff, and stimulating hair growth.
Wet your hair and scalp thoroughly in the shower.
As you shower, dispense around a teaspoon of avocado oil onto your palm.
Massage the oil into your scalp with your fingertips.
Leave to set for around 2 minutes before rinsing out with shampoo.
How to use avocado oil for skin
Avocado oil can also be used extensively in your skincare routine.
You can use it to make your own face mask, adopt it as a moisturiser for chapped skin, or simply let it soak into your complexion throughout the day.
Here's a popular method to get started with:
Wash your face with warm water and pat dry. Alternatively, you can apply this oil right after a shower.
Dispense a pea-sized amount of avocado oil onto your palm.
Apply in gentle, circular motions across your face or body.
Once the oil has mostly absorbed, pat off any excess with a clean cloth.
Frequently Asked Questions
Is avocado oil good for acne-prone skin?
Avocado oil is a great choice for acne-prone skin as it's highly anti-inflammatory and won't clog up pores.
Can avocado oil be used on all hair types?
Yes! Avocado oil is suitable for all hair types, including thick and high-density strands.
Are there any side effects to using avocado oil?
Unless you're allergic to avocados, the risks of irritation or a reaction are fairly minimal.
If you're prone to allergies, or have particularly sensitive skin, try performing a patch test before applying it elsewhere.
So, it's clear that avocados are worth much more than a simple position atop your toast. Rich in vitamins, fatty acids, lipids, and more, there's no denying the impact this carrier oil could have on your beauty routine.
{ let idx = null; product.variants.forEach((v, i) => { if (v.featured_image && v.featured_image.id == $event.detail) { idx = i; } }); if (idx !== null) swiper.slideTo(idx, 0); }" x-init="() => { if (variants.length > 1) { const images = product.variants.map(v => { if (v.featured_image) { return `
`; } }) appendSlides(images); } else { if (product.featured_image) { appendSlides(`
`); } } }" >