10 March 2023 / Laura Garvin Gomez
Argan Oil for Skin: Benefits and Uses
This oil is an infamous addition to so many skincare products, but hwo does it actually benefit our complexions?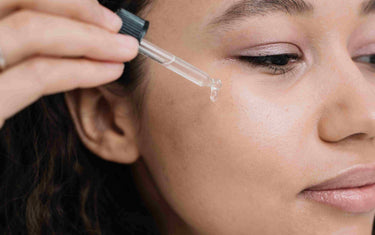 Argan oil has become quite the buzzword in the beauty community - and for good reason.
Mostly linked with haircare, argan oil have been featured in all sorts of products with the promise of impactful, deeply nourishing benefits. But, what exactly are the benefits of argan oil?
As it turns out, this Moroccan-based oil packs a serious punch for hair and skincare alike, so it's no wonder so many brands are sprinkling it into their creams, shampoos, and sprays.
The best thing about argan oil, though, is that you don't need another product base to experience its magic for yourself. Incorporating argan oil into your skincare routine can provide you with so many unexpected wellness gains, and we're here to share the best of the bunch with you.
What is argan oil?
Extracted via cold-pressing from the kernels of the argan tree (Argania spinosa), argan oil has been used as an all-natural beauty elixir for centuries.
Native to Morocco, the oil was implemented extensively in ancient times to heal dry skin, protect from sunlight, and alleviate joint pain. Perhaps unsurprisingly, many of these uses still apply today.
Argan oil is considered a carrier oil of middle weight, meaning it's not quite as light as grapeseed oil, but significantly more manageable than the likes of castor oil or olive oil. Argan oil is generally yellow to golden in colour with a faintly nutty aroma.
What are the benefits of argan oil for skin?
One of the best things about argan oil is that it can be used on practically all skin types. While it's mostly associated with dry, dull-looking complexions, its rich nutrients and fatty acids make it a great addition to any skincare cabinet.
Argan oil is also naturally non-comedogenic, which means there's little risk of it clogging your pores or leaving your skin feeling greasy. This is particularly rare for medium-weight carrier oils, so only further shows the miracles of argan oil for face application.
We've detailed some of the most impactful argan oil skin benefits below.
1. It moisturises skin
Argan oil is packed full of vitamin E, a fat-soluble antioxidant that provides super nourishing qualities for the skin. By improving water retention along the skin barrier, argan oil can hydrate the complexion for a glowing and radiant look.
Argan oil has also been linked to the prevention of transepidermal water loss, which is where water evaporates quickly from the skin into the air. Reducing this effect eliminates dryness as well as protects the skin from external damage.
2. It can help with acne breakouts
The natural makeup of argan oil consists of around 95% fatty acids - two of which contain powerful anti-inflammatory qualities for the skin.
Oleic and linoleic acids have been shown to soothe redness and irritation caused by acne breakouts, as well as provide nourishment to these areas to prevent dryness.
On top of this, argan oil's non-comedogenic status means it won't create more oil build-up for acne blemishes to thrive on.
Most importantly though, argan oil works to effectively regulate sebum production in the skin. As acne breakouts are largely caused by the overproduction of sebum, balancing these levels out could lead to less flare-ups overall.
3. It can treat skin conditions and infections
As well as being anti-inflammatory, argan oil also contains antibacterial and antifungal properties that can help to clear the skin from infections.
Sufferers of conditions like psoriasis and eczema have grown fond of the oil thanks to these effects, as well as argan's ability to keep the skin hydrated for extended periods of time.
4. It protects against damage
Above all else, argan oil is an exceptional source of antioxidants. Antioxidants are important for our skin to protect it against damage caused by free radicals, as well as environmental irritants like pollution and oxidative stress.
One 2013 study also supported the use of argan oil against UV sun damage - a practice long adopted by Moroccan women in the height of summertime. It concluded that using argan oil on top of regular sun care could prevent burns and hyperpigmentation, as well as lead to a reduced chance of skin cancer.
Another 2016 report on vitamin E in dermatology pointed to the potential benefits of argan oil for wound healing, thanks to its strong cocktail of impactful antioxidants.
5. It reduces signs of aging and stretch marks
Argan oil has been used as an anti-aging treatment for centuries, with a recent 2015 study actually backing up these ancient claims.
The antioxidants within argan oil have been shown to improve elasticity in the skin, clearing fine lines and wrinkles as well as other forms of scarring - like stretch marks.
One 2016 study further confirmed argan oil's effects on stretch marks, reporting that it could treat them entirely with early application twice per day.
How to use argan oil for face
As is the case with most carrier oils, argan oil is fairly straightforward to apply. It doesn't have the potent effects of essential oils, so can be applied directly to the skin without the need for dilution.
We've broken down a step-by-step guide on how to incorporate this beneficial oil into your routine.
Wash your face with warm water to open up your pores.
Pat your face dry with a clean cloth, so it's still a touch damp (but not wet!)
Dispense a pea-sized amount of argan oil onto your palm. Warm with your hands.
Apply in gentle circular motions across your face.
Once the oil has mostly absorbed, dab off any excess with a clean cloth and continue with your routine as normal.
Repeat once or twice daily as needed.
We recommend using argan oil as the final step in your skincare routine, layered over any additional creams or cleansers. This will allow it to seal in moisture effectively.
It's important to keep in mind, however, that the oleic and linoleic acids in argan oil may improve the quality of your other skincare ingredients.
While this may sound like a good thing, some heavy-duty serums could cause pore-clogging issues - as opposed to skin-clearing benefits - when combined with argan.
Are there any side effects to using argan oil for skin?
Argan oil is fairly gentle as far as cosmetic remedies go, with little to no side effects impacting daily use.
That being said, while allergies are not common with this oil, it may be a good idea to perform a patch test before use. This is especially important if you suffer from any nut allergies, if you have sensitive skin, or if you're prone to reactions in general.
Those with inflammatory skin conditions like seborrheic dermatitis should also take caution, as topical application of oils could irritate the affected areas further.
Frequently Asked Questions
Does argan oil clog your pores?
Nope. Argan oil is non-comedogenic, which means it won't clog your pores with frequently application. This also makes it a safe and useful option for those with oily or acne-prone skin.
Can argan oil protect against sun damage?
Thanks to the high number or antioxidants contained within it, argan oil is great for protecting your skin for UV rays and sun damage. It should never be used as an alternative to sun cream, though.
Can I put argan oil directly on my face?
Yes! Argan oil is a carrier oil, which means it's gentle enough for direct application without the need for dilution. It can also help to dilute any essential oils you might want to add to your routine.
Is argan oil okay for sensitive skin?
Argan oil is suitable for all skin types, including sensitive skin. In fact, many people who suffer with acne, psoriasis, and eczema opt for using argan oil because of its highly moisturising, anti-inflammatory benefits.
So, it's clear that argan oil is more than just a fancy add-on to cosmetic beauty products. Much, much more.
With all the benefits is has to offer, there's no wonder everyone in the beauty community wants a piece of this Moroccan miracle - but there's nothing like the pure, undiluted oil to really spruce up your skincare game.
Whether you're using it as a moisturiser, smoothing it into your hair, or combining it with your favourite essential oils, this oil is sure to make waves in your day-to-today.
{ let idx = null; product.variants.forEach((v, i) => { if (v.featured_image && v.featured_image.id == $event.detail) { idx = i; } }); if (idx !== null) swiper.slideTo(idx, 0); }" x-init="() => { if (variants.length > 1) { const images = product.variants.map(v => { if (v.featured_image) { return `
`; } }) appendSlides(images); } else { if (product.featured_image) { appendSlides(`
`); } } }" >