14 December 2022 / Laura Garvin Gomez
Fragrance oil vs Essential oils: A Beginner's Guide
Learn about the key differences between these two types of oils and how to identify them based on their ingredients and uses.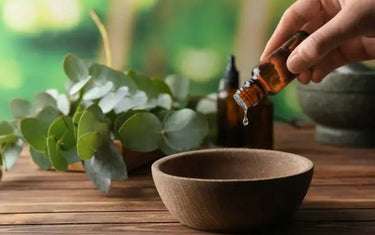 When it comes to oils that can be applied to the skin or used to create a fresh aroma, there is often some uncertainty about the difference between essential oils and fragrance oils.
While there are some similarities, there are also some important differences to be aware of before you make a purchase.
In our beginners guide to fragrance oils and essential oils, we cover all the basics you need to know, from the most common types to how long they last and much more.
What is the difference between essential oil and fragrance oil?
The main difference between essential oils and fragrance oils is that essential oils are comprised of natural materials. They are sourced from aromatic plant extracts and offer a host of potential health benefits and can also be used for scenting and flavouring. And due to the high concentration of Vitamin E and fatty acids found in essential oils, you will also find they are commonly used in all kinds of beauty products.
On the other hand, fragrance oils are man-made alternatives that are often used in homemade candles and soaps. While they do not contain the same natural benefits as essential oils, many people enjoy the unique fragrances that are available, which can help to create a soothing, relaxing atmosphere that proves to be just as enjoyable.
What are common essential oils?
While there is a broad collection to choose from, some of the most popular types of essential oils tend to be:
Lavender
Peppermint
Lemongrass
Ylang Ylang
Frankincense
From helping you to sleep more easily to calming nausea and fighting bad breath, you can use these oils for all kinds of things. Or if you just want to enjoy the smell and add a pleasant aroma to your living space, these are a great place to start.
How long do essential oils last?
The amount of time your essential oil will last depends on the type of oil you want to use. For example, essential oils that contain vitamin E tend to last longer than those containing oils entirely out of fatty acids. Oils made from fatty acids can also spoil quite quickly if given too much air exposure over time. If you are unsure, ask your supplier for more information before you buy.
Can I use any essential oil for candle making?
Essential oils can be used in candles, with the likes of lavender essential oil often proving to be a popular choice. However, you will need to do some research about your chosen oil's flash point (how quickly the oil will burn) as some can be quite low for essential oils compared to fragrance oils.
Learn more about flash points and why they matter.
What are common fragrance oils?
The great thing about fragrance oils is how specific some of the aromas can be, with many evoking special memories or times in your life. The list below will give you an idea of what that means:
Apple & Cinnamon
Candy Cane
Forest Fresh Pine
Ocean Breeze
Fresh Linen (Floral)
You'll find there is a fine fragrance for almost every type of occasion, so you are never short of options. They are designed to be long-lasting, so are perfect for any soap or candle recipes you might be thinking of trying your hand at.
Can you use fragrance oils in a diffuser?
You can use fragrance oils in a diffuser if you prefer not to use essential oils. They are typically included in recipes for candles and soaps but work just as well in diffusers so you can enjoy a long-lasting and pleasant aroma in your home.
How long do fragrance oils last?
Depending on the ingredients, most fragrance oils will last anywhere between 6 and 24 months. You may find that they last even longer when stored properly in a cool, dark place. You'll know when a fragrance oil goes bad as you can instantly tell by the smell, which will either change or start to fade away.
What are carrier oils?
Many people tend to use carrier oils for essential oil application, helping to dilute their potency to make them safer for use on the skin or hair. They are usually vegetable oils such as coconut oil or avocado oil and can also be used independently without essential oils. This is because they offer their own unique health benefits that can help to improve the condition of your hair or skin. You can read our blog What is a Carrier Oil? to find out even more.
What is the best carrier oil?
Carrier oils can be used in various ways, although most people apply them to the skin or hair. Choosing the best carrier all depends on what you want to achieve. For example, rosehip oil is recommended for its anti-ageing properties as it is high in linolenic and linoleic fatty acids, while many people like to use grapeseed oil for massages.
If you have dry skin, then sweet almond oil and golden jojoba come highly recommended, with both carrier oils helping to moisturise and hydrate the skin. Read our blog about the best carrier oil for essential oils to find out which one would work best for you.
The important thing to take away from this blog is that there is no factually right or wrong answer - only what personally works for you. There are pros and cons to using both essential oils and fragrance oils and having more information about their differences can help you make the right choice. So, if you want a more natural solution, perhaps essential oils are a better fit for you, or if you want to get involved with crafting handmade soap and candles, fragrance oils could be just what you are looking for.
{ if (visible && product == e.detail.data) return; ready = false; const articleTop = document.querySelector('[data-article]').getBoundingClientRect().top + window.scrollY; $nextTick(() => { product = e.detail.data; selected = product.variants[0].id; ready = true; setTimeout(() => { top = e.detail.target.getBoundingClientRect().top + window.scrollY - articleTop; show(); }, 10) }) }" @scroll.window="close()" >