4 min read / 18 October 2023 / yasmin sharp
CLP Labels for Diffusers and Fragrance Oils
Explore the importance of CLP labels in the world of diffusers and fragrance oils.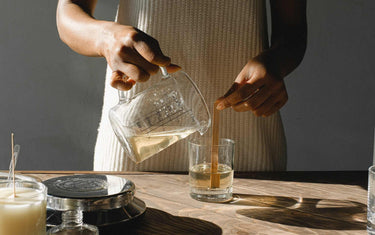 If you intend to sell non-cosmetic products that contain fragrance oils, such as scented candles, wax melts, diffusers or home sprays, they must feature a CLP label.
For first-time sellers this can be something of a minefield, as you need to ensure the correct health and safety information is included.
Here we explain the main requirements of a CLP label for fragrance oils and reed diffusers, so you have a better idea of how to get started.
Do you need CLP labels for fragrance oils?
You will need to add CLP labels for fragrance oils if you intend to sell them. This is because all non-cosmetic products sold to the public that contain hazardous mixtures or substances require a CLP label.
A CLP label contains information about the potential health and safety risks associated with using the product.
This includes any hazards that could be created by the ingredients, the nominal quantity of the mixture or substance and contact details of the supplier.
Are CLP labels for diffusers also a requirement?
CLP labels for diffusers are also a legal requirement.
This is because essential oils and fragrance oils are used in reed diffusers, which are classed as hazardous substances, so users need to be made aware of the potential risks involved.
What about CLP labels for essential oil candles?
If you are selling scented essential oil candles or wax melts, you must include a CLP label on the packaging.
This also applies to home sprays and any other product you are selling that contain fragrance oils or essential oils.
What should be put on a CLP compliant label?
A CLP label is only compliant once it contains the:
Contact details: The name, address and telephone number of the supplier(s).
Nominal quality: Display the nominal quality of the substance of the mixture in the product.
Product identifier: The designation or trade name of the hazardous mixture. This is either the identification name of the product substance or the CAS No.
Hazard pictograms: A pictorial representation of the hazard(s) that illustrates the potential health risks.
Signal word: Depending on the severity of the hazard, the word "Warning" or "Danger" should be displayed.
Hazard statements: Use hazard codes that reference the nature or degree of the hazard.
Precautionary statements: Measures that can be taken to prevent or minimise any adverse effects that could be experienced.
Supplemental information: Any other information relevant to the product that could improve the way the product is used.
Do I need to include a UFI number on a CLP label?
A Unique Formula Identifier (UFI) is a 16-character alphanumeric code that must be placed on products containing hazardous mixtures or substances.
This has been a requirement since 2021, and by 2025, it will be mandatory for all products classified for health or physical hazards.
By placing a UFI on the product, this creates a clear link between the information and the product being placed onto the market.
All products that feature the same UFI must also share the same mixture composition.
More information about UFIs can be found on the European Chemicals Agency website, where they also have a UFI generator.
What size CLP labels do I need?
CLP label size varies depending on the package capacity of the product.
This will also influence the pictogram dimensions you need to use on the label, as seen in the table below:
| Package capacity | Label dimensions (mm) | Pictogram dimensions (mm) |
| --- | --- | --- |
| Under 3 litres | At least 52 x 74 | Not smaller than 10 x 10 – if possible, at least 16 x 16 |
| Over 3 litres but under 50 litres | At least 74 x 105 | At least 74 x 105 |
| Over 50 litres under 500 litres | At least 105 x 148 | At least 32 x 32 |
| Over 500 litres | At least 148 x 210 | At least 46 x 46 |
There are also guidelines that must be followed relating to the readability of the information on a CLP label.
Although no minimum letter size is mentioned, CLP regulations do state 1.2mm ('x-height') as a reference point.
Creating CLP labels for fragrance oils and reed diffusers becomes less daunting once you know more about the information that needs to be included.
It is the same information you need to include on CLP labels for essential oils, so if you have experience selling these types of products, it shouldn't prove too difficult.
For newcomers, take time to read through the guidelines in detail and always double-check that you have the correct information before making the product available to sell.