5 min read / 12 January 2022 / Laura Garvin Gomez
Benefits and Uses of Petitgrain Oil
Made from the leaves and twigs of the orange tree, petitgrain can give your mind a boost.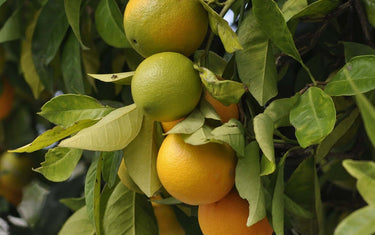 Joyful petitgrain has been popular in perfumery for many years, but its long list of therapeutic benefits has only recently been discovered by the aromatherapy community.
Despite this recent discovery, petitgrain essential oil has already made its mark on the wellness world, sporting joyful notes of orange blossom with gentle, woody undertones.
Comparable with bitter orange and neroli essential oil for its botanical roots, petitgrain oil is certainly a worthy addition to any essential oil collection.
If you want to learn more about what this brightening oil can do for you, we're covering all its popular benefits and uses for you to consider.
What is Petitgrain Essential Oil?
Petitgrain essential oil is a positive, uplifting remedy extracted via steam distillation from the leaves and twigs of the Citrus Aurantium tree.
The name 'petitgrain' is derived from the French meaning 'little grain'. This name refers to the fact that petitgrain oil used to be extracted from the small, unripe fruits of the bitter orange tree.
Petitgrain oil is often confused with bitter orange oil or neroli oil due to their identical botanical names. All three oils are extracted from different parts of the same tree – petitgrain oil from the leaves and twigs, neroli oil from the blossoms, and orange oil from the fruit.
What are the health benefits of Petitgrain Essential Oil?
Petitgrain essential oil boasts wonderful benefits for the body and mind, protecting our health and helping us to feel more positive and productive.
Some benefits of petitgrain essential oil include:
Boosting productivity
Sporting powerful antioxidant qualities
Acting as a natural cleaning agent
Increasing confidence
Does petitgrain essential oil improve productivity?
The citrusy scent of petitgrain has been shown to boost positivity and productivity levels in our day-to-day, as well as improve our mental attitude towards work.
A study in 2016 showed performance in the workplace could be significantly improved by the inhalation of petitgrain essential oil.
It is theorised that petitgrain oil has a balancing effect on the sympathetic and parasympathetic nervous systems – this decreases stress levels whilst increasing alertness and helping us to remain at our most productive.
Diffusing petitgrain essential oil in your place of work or in study spaces may give your productivity a natural boost.
Is petitgrain oil an antioxidant?
A study in 2013 found that petitgrain oil displays high antioxidant activity. Antioxidant oils can help to inhibit the effects of free radicals and toxins in the body, preventing damage caused by oxidative stress.
The inclusion of antioxidants in our lifestyle can protect cells and help guard us against serious diseases in the future.
Inhaling petitgrain oil can offer a natural boost to your body's defensive system.
Can petitgrain essential oil be used as a natural cleaning agent?
Research suggests that petitgrain oil could be a great addition to home cleaning sprays.
A study in 2018 found that petitgrain displays significant antibacterial activity, helping to attack harmful bacteria and keep us safe from infection.
Adding a few drops of petitgrain essential oil to a spray bottle of water makes for a natural cleaning product that will leave your home smelling fragrant and citrusy.
Can petitgrain oil increase confidence?
Petitgrain essential oil has long-standing associations with self-confidence and positivity.
Considered a joyful oil, many people find that petitgrain is able to promote feelings of comfort and bravery. This allows us to feel more self-assured. Petitgrain is also said to relieve symptoms of insecurity, anxiety, and stress as a result of these uplifting qualities.
Other oils from the same tree, like bitter orange and neroli, are known for having similar effects on our emotions when frequently diffused. Inhaling petitgrain oil may inspire positivity and act as a natural boost to self-esteem.
How to use Petitgrain Essential Oil
The sweet, fruity scents of petitgrain essential oil are ideal for any wellness application, but we've listed some of the most popular options when using this uplifting remedy.
Aromatherapy
The citrus aromas of petitgrain oil will not only fill you with positivity, but they may also increase your productivity levels, remove feelings of anxiety, and facilitate greater confidence.
Try diffusing 5-8 drops of oil in your electric diffuser or oil burner for a sweet, refreshing backdrop in your home.
Massage
While some sources claim that petitgrain oil is an antispasmodic, others aren't so sure. Regardless, using this oil for a restorative massage is bound to leave you feeling relaxed, rejuvenated, and stress-free.
Combine a few drops of petitgrain essential oil with your favourite carrier oil and massage the mixture throughout your body as needed.
Skincare
The antioxidant properties of petitgrain oil make it a fantastic ingredient for skincare products. Antioxidants can help prevent common issues in the skin such as wrinkles, dark spots, and sun damage.
Try making your own facial cleanser using some petitgrain oil and a carrier oil, or sprinkle a few drops into your existing serums and creams.
Candles and soaps
Petitgrain oil has been used in perfumery for centuries, and its bright aromas provide the perfect top note for use in candles and soaps too.
If you've never made crafts using essential oils before, we recommend following a trusted recipe before getting started.
History of Petitgrain Essential Oil
Much of petitgrain's history is shared with two other oils from the same tree - neroli and bitter orange. This tree was first introduced to Paraguay by Spanish Jesuits in the 18th century and has since circulated to various locations with mild, semi-tropical climates.
Although there are few recorded medicinal uses for petitgrain essential oil, its extensive use in perfumery has been recognised for centuries.
In aromatherapy, no part of the bitter orange tree is wasted, and each of its different oils can have a positive impact on our physical and mental health.
Adding petitgrain essential oil to your collection is a wonderful way to protect the health of you and your family and bring a little extra positivity into your home.
{ let idx = null; product.variants.forEach((v, i) => { if (v.featured_image && v.featured_image.id == $event.detail) { idx = i; } }); if (idx !== null) swiper.slideTo(idx, 0); }" x-init="() => { if (variants.length > 1) { const images = product.variants.map(v => { if (v.featured_image) { return `
`; } }) appendSlides(images); } else { if (product.featured_image) { appendSlides(`
`); } } }" >