27 April 2022 / Caitlin Devlin
How to make an alcohol-based hand sanitiser with essential oils
Guard your health with this protective combination of tea tree, rosemary and clove.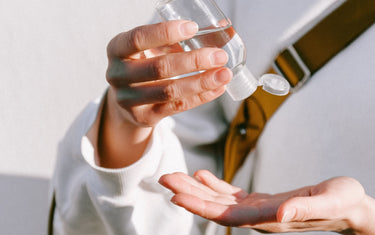 In today's world, hand sanitiser is a must-have.
It's a brilliant way to protect ourselves from infection on the go, without the need for running water.
Knowing that our cupboards are stocked with hand-sanitiser can give us great piece of mind but buying in this household essential in bulk can be inconsiderate, not to mention expensive.
Learning how to make your own hand-sanitiser is a great way to not only save money but also to have complete control over what goes into the products you use.
This hand sanitiser uses isopropyl alcohol, an ingredient medically recommended for killing germs. Whilst some substitute alcohol with witch hazel, doing so means that it is very unlikely that your hand sanitiser will be as effective at killing germs as store-bought products.
Ingredients:
Why isopropyl alcohol?
Isopropyl alcohol can kill a wide range of germs and bacteria, helping to protect our bodies from various kinds of infection.
We recommend that you use isopropyl alcohol at 70% because research shows that hand sanitisers with an alcohol concentration between 60-95% and more effective at killing germs.
You should be able to purchase this ingredient from online retailers.
Why aloe vera gel?
Aloe vera gives our hand sanitiser the gel-like texture that we're used to. It also nourishes and moisturises the skin, preventing dryness or damage from the alcohol.
Why glycerin?
Glycerin also helps to provide that gel-like texture, as well as playing a very important role in the effectiveness of our sanitiser. It ensures that the sanitiser stays on the skin long enough to kill an effective percentage of germs.
Can I substitute these essential oils?
You can substitute these oils if you like, but we have chosen them for a reason. All three oils have antimicrobial properties that help to cleanse the skin and protect from infection, and all have historically been used to kill harmful bacteria and viruses.
You will also need:
A few small bottles with pump or spray lids – it's up to you how you want

to dispense your hand sanitiser

A small bowl for mixing
Method:
Add all the ingredients to your bowl. Stir well until all the ingredients are

fully incorporated into the mixture.

Divide the mixture up between the bottles you wish to fill.
How to use:
Apply a coin-sized amount to the palm of your hand.

Rub your hands together, working the sanitiser over the entire surface of

both hands.

Continue rubbing until your hands feel dry and the gel is gone from the

surface of your hands.
Precautions:
This sanitiser should last for about a year, but to be safe you might want

to think about replacing it after eight months.

This sanitiser should

only

be used on hands.

If the skin is visibly dirty or oily then the sanitiser may be prevented from

reaching skin and may be less effective.
Shop our essential oil range here.