2 March 2022 / Caitlin Devlin
The best essential oils to use in meditation
If you struggle to stay mindful during meditation, these essential oils can help.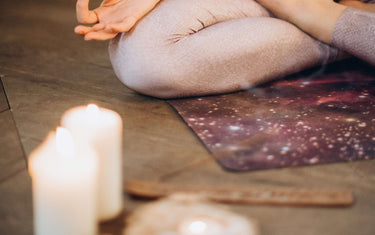 Meditation is a valuable part of many people's daily routine, and essential oils can help us to make the most of our mindfulness time.
Whether you use meditation to take a five-minute pause before the day begins or to switch off for an hour or so at the weekend, practicing mindfulness can prove incredibly beneficial to our mental health, our productivity, and even how we interact with others.
The world is full of distractions, however, and sometimes it can be a challenge to fully immerse ourselves in our meditative practice. Luckily, aromatherapy can help.
It's easy to incorporate essential oils into your meditation. You can add a few drops of diluted essential oil to your pulse points, diffuse your favourite oils in your mindfulness space, or even create candles using meditation-enhancing essential oils. (For a beginner's guide to candle-making with essential oils, click here.) Choosing the right essential oils can prove more of a challenge, however.
When looking for oils that can support your meditation, we would recommend keeping an eye out for oils with a high linalool content, as linalool is known to promote alpha brain waves which are present during states of meditation.
You should also be on the look out for grounding, balancing oils that promote a feeling of security, as this makes it easier to switch off and ignore external distractions. Here are some of our favourite essential oils for meditation.
Lavender oil contains high levels of linalool. This promotes alpha brain wave activity, helping to put you in a meditative state. In general, lavender is known to be a relaxing, soothing oil that can ease aches and pains and relieve stress, minimising distractions.
Learn more about the benefits of lavender essential oil.
Thyme oil is known to be an uplifting oil with a balancing effect on mood. This prevents swings in emotion from intervening with our mindfulness and keeps us relaxed and centred. The oil is also rich in linalool, encouraging alpha brain waves.
Learn more about the benefits of thyme essential oil.
Considered a grounding oil, pink pepper is known to promote feelings of warmth and comfort that are inducive to mindfulness. It is also said to balance mood, keeping us on task in our meditation.
Learn more about the benefits of pink pepper essential oil.
High in linalool and uplifting in its effects, ylang ylang oil both increases alpha brain wave activity and decreases negative emotions. It is said to have a 'harmonising' effect, helping us to feel content and at peace.
You may want to massage essential oil on your pulse points or diffuse it throughout your space.
Another grounding oil, cedarwood's earthy, woody scent promotes feelings of safety. This helps us to trust our surroundings and focus on ourselves. It has also been found to improve focus.
Learn more about the benefits of cedarwood essential oil.
Bergamot oil has been found to increase positive feelings and reduce symptoms of anxiety – such as a high pulse rate and rapid breathing – that may impact successful meditation. Rich in linalool, it can ensure that we are in the right mindset to focus on our mindfulness.
Delicate neroli has a high linalool content, supporting our minds in meditation. It has also been found to reduce symptoms of stress, lowering blood pressure and reducing any intervening effects of stress on our bodies.
Learn more about the benefits of neroli essential oil.
Citrussy petitgrain has a balancing effect on our sympathetic and parasympathetic nervous systems. This decreases stress levels whilst increasing focus, putting us in the perfect position for rewarding meditation.
Learn more about the benefits of petitgrain essential oil.
Although grounding oils and oils rich in linalool have a greater chance of positively impacting meditation, the most effective oils and blends are always going to be those that promote personal feelings of comfort and safety.
It may take some experimentation to work out which are best for you. If you want to use some of these meditation-enhancing oils in combination, then you may want to try our Meditation Essential Oil Blend, which combines lavender, thyme and ylang ylang for a soothing, mindful experience.
{ let idx = null; product.variants.forEach((v, i) => { if (v.featured_image && v.featured_image.id == $event.detail) { idx = i; } }); if (idx !== null) swiper.slideTo(idx, 0); }" x-init="() => { if (variants.length > 1) { const images = product.variants.map(v => { if (v.featured_image) { return `
`; } }) appendSlides(images); } else { if (product.featured_image) { appendSlides(`
`); } } }" >